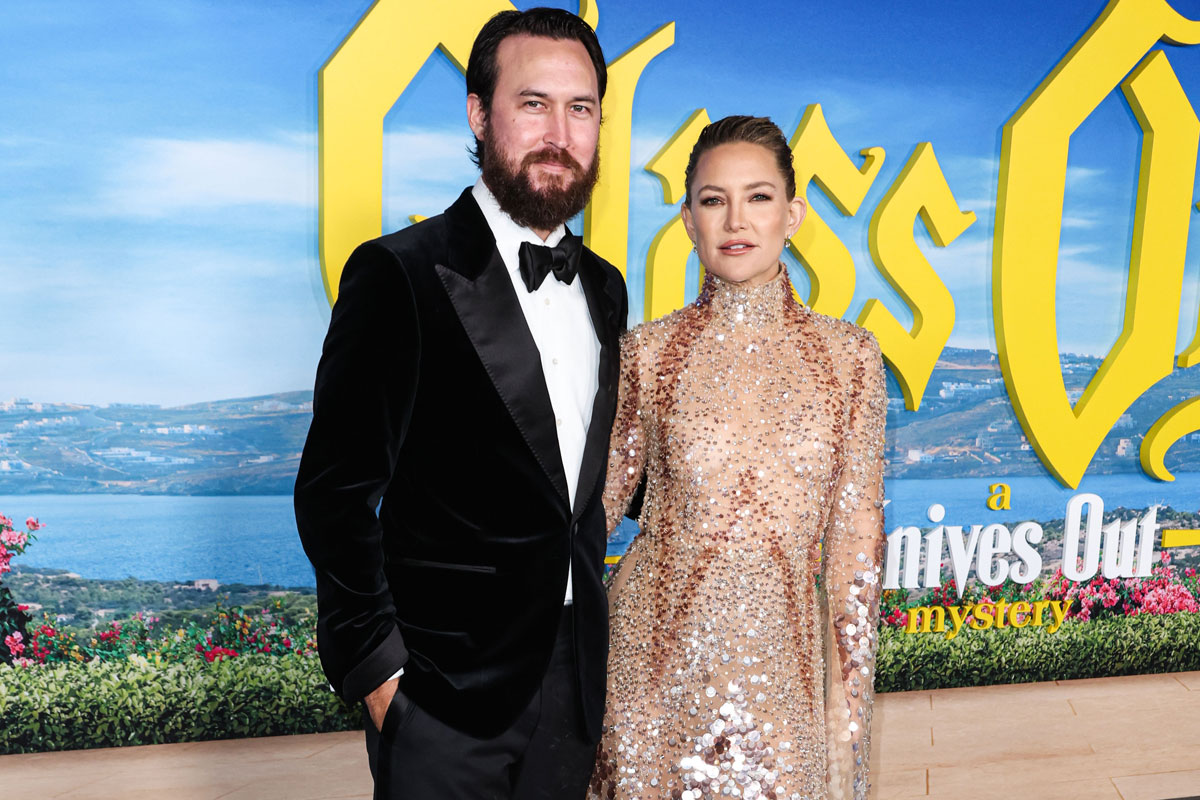 Kate Hudson has been around doing promo for Glass Onion, the Knives Out sequel, as its theatrical release approaches. At the premiere Kate spoke to ET a little bit about filming, and more about planning her wedding with fiancé Danny Fujikawa. Kate and Danny have been friends for 15 years, a couple since 2016, parents since 2018, and engaged since September 2021. And apparently they're in no hurry to plan their wedding – after all, the holidays are coming up and Kate's busy with the movie, which has some Oscar buzz already.
Kate Hudson may have walked onto the red carpet with Danny Fujikawa, but she has no plans to walk down the aisle with him anytime soon.

ET's Matt Cohen spoke to Hudson at the premiere of the Knives Out sequel, Glass Onion: A Knives Out Mystery, where she dished on planning her wedding with her fiancé, filming in Serbia and more.

"Absolutely not," Hudson said when asked if she has any updates on their upcoming nuptials. "I mean, I love that man. He's right over there, hiding, but the last thing we're doing right now during the holidays is planning anything but the holidays."

"Yeah, we're in no hurry," she added.

The pair got engaged in Sept. 2021 after five years of dating and share a four-year-old daughter, Rani Rose.

When talking to ET shortly after getting engaged last year, Hudson said she was "pre-planning" their wedding plans.

"You know what I'm doing? I'm pre-planning the planning," the 43-year-old actress joked. "Just kind of thinking of what we want to do and then I'm going back and forth between like, what is this really going to look like?"

Hudson added, "Obviously, we're so excited. But the idea of planning a wedding is, like, a lot. It's a lot."
Pre-planning the planning is a solid plan. Sometimes it's very necessary to plan how you're going to plan, so I can't fault that. I'm sure Kate and Danny have people that do a lot of the planning, but I imagine you still have to organize which people, etc. Project managing is hard! It doesn't appear Danny has been married before (I just remembered he's 36). But Kate was married to Chris Robinson for seven years and with Matt Bellamy for four or five. She and Danny have already been together for nearly that long and seem solid. I wouldn't be surprised if they were forever engaged. No need to rush down the aisle when they've already been together for years and have a daughter. Some people are just not into weddings and marriage. Kate's mother and de facto father are famously unmarried in a long-lasting partnership.
At the premiere, Kate wore Elie Saab and I didn't love it. With the color and turtleneck it looked like a sparkly skinsuit and her hair was too severe. She has such great hair usually. All of her outfits in the trailer look amazing; I'm looking forward to the fashion in the movie.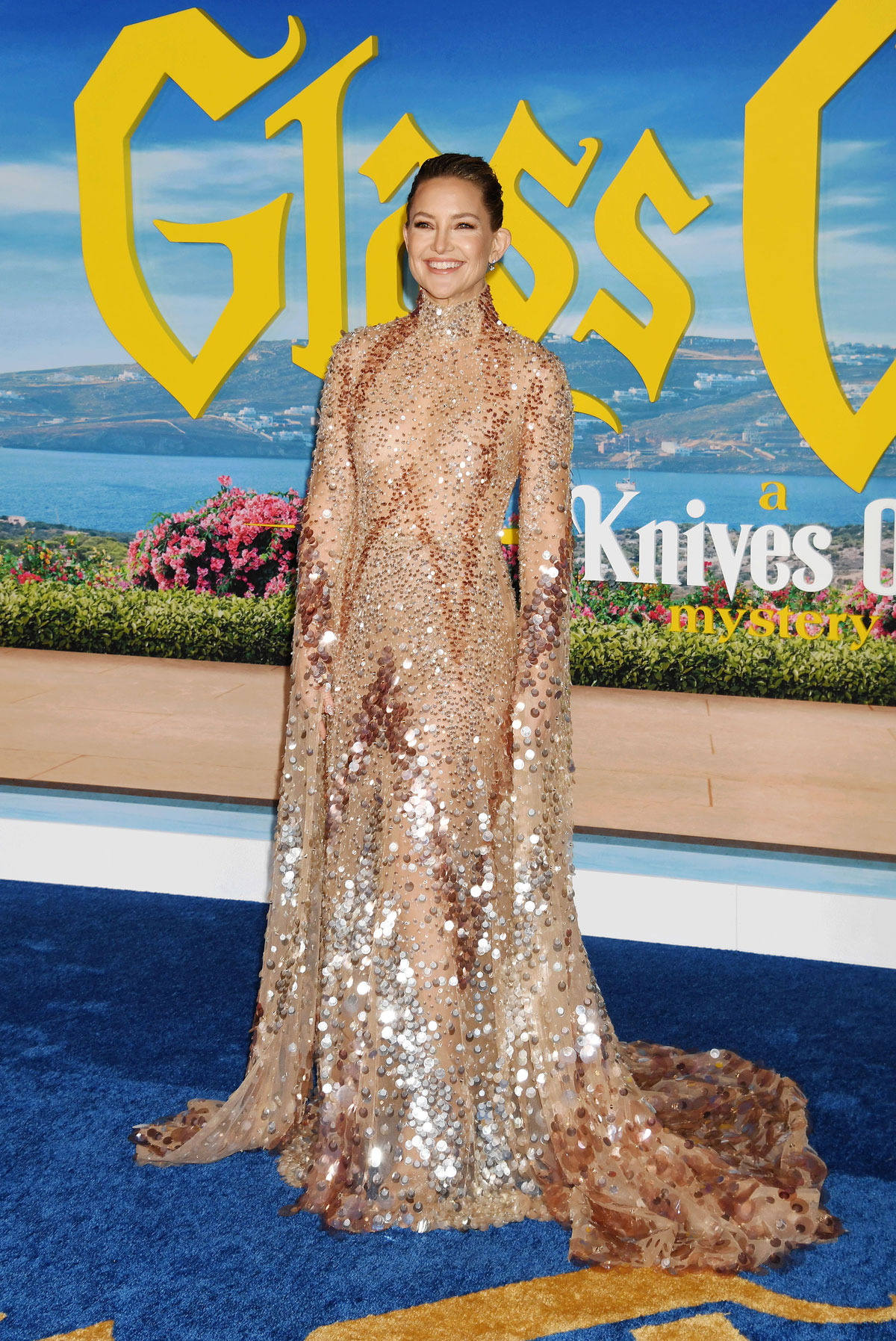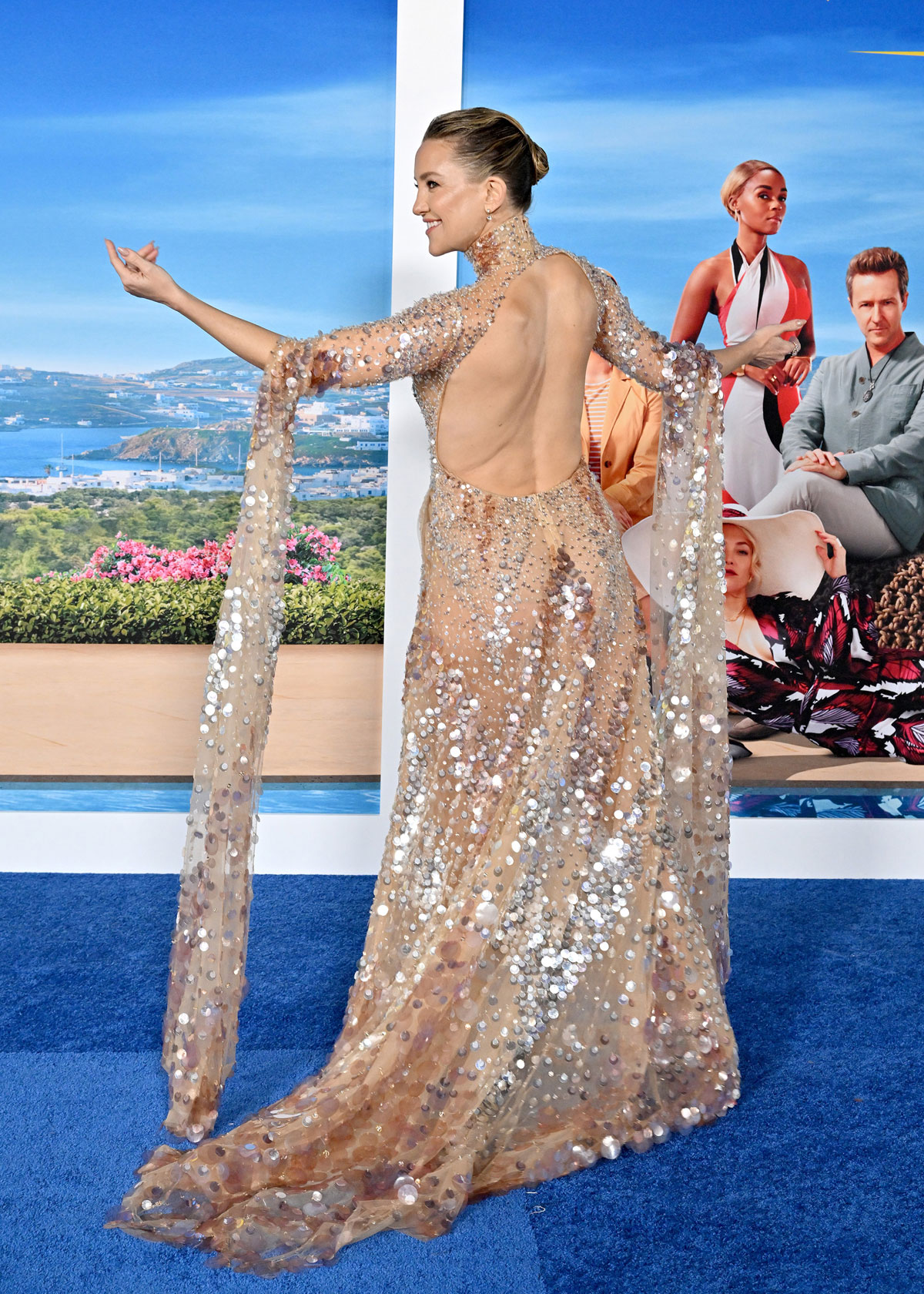 Photos credit: BauerGriffin/INSTARimages.com/Cover Images, Xavier Collin/Image Press Agency/Avalon and Getty Images