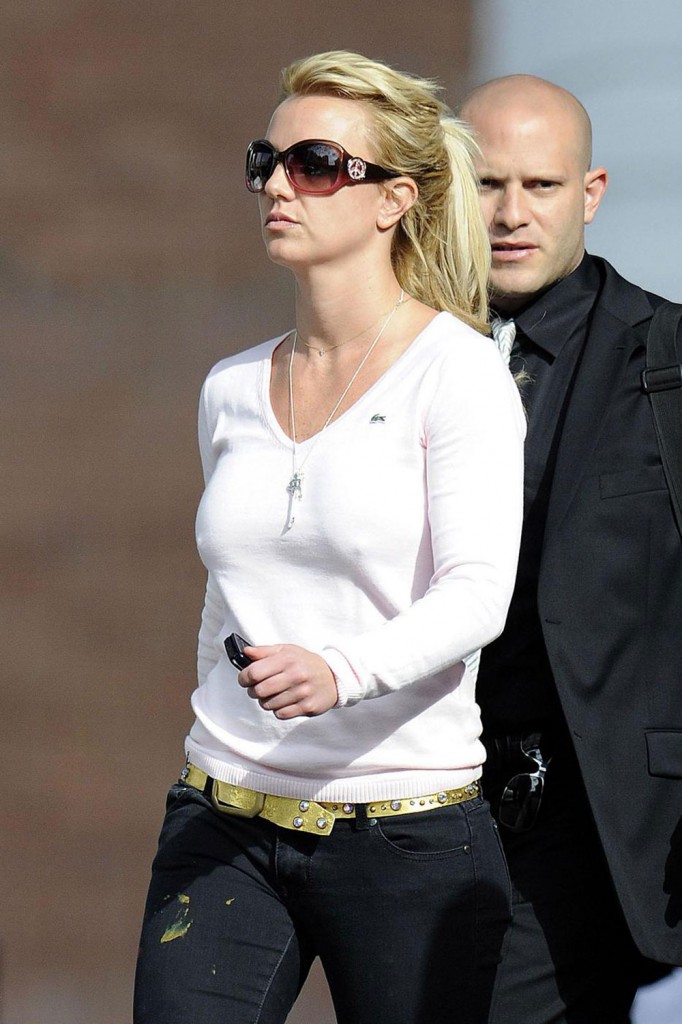 Despite efforts by Australian officials to warn potential ticket buyers that Britney Spears would be lipsyncing through most of her concerts, hundreds of fans left her concert in Perth on Friday just a few songs into the show. Many outlets are reporting that the flack is over the fact that Britney doesn't actually sing live, but it seems like the main issue is that people couldn't see her at all, and that the big screens only showed circus-related imagery and didn't display her live performance. People describe her as a "dot" on stage.
Fans shelled out hundreds of dollars, only to be left disappointed that they'd wasted their hard earned money. Tickets ranged from $185 to $1,300, so you can understand why people would be upset that considering that Britney didn't sing, they couldn't see her perform either. It's like they just paid to hear a recording and watch a pre-recorded video. (Update: there may have been tickets cheaper than $185. CNN reported that "regular" seats went for AUD 200, or USD $185, so it's possible there were cheaper seats.)
Disgruntled fans walked out of last night's concert in Perth – the first of her latest Australian tour – upset by her lip synching.

"It was just really bad,'' Kathy Wright, 32, said. ''She has not spoken, there is no interaction."

Friend Josh Blee said: "We are really big Britney fans but it was crap."

"I thought after the music awards she would make up for it with a wicked concert, but she has let us down," Blee added.

Maria Carmody also left with a group of friends. They were disappointed that the giant screens did not show any vision of Spears performing.

The screens only displayed circus-related images but nothing of the performer herself which infuriated large groups of fans as Britney had her back to them for large portions of the concert.

Several fans complained that there was no vision on the giant screens and questioned whether it was cover up her lip synching.

"She is a little dot on the stage,'' Carmody said.

She was also put off by the bad behaviour of fans in the general admission area.

She claimed she was elbowed and pushed by overzealous fans.

Spears performed to over 17,000 fans last night at Perth's Burswood Dome.
[From HeraldSun.com.au]
Did the big screens at Britney's US concerts display her performance, and if so why didn't they do the same in Australia? It doesn't make sense that they wouldn't show her on the screens unless there was some kind of technical glitch and they had to resort to using stock footage at the last minute. Maybe we'll hear more about this and Britney's people will apologize. It definitely seems more about the issue that fans couldn't see Britney rather than the fact that she mimed the words to her songs. Anyone who shelled out nearly $200 and was then disappointed that she was lipsyncing has no excuse for not doing their homework first. Britney's Australian tour has 12 dates left, so it will be interesting to see if her ticket sales suffer after this debacle.
Update: E! Online has more information, including responses from Britney's camp. Instead of being apologetic about the concert, they're defensive and say the complaints are the work of one journalist, that no one complained to them, and that most fans liked the show. That's funny, because there are at least two reports out of Australia that quote different concert-goers complaining about it.
The promoter of this tour leg refuted claims of fans fleeing the Circus, telling The Australian newspaper "Britney is aware of all this and she's extremely upset by it."

Also issuing a nuanced response were reps for the Burswood Entertainment Complex where the Perth concert was held, who announced, "From Burswood's perspective, the event was a huge success."

Not sure how well that response will go over with the woman who told the Telegraph, "It was a waste of $200—I could have got four pairs of shoes for that."
Spears' manager, Adam Leber, also came to the superstar's defense via Twitter, claiming that it was the work of a sole Australian journalist that sparked the lip-synch debate.

"It's unfortunate that one journalist in Perth didn't enjoy the show last night. Fortunately the other 18,272 fans in attendance did."
[From E! Online]
Here's Britney out in Perth on 11/7 (sunglasses) and 11/5/09 (no bra). Credit: Scope Features, PacificCoastNews.com. She's also shown with her sons out in Calabasa, CA on 10/22/09. Credit: Fame Pictures