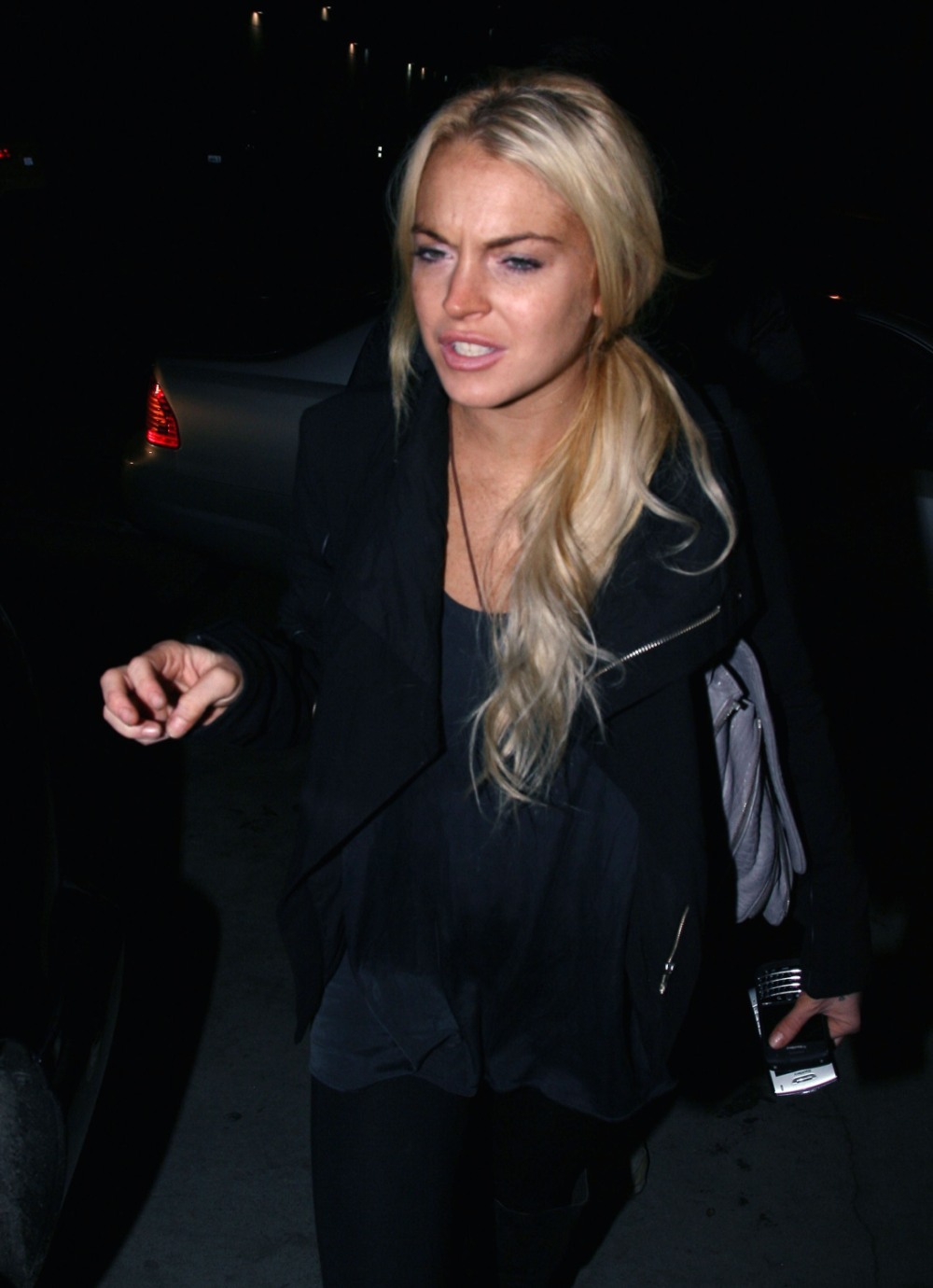 Michael Lohan is continuing his quest to bring daughter Lindsay down. And really, at this point, that's all I can call it: a quest. Not to help her, not to save her, but to bring her down to rock bottom. Which is very different than Lindsay hitting rock bottom on her own. Any father- even a really, really stupid one – who actually wanted to help his drowning daughter would do just about anything other than what Michael's doing. Michael is supposedly saving his daughter by releasing all sorts of mortifyingly embarrassing (and mortifyingly personal) phone calls he's taped with and about Lindsay, including her drugged out plea for help.
Now Michael's given (probably sold) a tape of a phone call he recorded with Lindsay's assistant, Jenni Muro. The call was made sometime in 2008 from Muro in Brooklyn to Michael in Long Island. Muro references having to relocate to New York for Lindsay's "Ugly Betty" guest shoot. Lohan's character appeared now and again over the course of two seasons, so it's not possible to say exactly when it probably happened, but in late October of 2008 it was reported that the cast and crew were sick of dealing with her and were limiting her episodes, so it was probably before then. So the conversation is at least a year old.
In another explosive recorded audio tape obtained exclusively by RadarOnline.com, Lindsay Lohan's assistant Jenni Muro reveals her fear that Lindsay was killing herself.

The taped phone call is between Jenni Muro and Michael Lohan. In it, Jenni angrily tells Michael her fears about Lindsay's fragile state and expresses her opinion about the destructiveness of Lindsay's then-romantic relationship with DJ Samantha Ronson.

"I am trying to save your daughter's life every day," Jenni tells Michael on the tape.

Showing the depths of her fear that Lindsay will harm herself, Jenni tells Michael that she wants to stop working for Lindsay "because I don't want it on my watch either."

Michael has publicly voiced his concerns for Lindsay's life, and says he is trying to get her to admit that she has a prescription drug problem and get help before it is too late.

In the 2008 call placed from Brooklyn to Michael Lohan's Long Island home, Muro also voices her disgust that she was forced to relocate to New York for Lindsay's role on Ugly Betty.

Muro says: "I get a 5% commission on this entire TV show and it's sick and disgusting and I'm here and I give up my boyfriend and my dog and my parents and my new place in LA and everything so that your daughter doesn't kill herself, ok?"

Jenni also tells Michael that Lindsay's relationship with Samantha Ronson was "unhealthy." She said that Lindsay's priorities were only Samantha, not work and not her family. She says Samantha was her "absolute addiction."
[From Radar]
All we can hear in the actual recording is Muro's voice. There are muffled parts, and there is absolutely not a peep from Michael Lohan. At several points she's clearly responding to something he's said, so either Michael or Radar deleted his parts of the conversation. I find that very suspicious and strange. They did the same thing with a phone call between Michael and ex-wife Dina last week. It was all Dina talking about Lindsay and trying to get her into rehab, and none of Michael's words. So no one can use anything else he says against him. That says a lot right there about who Michael's really looking out for.
If you listen to the conversation, it's clear that Muro is not randomly bitching and complaining, she's defending herself against Michael's accusations that she's not doing enough for Lindsay (or for him), and that she's trying to keep Michael from Lindsay. Over and over again Muro has to state that Lindsay has told her clearly that she does not want to see Michael, she does not want to see Dina, etc. Muro also says that the only person she wants to see is Samantha. It's clear that Lindsay doesn't love Samantha, she's obsessed with her. Muro also tells Michael she thinks that's because Lindsay's never known love before, and now she can't get enough of it. It's a total dig at both Lohan parents, because she doesn't say Lindsay's never been in love before, but that she's never known love before.
Muro never once defends Lindsay. She makes it clear that Lindsay is her boss and she is doing what she's told and communicating her messages for her. She also makes it really clear that she loathes talking to and being harassed by Michael Lohan. I don't know this woman but I feel sorry for her – she sounds immensely frustrated. It appears that Jenni is still Lohan's assistant – Radar doesn't refer to her as "former" and there's nothing I can find about her being fired. Well, except for the fact that when Lohan's last assistant quit, she stole a car and chased the girl's mom through the streets of L.A., landing in jail and rehab. There's no way she gets paid enough to deal with just Lindsay alone, let alone the rest of the Lohans. It does seem like – though she's doing Lindsay's bidding, which is her job – she's very smart and with-it. Which is ultimately good for Lindsay.
When is Michael going to learn that he can't embarrass Lindsay into rehab? All he's doing is making sure he never sees his daughter again. This is seriously the kind of shi*t you never forgive.
Here's Lindsay, predictably looking worse than ever, leaving Dominic's Restaurant in Beverly Hills last night. Images thanks to WENN.com .