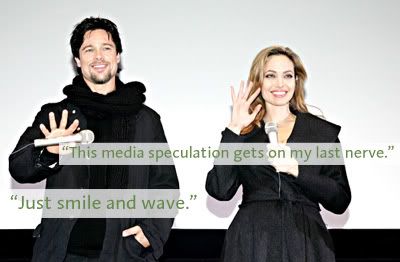 Star Magazine reports that Brad and Angelina are fighting. This news seems old and cobbled together, and reminds us of the "Angelina's pissed off about Brad's drinking" story that was made up based on pictures published of the couple:
In fact, on March 20, the day after his visit to L'Avenue, the couple had a quarrel that ended with Angelina taking Maddox, 4, and Zahara, 14 months, and storming out of their rented Paris apartment for four hours…
"Brad said they argued about getting married," a source tells Star. "He said she refused point-blank to set a date, and told him that if he kept pushing her it would be over forever. Then she left with the kids. When she returned that night, [March 20th] she refused to discuss it. She just told him, 'Forget about it, OK!' But Brad worries — and the more worried he gets, the angrier Angelina gets. He said she's so passionate, she explodes and then disappears until she calms down — and they can never discuss things rationally or calmly."
Who would the source be for this story? It could be their help, that's always possible, but you think they'd be savvy enough to get rid of people who sell stories to the tabloids.
We don't buy it.
A more plausible story is that Angelina has flown her ailing mother out to Paris to be there for the birth of her baby, which is said to be due on May 18th.
A source said: "Angelina is very close to her mother and she so wanted her to be there for the birth.
"Angelina has been having regular check-ups at a hospital in Paris and it is expected that she will give birth within the next few weeks."
This is good news, and solves the conflict Angelina was facing between honoring her mother's wishes by having the baby in her native France vs. giving birth in the states so that her mother can spend time with the baby. It also probably gives the Jolie-Pitts a little more space from the ever-present paparrazi.