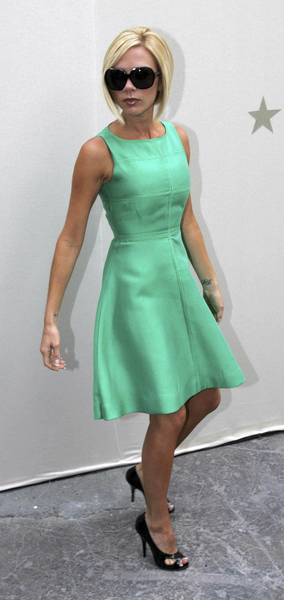 Victoria Beckham says she's actually a gay man trapped in a woman's body. From all the reruns of "Will & Grace" I've seen lately, I'm under the stereotypical impression that that's every gay man's fantasy. Trapped in an ultra-thin fashionista's body? Married to David Beckham? Okay to be fair there's a chance it's half my fantasy too. Speaking of stereotypes, it appears that Victoria's impression of gay men follows all the classics… though despite my joking, I'm not sure how accurate it is.
Victoria Beckham has said she is a gay man trying to escape from a woman's body and that she sleeps in the nude. In the new issue of Elle magazine, Posh said: 'I'm so camp! I'm such a gay man trying to get out. I don't give a [bleep] what anybody thinks!'

She also spoke of her sleeping habits with husband David Beckham. 'I sleep naked,' she revealed. 'I'm going to be naked if I'm getting in bed with him every night.'

The 33-year-old, who is back on tour with The Spice Girls, put the boot into the wannabes trying to steal her celeb queen crown. 'There are so many – and I hate the word celebrities – clothing lines and fragrances, and most of them have nothing to do with it.
[From Metro UK]
Victoria sure does seem the type to just throw caution to the wind. Boy they're really trying to push the whole, "Posh Spice has lots of personality/is loads of fun/is totally a ham!" angle lately. Bad PR flashback anyone? I'm sorry, I'm not buying it. I've seen Posh smile twice in photos in the last ten years, and both times it's because David Beckham made his peck muscles dance. The only way I can guarantee that she's like a gay man is that she wants to sleep naked next to David. Although that also makes her like a straight woman. Frankly, it probably makes her like 99% of the reasonable population. I don't want to meet the person who wouldn't sleep naked next to David Beckham if given the chance.
Picture note by Jaybird: Here's Victoria with Dita Von Teese at Paris Fashion Week on October 5th. Clearly she's camp and doesn't give a f%$# what anybody thinks. Photos thanks to PR Photos.