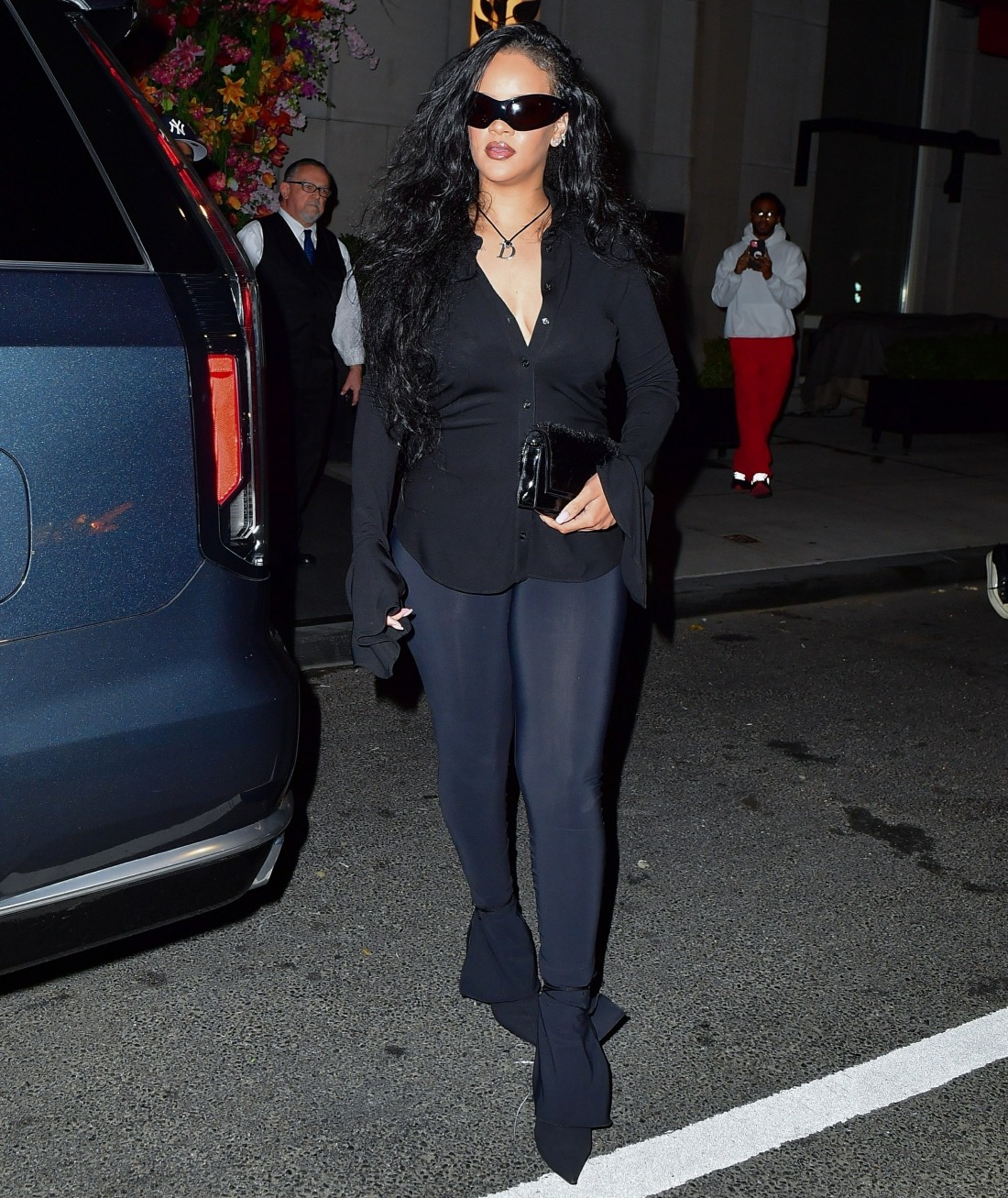 Rihanna welcomed her first child back in May. She's been busy since then, preparing for the Super Bowl Half-time Show, working on new music in the studio, preparing new Fenty collections and shows featuring Johnny Depp (gross) and more. But over the past seven months, we still haven't heard Rihanna's baby's name, nor have we seen any photos of him. A few days ago, a paparazzo apparently did get shots of Baby Boy Fenty, so Rihanna decided to ruin that paparazzo's exclusive. She posted a TikTok of her very cute baby, plus she gave away free photos to Hollywood Unlocked.
People were upset about Hollywood Unlocked watermarking photos of Rihanna's baby, but HU's CEO Jason Lee tweeted: "Yesterday she FaceTimed me to tell me that paparazzi took unauthorized photos of their baby and planned to release them. So she said if anyone was going to put it out she wanted me to. She wanted BLACK MEDIA to be the one to do it since she wasn't going to be given the choice. First, I'm honored they would trust me and kinda sad it had to be that way. I wish they were given the choice. Kids are off limits here at HU. I guess some folks don't care." That's interesting – I think many of us expected Rihanna to post baby's first photos on her Instagram, but I honestly thought people were respecting her privacy this year and that's why there were no pap photos. It sucks that Rihanna had to do this, but I love seeing her baby. He looks so much like ASAP Rocky.
😍 @Rihanna's first TikTok video is… her baby! pic.twitter.com/pPjHEL6sha

— RihannaDaily.com (@RihannaDaily) December 17, 2022
Rihanna and A$AP Rocky show off their baby boy. 👶🏽 pic.twitter.com/bAUFKjDfHd

— Rap Alert (@rapalert6) December 17, 2022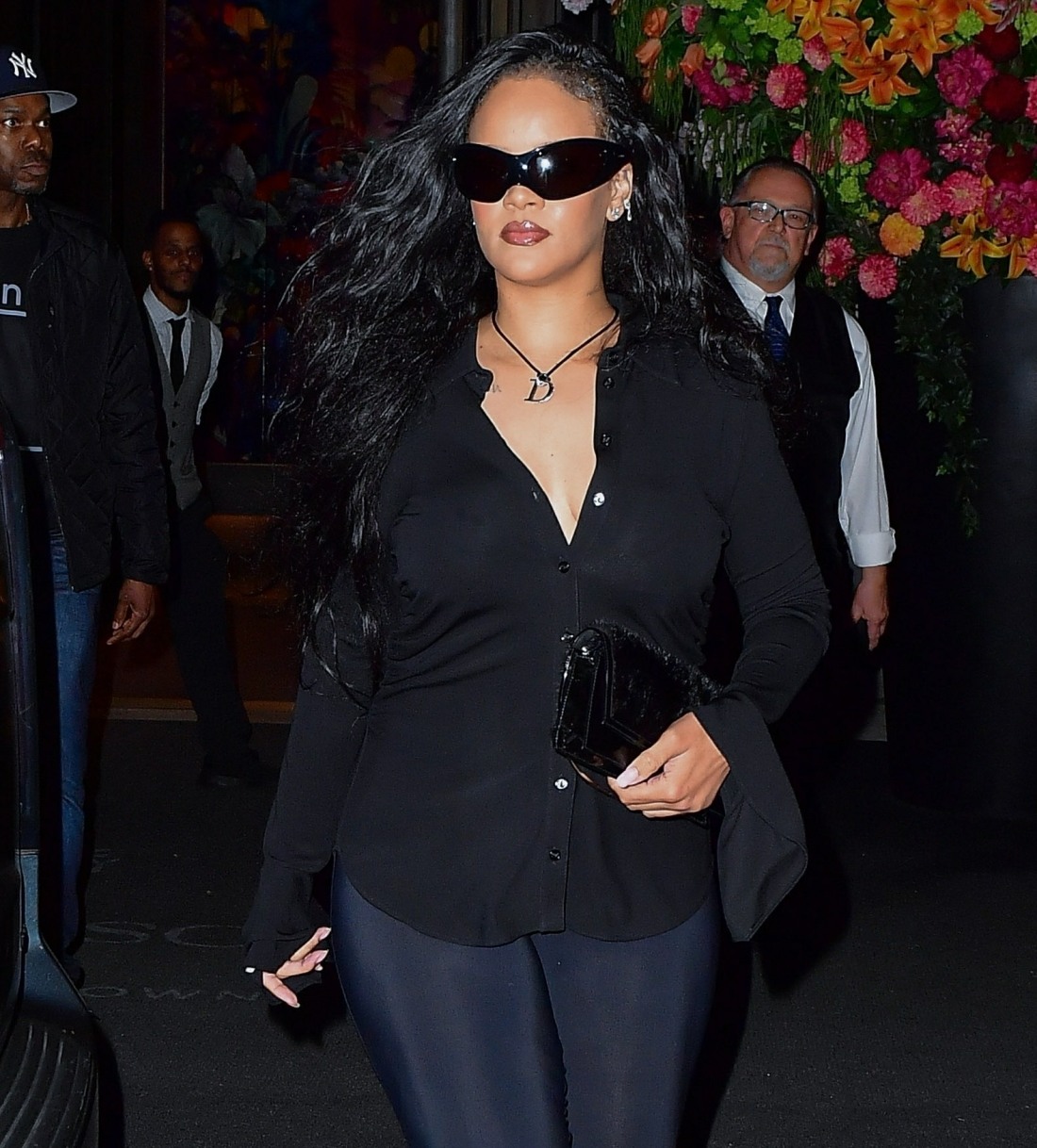 Photos courtesy of Backgrid.

New York, NY – The superstar was spotted leaving dinner in NYC keeping it simple yet stylish in a black blouse, sunglasses, and black leggings paired with dark heels. Pictured: Rihanna BACKGRID USA 5 NOVEMBER 2022 USA: +1 310 798 9111 / usasales@backgrid.com UK: +44 208 344 2007 / uksales@backgrid.com *UK Clients – Pictures Containing Children Please Pixelate Face Prior To Publication*
New York, NY – The superstar was spotted leaving dinner in NYC keeping it simple yet stylish in a black blouse, sunglasses, and black leggings paired with dark heels. Pictured: Rihanna BACKGRID USA 5 NOVEMBER 2022 BYLINE MUST READ: PapCulture / BACKGRID USA: +1 310 798 9111 / usasales@backgrid.com UK: +44 208 344 2007 / uksales@backgrid.com *UK Clients – Pictures Containing Children Please Pixelate Face Prior To Publication*
New York, NY – The superstar was spotted leaving dinner in NYC keeping it simple yet stylish in a black blouse, sunglasses, and black leggings paired with dark heels. Pictured: Rihanna BACKGRID USA 5 NOVEMBER 2022 BYLINE MUST READ: PapCulture / BACKGRID USA: +1 310 798 9111 / usasales@backgrid.com UK: +44 208 344 2007 / uksales@backgrid.com *UK Clients – Pictures Containing Children Please Pixelate Face Prior To Publication*