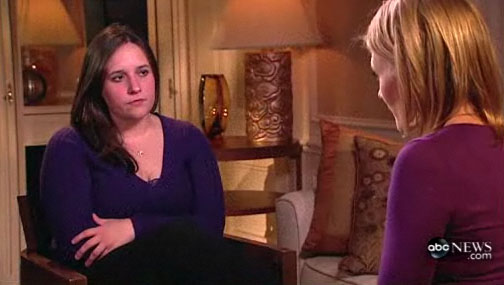 Former ESPN analyst Steve Phillips' mistress – a 22 year-old production assistant who stalked his family and posed as a teenager in order to get information from his son on Facebook, was on Good Morning America this morning. Brooke Hundley claims that she's been attacked by the press and irreparably hurt, particularly by Jay Leno pointing out that Phillips' wife is hot and she's not. (I'm not sure how to embed the video, but you can watch it here on CBS.com.)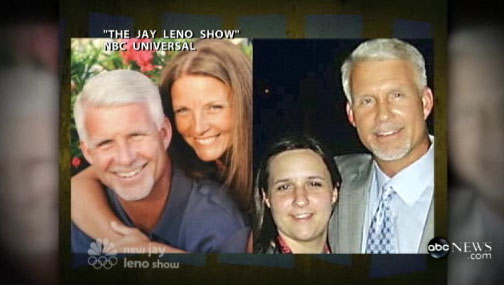 In case you're unfamiliar with this story, Hundley repeatedly tried to contact Phillips' wife to tell her the details of the affair once Phillips broke up with her. Phillips admits to the affair, but claims he only slept with Hundley three times. Hundley befriended Phillips' teen son on Facebook claiming to be a classmate and grilled him about his parents' relationship. She repeatedly called his wife trying to get her to talk. When the wife disconnected the phone, Hundley drove to Phillips' home in Wilton, CT to leave a psycho note about how much she meant to this married guy who had already dumped her. Key passages in the note include "I'm a real person in his life and… care deeply about his happiness," and "I'm not just some random girl he had sex with in parking lots." His wife pulled into the driveway as Hundley was leaving the note, and called the police and tried to use her truck to block Hundley's car from leaving. Hundley drove over the yard and hit a stone column in her haste to escape. Phillips later got a restraining order against Hundley.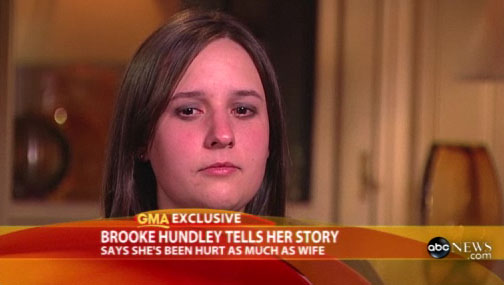 In the interview, Hundley has a real "poor me" attitude about a situation in which she more than deserved the public backlash against her atrocious behavior. Yes, Phillips shouldn't have cheated, but she went crazy and went after his family. It really looks like she's fake crying at first when she talks about the press making fun of her looks, and she says she had to ask a friend to stay with her because "mentally, I would not be able to take much more."
Hundley claims that Phillips threatened her career if she went forward with claims against him, and she kind of half-said she tried to talk to someone at work about it and gave up. After the story came out, she got canned by ESPN. They issued a statement read on ABC that "Our investigation determined that Hundley's characterization of the events was inconsistent."
You know who this chick reminds me of? Kate Major, that ex Star reporter who went crying to just about every outlet that Jon Gosselin dumped her ass after promising her the moon and the stars. Except this girl went after her married ex's family and that is wrong on so many levels. He's just as culpable as she is for the affair, but she hurt his wife and kids and there's no excuse for that.
Hundley barely apologized for the stunts she pulled and showed how narcissistic and unhinged she is. She said "I obviously feel pain for anybody else that I may have brought into this situation," and then she added "but I did things and I thought about things just as an avenue just to get people to pay attention."
When the interviewer told Hundley that her letter was scary to Phillips' wife, she turned it around again into an "I'm the victim" thing and said "it's the same fear that I felt for months before." Give me a break.
As for what she would say to Marni Phillips, the wife of the guy stupid enough to sleep with her, she said "the same fear that I heard in her voice [in the 911 call when she was at her house] was similar fear to how I have felt, and I would never want anybody else to… go through what I was going through."
Again she repeated the crap about wanting someone to pay attention to her. "I brought it on [the negative press attention] but not intentionally. I simply wanted somebody to get upset enough to have an impact to get me out of this horrific situation."
What did Glen Close say in Fatal Attraction – "I will not be ignored," right? This girl is insane. It doesn't matter to her who she hurts as long as someone pays attention to her.
Good Morning America reminds us at the end of this segment that Steve Phillips has been fired from ESPN, he's now in rehab for sex addiction and that his wife has filed for divorce. This isn't the first time he's cheated with a woman at work. In the late 90s he was sued for sexual harassment by a female coworker he had an affair with.