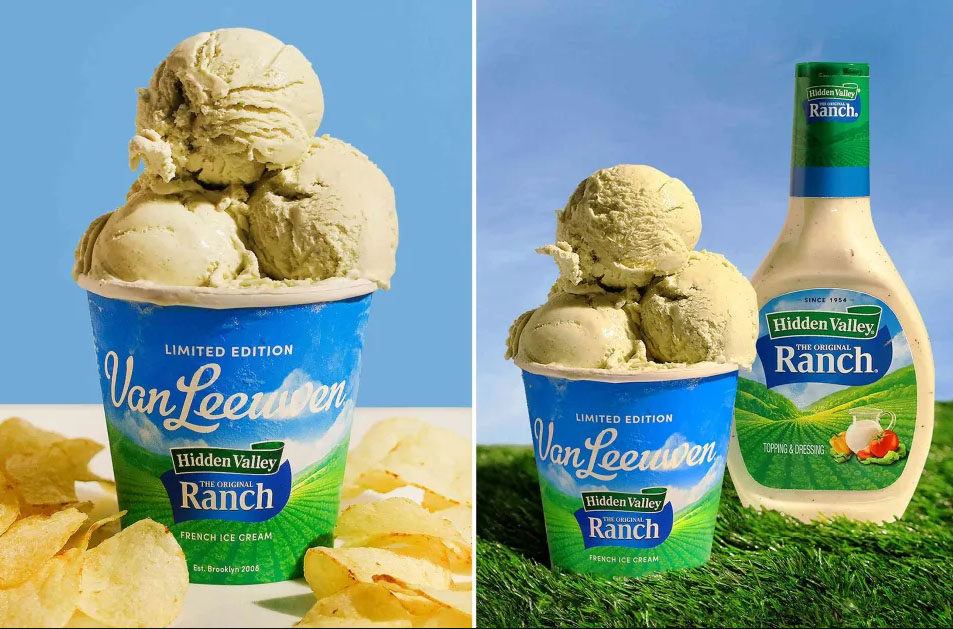 I love these stupid stories about franken food, but usually they're about potentially tasty combinations, like a delicious waffle fried chicken sandwich with maple syrup. (I would love one of those for breakfast today, but I'm not going to make it myself.) This combination of foods may make you go "eww," a Hidden Valley Ranch ice cream made by gourmet ice cream company, Van Leeuwen. Pints will be available at Walmart from March 20 to May 28 and are priced competitively at under $5. People Magazine journalist Antonia DeBianchi got an advance taste and describes it as "initially off-putting" because of the smell, but said "the taste was better than we expected." That's not exactly an endorsement. Here's some of that writeup, with more at the source.
On Thursday, Hidden Valley unveiled a new collaboration with Brooklyn-based ice cream parlor Van Leeuwen: Hidden Valley Ranch ice cream. It will be sold at select Walmart stores across the country from March 20 to May 28.

The limited-edition pints promise to deliver the "savory flavors of ranch, including buttermilk, flavorful herbs and a touch of sweetness," according to a release.

So how does it actually taste? PEOPLE got a sneak peek of the unexpected frozen dessert — and the experience was a wild ride for our senses.

The smell is initially off-putting — who's expecting onion in their ice cream after all? But our testers, even those who don't love ranch in its traditional form, agreed the taste was better than we expected.

The first savory bite was followed by a subtle sweet note and the creamy texture is quite nice. While you won't catch us eating an entire bowl of ranch ice cream, it was made 10 times more enjoyable when dipping with pretzels. Ranch lovers won't be disappointed.
Food and Wine also got a taste! Their response is mixed:
The editors at Food & Wine got an early taste of the new ranch flavor, and the feelings in the office were certainly mixed. With reactions ranging from "it's very garlic powder forward" to "it tastes like sweet ranch" to "I only wish I had french fries to pair it with" to "no," it's a flavor that may not be for everyone, but for those die-hard ranch fans out there, it's absolutely memorable.
Due to a beef and pork allergy I can't have a common ingredient in ice cream called carrageenan (more on that) which I unfortunately learned the hard way with a pint of Ben and Jerrys mint chocolate cookie. I can eat Haagen Dazs and Tillamook brands, and I checked and Van Leeuwen's ice creams are made with just egg and milk for the most part. That's awesome and they have vegan flavors too. I'm not a huge fan of ranch, but you know I would buy this and try it, even if my initial response is to scrunch up my face at the thought of those flavors together. I'm tried a cereal milk-flavored ice cream at a gourmet ice cream shop and it was delicious, but that's a sweet flavor. I think the only savory ice cream I've had was goat cheese and berry, which was way better than I expected. I would eat it again. You may question why a company would partner with Hidden Valley Ranch to make ice cream, but we're writing about it and a ton of people will buy it, if only once. In the mean time if you're looking for a new ice cream brand to try I highly recommend Tillamook! Their ice cream is phenomenally creamy and so well priced.
Everyone is trying to pull on our heartstrings by putting dogs in their commercials but here at Hidden Valley we want you to know that we also like cats 💚

Photo cred: rin.thecorgi & wrigley_the_male_calico pic.twitter.com/g5kuVsn3jF

— Hidden Valley Ranch (@HVRanch) February 13, 2023
Would also eat
Thanks Kaiser for the tip! Header image credit Hidden Valley Ranch via Food and Wine