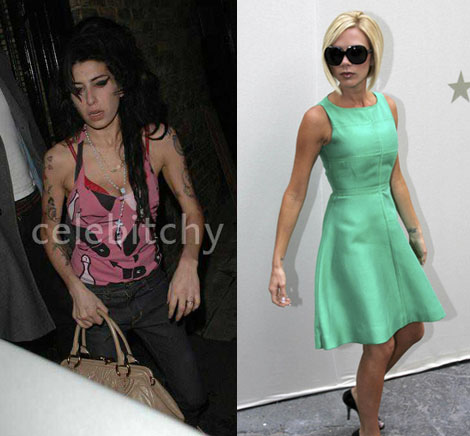 There are a lot of significant differences between British and American English. A few are funny and lead to amusing/embarrassing anecdotes about when you accidentally told someone to light a gay person on fire and stick them in your mouth, or someone asked you where the lift was and you offered to pick them up. Things like that. Then there are the rare words that you don't even realize mean two completely different things, because it doesn't come up a lot. Along the lines of fag = cigarette, lift = elevator, it turns out that style = emaciated crack whore. Victoria Beckham has said that she loves Amy Winehouse's "sense of style." Clearly something was lost in translation.
International fashion icon Victoria Beckham, 33 loves struggling Soul singer Amy Winehouse, 24, and her 'unique' sense of style. Posh says: "She has a real sense of style that I just love. She's very much a fashion icon and I adore what she wears. She's so unique and original."

Victoria also admits she and husband David are both fans of the 'Rehab' singer's music. Posh adds: "I've never met her but I just love her music, I've always got it on at home with David and the children. She's an amazing singer."
[From Wicked Youth]
Posh and Amy actually have very similar body shapes. Posh got hers through her legendary sushi and oxygen diet, whereas Amy's came about from the slightly tougher meth, beer, and blood diet. Both require strict adherence to some pretty unhealthy rules, but if you really stick with it, you can whittle your 5'3 body down to 81 pounds. And it seems like that's the only real requirement in the Victoria Beckham style school. Amy Winehouse is just one pair of rigidly round implants away from marrying David Beckham. If I were Posh, I wouldn't admire Amy, I'd be wary of the competition.