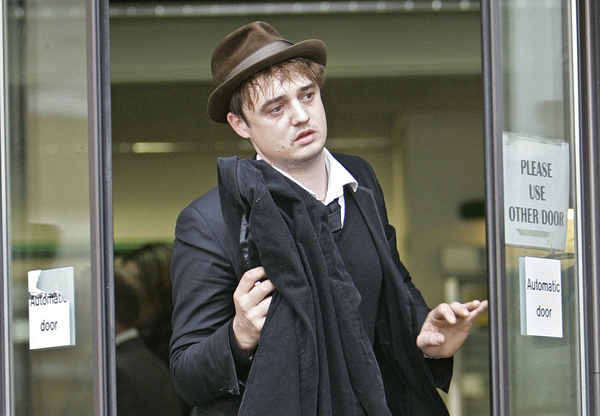 Pete Doherty just runs from one addiction to the next. First it was cigarettes and internet porn. Then a little pot. On to some mushrooms, and the next thing you know it's cocaine and crystal meth. Supposedly he once injected molasses and maple syrup into his veins. Didn't do much, but it raised his blood sugar for weeks. At last check, Pete Doherty had his demons licked, and was so confident in his 283,485,384,484 attempt at recovery that he took to mentoring Amy Winehouse on the road to sobriety. I know, I laughed until I pooped too. Well it appears Pete doesn't have all his addictions in check after all. Though he MIGHT be taking up running. Running to which dealer wasn't mentioned in the article, so I'll leave you to speculate.
Rock star Pete Doherty has been spotted running in Marlborough, with his former landlord Ralph Bernard. Mr. Bernard is a marathon runner and knocked on Doherty's door and asked him to go for a run. While Doherty is reportedly out of shape, he's found running is a good way to shed weight that he gained in rehab.

Doherty has also reportedly started doing press-ups and begun meditating to help improve his health. It has also been suggested that he may be training to run the London marathon. When questioned, a spokesperson for Doherty said, "There is some truth to this – you never know what could happen."

However, the running may just be a way to counter his other new addiction, mince pies. He reportedly said: "It is going to be mince pies for me this Christmas. I have got a massive order on the way."
[From This is Wiltshire]
They say you have to be really careful when you beat an addiction not to replace it with something else – especially something worse. Since I've been on a diet, I have never in my life wanted a cigarette so badly. I never used to mind the smell, but now I can't be around them for fear I'll grab one out of someone's hand and pop it in my mouth. Yums. Apparently Pete's struggling with the opposite problem. He's (theoretically) working on beating the drugs, but wants to pop a pie instead. It really is a losing battle. Why don't you ever hear about someone who just can't stop eating carrots? Why in the world couldn't we have problems with spinach addiction? This is one of the reasons I'm not 100% sold on the concept of evolution.
Picture note by Jaybird: Here's Pete at the Thames Magistrates Court in London on November 10, 2007. Images thanks to PR Photos.