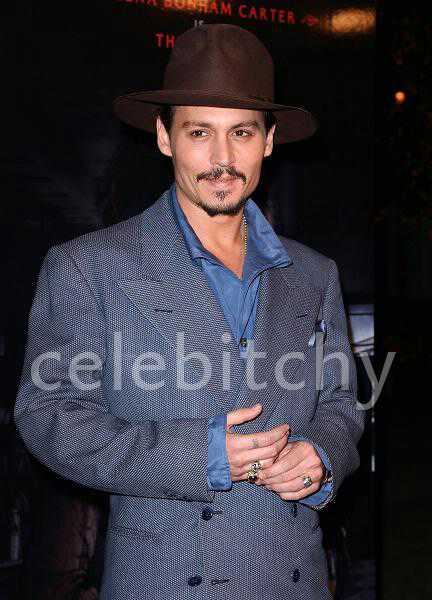 I love lists, especially lists of people. Any type of ranking system that lets me quickly know who to love and who to hate is aces with me. Every year, Autograph magazine releases a list of the best and worst celebrities for autograph signers. Johnny Depp has been number one for the past three years, so that's not really surprising. What is surprising is that Will Ferrell is at the top of the worst list. Apparently he mocks people and embarrasses them when they ask for autographs, though the article wasn't specific. He always seemed like such a nice guy to me – not like Cameron Diaz, who was at the top of the worst list for years. She used to bitch people out when they asked for autographs – and there were several reports of her telling people to f*** off over the years.
Johnny Depp, take a bow. The "Pirates of the Caribbean" star who turns menacing in his new role as murderous barber Sweeney Todd, has been named the best celebrity autograph signer for the third year running. "It's the third consecutive year Depp has topped the list of the 10 best signers. Whether at a premier, in a restaurant or on location, Depp may just be the best Hollywood autograph signer of all time," Steve Cyrkin, the magazine's editor and publisher, said in a statement.

And the worst? Comedian Will Ferrell and Tobey Maguire. The list does change from year to year as stars mellow and start to make time for their fans. For example Australian actor Russell Crowe, who has made newspaper headlines for his bad-boy behavior including pleading guilty in 2005 for throwing a faulty telephone at a hotel concierge moved from number 10 on the 2006 worst list to number 10 on the 2007 best list. "He may still be a bit grumpy at times, but now he signs pretty much anytime someone asks," said Cyrkin.

"What's so frustrating about Will Ferrell being the worst autograph signer this past year is that he used to be so nice to fans and collectors, and a great signer. What makes him so bad is that he'll taunt people asking for his autograph."
[From Yahoo! News]
To be fair, I get really annoyed when people ask me for my autograph too. It's like, "Look, I'm just at the grocery store trying to get my grapefruit like everyone else. You want me to do what?" And when the lady said something about signing my credit card receipt so they could charge me, I told her to go to hell, she wasn't getting my autograph if she was going to be a bitch about it. And as the police were leading me away, my only clear thought was, "Shit, now Autograph magazine is really going to have a beef with me."
My easily-influenced self really doesn't like Will Ferrell anymore. Joking aside, I'm sure it's annoying to get asked for autographs, but isn't that the first thing you think about in terms of the infamous "price of fame?" Even before swarms of paparazzi, I think of people hounding you for your autograph. I thought a lot of people fantasized about that before they were famous. Annoying as it probably is, to me it just says that you're ungrateful if you won't do it. That said, I will keep a taser with me at all times when I become famous. No way am I dealing with that shit.
Here's the rest of the list. Alter your judgments of celebrities appropriately.
The Best
1. Johnny Depp
2. Matt Damon
3. George Clooney
4. Jack Nicholson
5. Rosario Dawson
6. John Travolta
7. Katherine Heigl
8. Jay Leno
9. Dakota Fanning
10. Russell Crowe
The Worst
1. Will Ferrell
2. Tobey Maguire
3. Joaquin Phoenix
4. William Shatner
5. Renee Zellweger
6. John Malkovich
7. Julie Andrews
8. Bruce Willis
9. Terri Hatcher
10. Scarlett Johansson
Picture note by Jaybird: Here's Will Ferrell at the "Dewey Cox" premiere on December 12th. Images thanks to PR Photos. Header image of Johnny at a special screening of 'Sweeney Todd: The Demon Barber of Fleet Street' held at the Paramount Pictures Studios on December 5th. Images thanks to WENN.