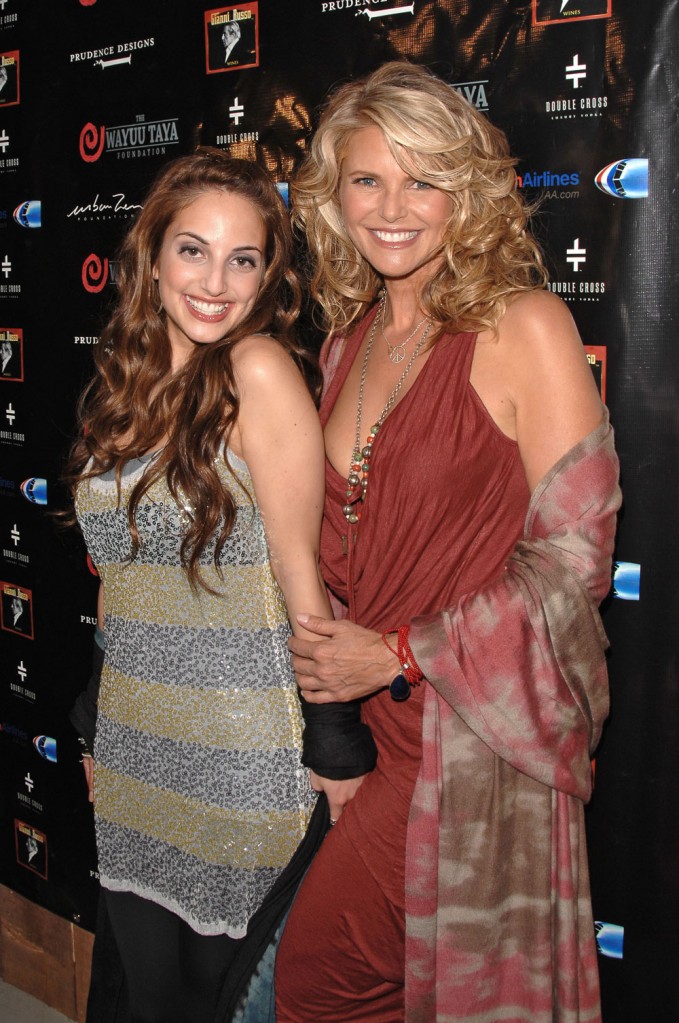 I followed Christie Brinkley's rather fascinating divorce closely last year. Christie came across as a kind of neurotic power mom who worked hard to make life fun and cupcake-filled for her two youngest children. Her ex husband, Peter Cook, seemed like a royal scumbag. He was having an affair with an 18 year-old girl he hired to work at his architecture firm and was blowing thousands of dollars a month on online porn. This was Christie's fourth marriage and all three of her children are from different husbands, so it would seem that if she's guilty of anything it's piss poor taste in men.
After the divorce was finalized, Cook went on 20/20 and whined to Barbara Walters that he cheated because his wife wasn't giving him enough ego-stroking. Brinkley then filed for a restraining order to keep her children away from Cook, claiming he violated the confidentiality clause of his $2.1 million divorce settlement by going on 20/20 and by showing footage of their children, Sailor Lee, 11, and Jack, 14. (Jack is from Brinkley's third marriage, to Richard Taubman. He was adopted by Cook.)
Nearly a year later and Cook is still trying to get back at Christie for not letting him see his kids. A 40 page affidavit from a former nanny who worked for Christie way back in 1994 when she was divorcing her second husband, Billy Joel, has come to light. Cook doesn't exactly take responsibility for leaking the document, but it seems like he's the one responsible.
Cook and Brinkley have officially reached a settlement, but he's continued to charge that she's trying to turn their children – their daughter, Sailor, and Brinkley's son with Rick Taubman, Jack – against him.

That's why Cook is cheered by the delivery of some fresh dirt on Christie, courtesy of Alzirene Vianna, who looked after Billy and Christie's daughter, Alexa Ray, from June 1993 to December 1994.

In 1995, when Billy and Christie were still dealing with matrimonial issues, Vianna gave Billy's lawyers an affidavit, which we've obtained.

Vianna alleges in the never-aired 40-page statement that:

"Christie never encouraged Alexa to call Billy" and told Vianna to eavesdrop on phone conversations Alexa had with Billy. When Vianna took Alexa for a visit with Billy, Christie told Vianna to let her know if Billy was drinking again. "I want you to spy for me," Vianna quotes Christie as saying.
After Christie had left Billy for handsome Colorado businessman Taubman, she was packing her bags for Telluride when Alexa, then age 8, started "acting up." "Christie told her in a very harsh tone that if she wanted to come with her to Colorado … she would have to stop behaving like this, because she didn't want Alexa to ruin her relationship with Ricky."
It wasn't long before Christie and Rick were getting into arguments: "Ricky would … kick furniture and slam doors." Once, while staying at a hotel in California, Rick wouldn't let Christie into their room. "Christie started pounding on the door and kicking it … Rick later told Christie: 'No wonder Billy left you; who can live with you?'"
Once, while Rick was getting into a car outside their house, "Christie opened a window, threw something and said, '[Bleep] you, you ass-!'"
People began to talk about "Christie's addiction to prescription drugs." Said Vianna: "I remember going to the pharmacy every day in East Hampton to get several prescriptions filled for [Christie]."
Christie wouldn't grant Alexa's wish for Billy to come to school events. Alexa sobbed when she said goodbye to Billy after a visit and "seemed to withdraw."

Gary Smith, a spokesman for Cook, says Vianna's tales of "parental alienation and interference … unfortunately continue to this date and come as no surprise to Mr. Cook."

Claire Mercuri, who represents Billy and Alexa, says, "These accusations are false and unfounded."

Brinkley's lawyer, Loren Plotkin, calls Vianna a "disgruntled employee," adding: "Christie Brinkley denies these baseless, false and malicious allegations. … One must question the motive of the individual who dredged up this document as nothing more than a shameful, transparent and ultimately fruitless attempt to hurt Christie and her family."
[From The NY Daily News]
Peter Cook is such a dirtbag and he's digging up whatever he can to try and make it seem as if Christie is turning his kids against him. I don't know what's going on with his visitation, but he made his filthy bed and those kids belong with their mom. Even Billy Joel and Alexa deny this story by a nanny who worked for them for all of 18 months. It's telling that this 15 year-old document is the best dirt that Cook can dig up on Brinkley, because even if all these claims are true they're not that damning.
Christie Brinkley is shown with her daughter, Alexa Ray Joel, on 6/17/09. Credit: WENN.com