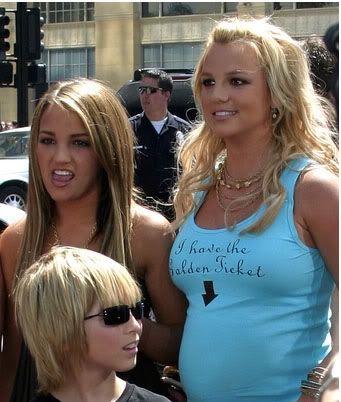 There has been a lot of speculation that Jamie Lynn Spears is further along in her pregnancy than the 12 weeks she admits to in the OK! article. Sources say there's a photo shoot with OK! for Jamie and the baby scheduled for spring, which would make her at least four or five months pregnant, not three.
The Huffington Post has some quotes from the OK! article, and Jamie Lynn talks a little about her pregnancy symptoms. She says she doesn't have much nausea now, but that she's also not ravenously hungry and doesn't have much of an appetite:
She says she has overcome morning sickness, has yet to experience weird cravings and does not show. "I definitely had sickness, but it's getting better. It was at its worst a few weeks ago… I haven't really got much of an appetite right now. I mean, I eat, but I'm not going crazy or anything."
[Quotes from OK! Magazine found on The Huffington Post]
US Weekly has an interview with Jamie Lynn from three months ago in which she's nonchalant when asked about her future. She was asked if she would be married with kids in ten years and she said "Whatever happens, happens, I guess. You can't really say what is going to happen." Does this indicate that she had a similar attitude toward birth control? She was either pregnant or just about to get pregnant at that point.
There's a lot of heated debate over this subject and that's understandable as this is a very young woman on a show aimed at tweens. Some commentors chastised me for assuming she didn't use birth control, as no birth control is 100% effective. It doesn't seem like a huge logical leap to reach the conclusion that there wasn't birth control involved, especially considering the earlier story that she had a pregnancy scare, but maybe she used a condom and it failed. That's happened to me, although thankfully I didn't get pregnant until I wanted to.
Many people are pointing a well-aimed finger at Lynne Spears, Jamie Lynn's mom, and asking if she ever had a birth control discussion with either of her fertile daughters. The Huffington Post has a great editorial questioning how Lynn could so quickly sell her daughter's pregnancy story, and wondering how she so fundamentally failed in advising either one of her daughters.
Some quotes from the OK! article may show that Lynne either had no idea that her daughter was sexually active or was in denial about it. She calls Jamie Lynn her "baby" and says she was home on time for curfew. It has not yet been confirmed that Jamie Lynn was living with Casey, although People reports that he "was a fixture at the condo where Jamie Lynn stayed with her mother, Lynne, while filming the Nickelodeon series Zoey 101." Doesn't that sound like he was living with Jamie Lynn and her mom? And if that's the case, what does it matter if she's home on time if she's having sex with her boyfriend when she's there?
As for Lynne Spears, Jamie Lynn and Britney's mom, she was shocked. "I didn't believe it because Jamie Lynn's always been so conscientious. She's never late for her curfew. I was in shock. I mean, this is my 16-year-old baby."

And don't ask ask if Jamie Lynn and Casey should get married. "We're not going there. We're focusing on the baby. We've got so much to focus on right now."
[Quotes from OK! Magazine found on The Huffington Post]
Meanwhile there's a story that K-Fed heard about Jamie Lynn's pregnancy before Britney did, because he has a close relationship with Lynne Spears and she confided in him on Monday before the news broke. As for how Britney is coping, she's said to be driving around aimlessly, shopping, and going to whatever high end hotel will have her after she was barred from other establishments. It all sounds pretty average for Britney.
Our story yesterday that Jamie Lynn and her boyfriend Casey Aldridge have broken up seems likely to be true. Life & Style reports that they've had a rocky relationship and are currently apart:
A day after news broke that the 16-year-old is expecting, a Spears family insider tells Life & Style that she and Casey Aldridge, the father of her baby, are not seeing each other!

"Jamie Lynn and Casey are NOT together. They've broken up numerous times, but he was her first and she kept taking him back," says the insider.

"They're not dating now. He's really got nothing to offer this baby. He's a kid himself. They have no plans to get married."

"At this point, Jamie Lynn has asked her mom — and not Casey — to be in the delivery room with her."
[From Life and Style]
There will soon be a new addition to one of the most high profile celebrity families in the world. A very young woman is going to be a mother, but many of you have pointed out that this isn't your average teen pregnancy as there will be no financial struggle for Jamie Lynn and all the help that money can buy. There could be plenty of confusion, lost opportunity, and personal soul searching for this girl as she matures and experiences the gravity of the situation. Let's hope that she's able to cope well and care for her baby, and that she turns out to be a better mother than Lynn or her sister. That bar is set pretty low.
Here are pictures of Jamie Lynn throughout the years, thanks to PRPhotos. Header image is of Jamie Lynn and Britney at the Charlie and the Chocolate Factory Premiere on 7/10/05. Dates of the photos below are noted with the larger images.