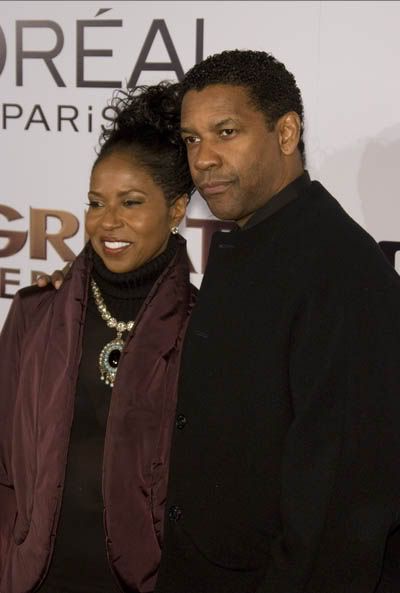 Denzel Washington is known for his generous charity, some of which has become the stuff of legend. The Oscar winning actor stars in the upcoming film The Great Debaters, which is out this Christmas and focuses on the success of the debate team in the 1930s at Wiley College in Marshall, Texas. Denzel visited Wiley last week to screen the film, and gave the small predominantly African-American college $1 million to re-establish its debate team.
The gift was announced Tuesday by school officials.

Washington was in Marshall last week to screen The Great Debaters, the story of Wiley's 1930s debate team. He stars as educator and poet Melvin Tolson, who led the all-black college's elite debate squad.

During his appearance, the 52-year-old actor-director said he would like to see the team get going again.

Marshall is a city of about 24,000, located 140 miles east of Dallas. Wiley has about 900 students.

The Great Debaters opens Christmas Day. It has been nominated for a Golden Globe Award for best picture drama.
[AP Story found at AZCentral.com]
Urban Legend site Snopes.com notes that Washington has also given $1 million to the Children's Fund of South Africa and $2.5 million to the Church of God. Washington is a devout Christian, according to Wikipedia. Washington, who turns 53 next week, has been married to his wife Pauletta since 1983. They have four children, John David, 23, a professional football player, Katia, 20, a student at Yale University, and twins Olivia and Malcolm, 15.
This week's National Enquirer had another story of Washington's kindness on a smaller scale. He made a young struggling actor's day when he personally called an agent to ask him to represent him:
Denzel suddenly strode into swanky Saks Fifth Avenue [in Beverly Hills] for last-minute Christmas shopping. The superstar soon had a bright-eyed young salesman hopping to fill his orders, and the guy kept making great gift suggestions. Impressed, Denzel learned he'd just arrived in Hollywood from Virgina to follow his dream of becoming… an actor. He was struggling to make ends meet, of course, but told Denzel about a long shot Big Break: A powerful showbiz agent had hinted that he might sign him as a client – but it was a "don't call us, we'll call you" situation.

Speaking with quiet authority… Denzel said "Get that agent on the phone now!" When the awed kid made the connection, Our Hero took the phone and said "Hi, this is Denzel washington. I'm with this nice young man who says he's waiting to hear whether you plan to represent him or not. I want to know if you're planning to sign him… yes or no. Otherwise, I'll call my agent – right now – and we'll find him someone else."

The stunned agent replied: "Er, yes… of course! I'll represent him."
[From The National Enquirer, print edition, Mike Walker's column, December 24, 2007]
The article goes on to report that Denzel wrote down his assistant's number for the young man and told him to call him if he needed any more help.
I love that story! Denzel Washington seems like such a great guy and it's nice to know he's still having a lot of success with his career.
Here's the trailer for the film, thanks to the Evil Beet for linking it. It is directed by Denzel, produced by Oprah and also stars Oscar winner Forest Wittaker. It looks incredible, but it also might get weighed down with too much emotion and predictable tugging at heartstrings, it could go either way judging by this trailer.

Here's Denzel and his wife Pauletta along with Oprah, Samuel L Jackson and his wife LaTanya Richardson at The Great Debaters premiere on 12/11/07, thanks to PRPhotos.