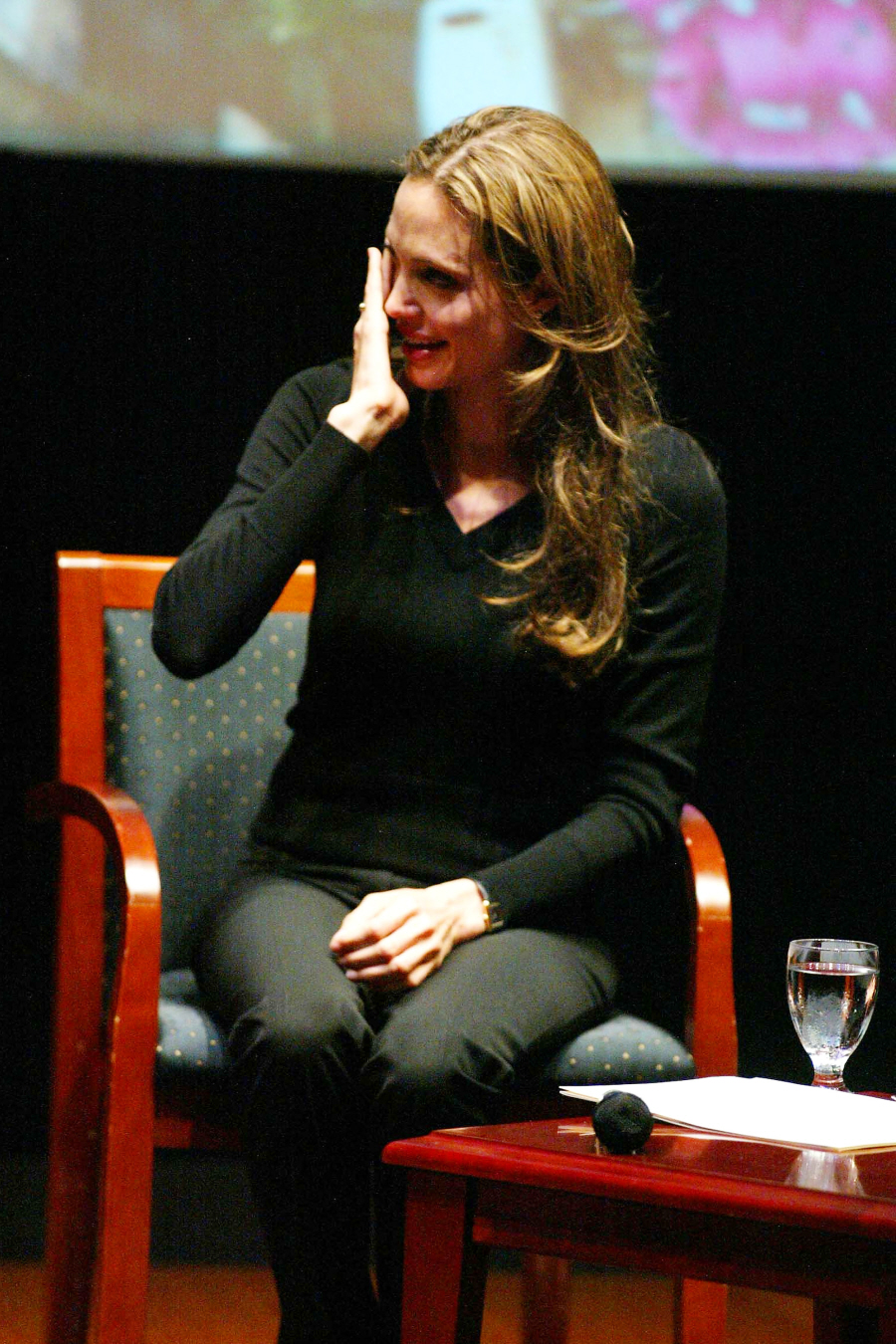 Us Weekly has a really weird "exclusive" story up about Angelina Jolie's political leanings. Apparently, Us Weekly has a source who thinks Angelina's a chip off the old batsh-t crazy block (a.k.a. Jon Voight) and that Angelina "hates" President Obama. I'm sure he's broken-hearted, right? I mean, what's going to happen to Pres. Obama now? He'll whisper to Michelle, "Once I lost La Jolie, I knew I lost middle America." I demand that Pres. Obama pander to the Brangelunatic Voting Bloc (we're sizable, but crazy and fickle). I imagine him in a shirt that reads, "MRMS 4 EVA". Here's more:
Barack Obama does not have Angelina Jolie's seal of approval.

"She hates him," a source close to the U.N. goodwill ambassador, 34, tells the new issue of Us Weekly (on newsstands now).

"She's into education and rehabilitation and thinks Obama is all about welfare and handouts. She thinks Obama is really a socialist in disguise," adds the source.

But don't expect to see the Salt actress rally against Democrats on Fox News like her staunch Republican father, Jon Voight.

"Angie isn't Republican, but she thinks Obama is all smoke and mirrors," the source says.

And those political views are putting her at odds with Brad Pitt, 45, who is a big fan of the president and even went solo to the 2008 election party in Chicago.

"They get in nasty arguments all the time about it," says the source. "She doesn't respect Brad when it comes to politics, but, in the end, this won't tear them apart."
[From Us Weekly]
Maybe this is all because Secretary of State Hillary Clinton's elbow is Team Aniston. After that incident (where Clinton missed out on the chance to stand on the same stage as Angelina because Clinton broke her elbow), I'm sure Angelina was like "This never would have happened if Lou Dobbs was Preznit!" Uh. Whatever.
In all honesty, I've felt for some time now that Angelina Jolie likely has some pretty neoconservative tendencies. I won't bore everyone with Political Science crap, but basically I think Angelina is one of those activists who thinks America should be running around, saving the world one UN peacekeeping mission at a time. She has managed to be politically and socially active, yet has never vocalized support for either the Democratic or Republican party. When asked about who she would vote for last year, she hedged like a champ. I've said this before, but it bears repeating – I think Angelina has zero interest in vocalizing her support for any candidate or party, just because she wants the issues she cares about to be supported by every side. Brad's a pretty big Democrat though – and I could see the two of them fighting over politics. And that's the point of this story, isn't it? Oh my God, "the last straw"!
Angelina Jolie at a UNHCR event in Washington, DC on June 19, 2009. Maybe she's weeping for capitalism. Credit: WENN.