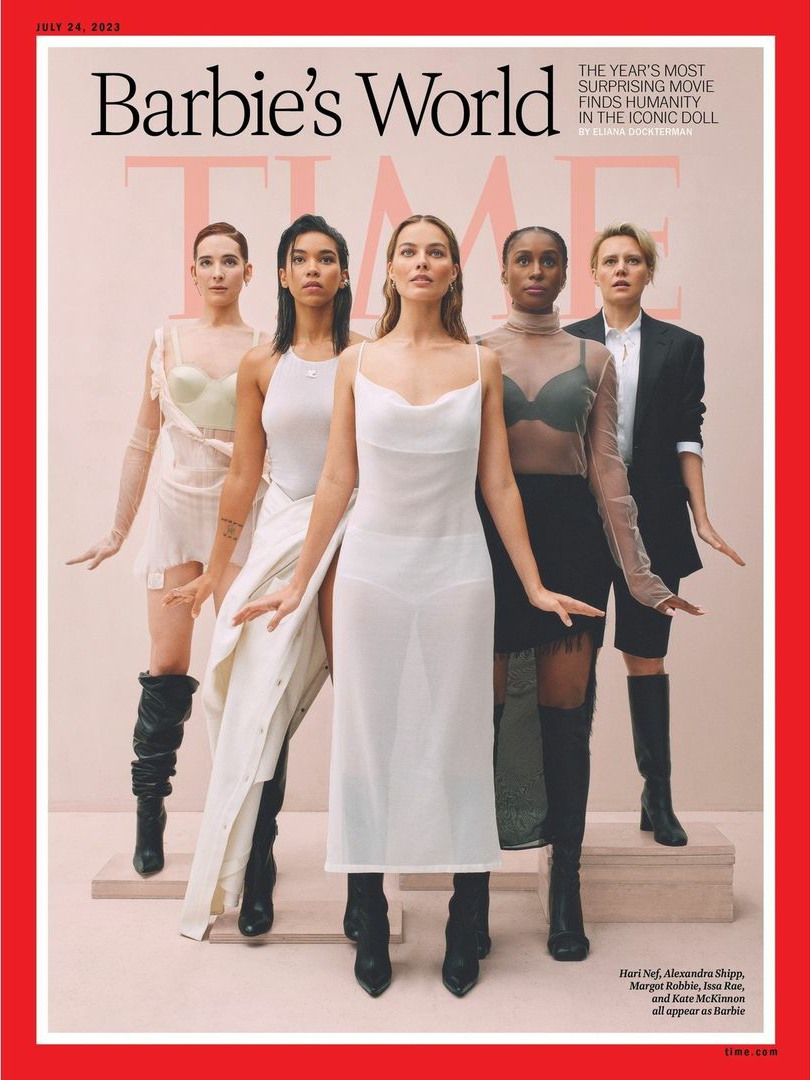 I have to admit, I am practically squealing with delight whenever some new Barbie marketing drops. The Warner Bros marketing team and Mattel marketing team have just done a completely fantastic job with all of the product collaborations, all of junket fabulousness, all of the media arrangements. The Barbie team covers this week's Time Magazine and my only disappointment here is that we need more PINK. But I get it – we shouldn't overload on pink before Barbie. Time's cover story is basically the story of how Barbie got made, although if you're interested, I thought Margot Robbie's recent Vogue interview was a much more comprehensive narrative of how Margot put the project together as a producer. Time puts more of an emphasis on Mattel's side of things, and it's clear that Mattel's corporate dudes don't completely understand Greta Gerwig's vision, but they have high hopes that this will be Mattel's signature franchise. Some highlights from Time:
The now infamous shot of Margot's feet keeping the arch: The shot took eight takes. She had to hold onto a bar to keep her feet flexed. And, yes, those are her feet. "I really don't like it when someone else does my hands or feet in an insert shot," she says.

Gerwig thinks the movie is a miracle: Whatever audiences ultimately think of Barbie, Gerwig still can't seem to believe she got away with making this version. "This movie is a g-ddamn miracle," she says. She calls it a "surprising spicy margarita." By the time you realize the salted rim has cayenne mixed in, it's too late. "You can already taste the sweetness and you sort of go with the spice."

Mattel did fight with Gerwig & Robbie: At one point Richard Dickson, COO and president of Mattel, says he took a flight to the London set to argue with Gerwig and Robbie over a particular scene, which he felt was off-brand. Dickson dials up his natural boyish exuberance, imitating himself righteously marching off the plane to meet them. But Gerwig and Robbie performed the scene for him and changed his mind. "When you look on the page, the nuance isn't there, the delivery isn't there," explains Robbie.

Robbie on her meeting with Mattel's CEO Ynon Kreiz: "In that very first meeting, we impressed upon Ynon we are going to honor the legacy of your brand, but if we don't acknowledge certain things—if we don't say it, someone else is going to say it. So you might as well be a part of that conversation."

Robbie wouldn't have done the film if she was the only Barbie: "If [Mattel] hadn't made that change to have a multiplicity of Barbies, I don't think I would have wanted to attempt to make a Barbie film. I don't think you should say, 'This is the one version of what Barbie is, and that's what women should aspire to be and look like and act like.'"

Issa Rae on playing President Barbie: Rae argues that the entire point of the film is to portray a world in which there isn't a singular ideal. "My worry was that it was going to feel too white feminist-y, but I think that it's self-aware. Barbie Land is perfect, right? It represents perfection. So if perfection is just a bunch of white Barbies, I don't know that anybody can get on board with that."

Is Barbie a feminist movie? Brenner called Gerwig's film "not a feminist movie," a sentiment echoed by other Mattel executives I spoke with. It was a striking contrast to my interpretation of the film and conversations with many of the actors, who used that term unprompted to describe the script. When I relay Mattel's words to Robbie, she raises an eyebrow. "Who said that?" she asks then sighs. "It's not that it is or it isn't. It's a movie. It's a movie that's got so much in it." The bigger point, Robbie impresses upon me, is "we're in on the joke. This isn't a Barbie puff piece."

Robbie on Mattel's desire for more Barbie movies: "It could go a million different directions from this point. But I think you fall into a bit of a trap if you try and set up a first movie whilst also planning for sequels."
I've come out of the Barbie promotional campaign with an enormous respect for Margot Robbie. I've always respected her, to be fair, but holy hell, what a producer. She was involved in every aspect of this, yet she was also smart enough to delegate to smart and talented creatives, all while she acted as a middleman between Gerwig and Mattel's more conservative vision. At the end of the day, Mattel is happy and Gerwig made the film she wanted to make and everyone's in love with Margot. I would be very interested to see what Margot's contract entails, and whether it even has language about sequels. She did a bang-up job here – Mattel clearly wants her to play Barbie forever, but she's opened up the Barbie Cinematic Universe so much that the next Barbie film could have an entirely different cast. A Barbie multiverse.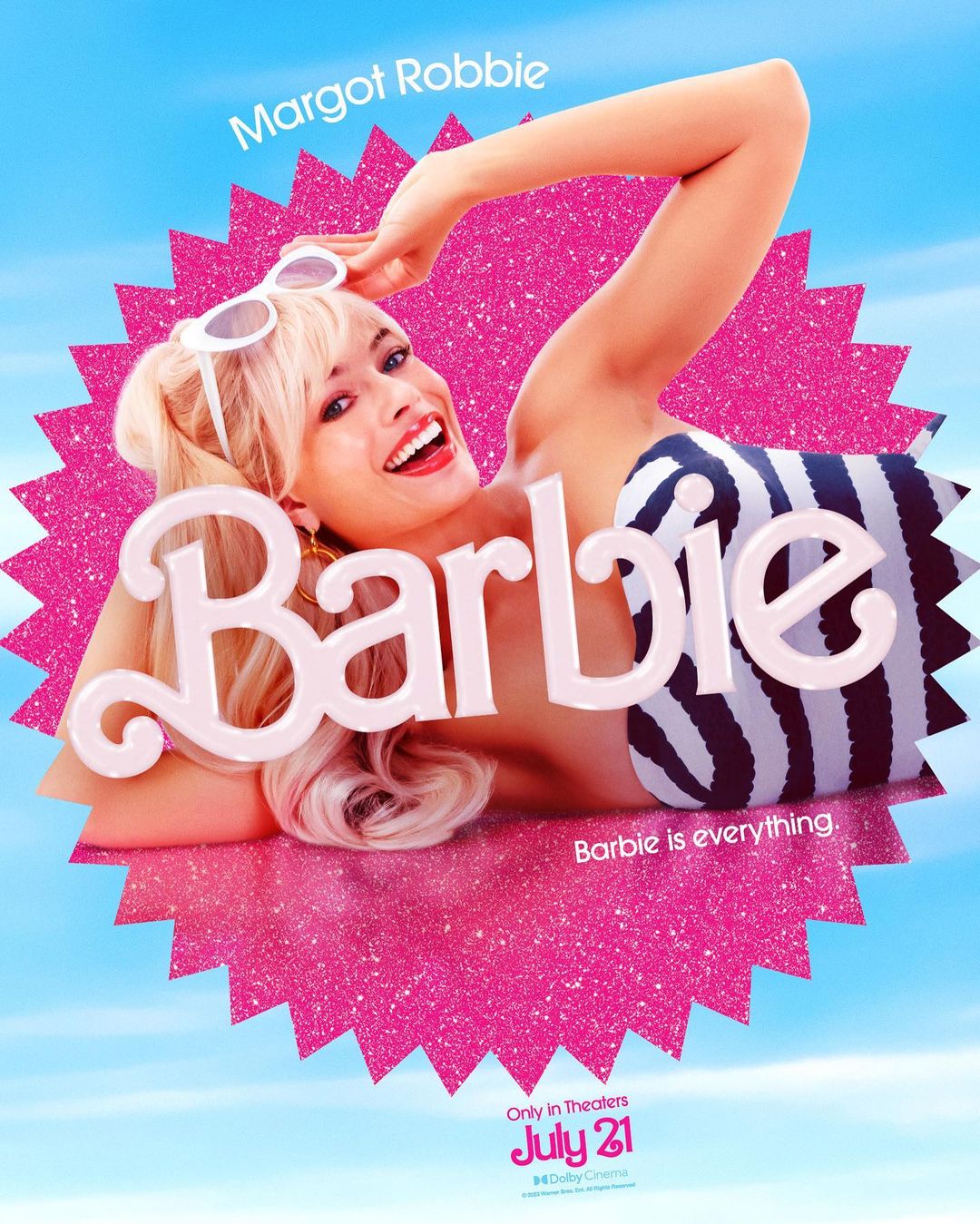 Cover courtesy of Time, additional posters & screencaps courtesy of Warner Bros.