This story has been burning through the internet for the past 48 hours, slowly but steadily building up some steam. From what little sourcing and back-tracking I've done, I think all of the reports steam from the same source: The National Enquirer. The Enquirer is reporting, in this week's issue, that Tiger Woods is a big, fat cheater. They claim he's cheating on Elin Norgegren, his wife of six years and mother of his two children (who was a model before they married – just so you know). The Enquirer's sourcing seems to be exclusively from friends of "the other woman". The woman is an "events planner" Rachel Uchitel, and in case that name sounds familiar, she is the same woman that Bones star David Boreanaz alleged had an affair with when his wife was pregnant earlier this year (catch up on that story, courtesy of Star Magazine). Good Lord. This Rachel woman gets around, doesn't she? Allegedly.
The story is gross and dirty and tacky, just like you'd expect. The story is really, really long, so I'm just going to do this in bullet points:
*Rachel told friends that her liaison with Tiger began in June in New York and has "played out in Los Angeles, Las Vegas and Australia."

*Friends say Rachel told them she and Tiger stay in touch by phone and sexting.

*"I'm sure Tiger thinks Rachel is staying quiet about their affair, but she's told lots of people," says Ashley Samson, a close friend of Rachel's. Samson also passed a polygraph test. "Rachel told me, 'I'm having an affair with Tiger Woods. We're in love!' She even read me text messages Tiger sent her that said 'I love you, babe. It's always going to be just you and me.'"

*More from Samson, who sounds like she has some kind ax to grind: "I'm shocked that Rachel would be so casual about an affair that could break up Tiger's family. It's crazy."

*Rachel was alleged boning David Boreanaz and Tiger around the same time, from June through August, when she broke it off with Boreanaz. Allegedly.

*Another friend of Rachel's (who also passed a polygraph) says: "They were constantly sexting. Tiger asked what she was wearing, what did she want him to do to her, what did she want to do to him. I reminded Rachel that he was married, and she said 'Big f-cking deal! It's Tiger Woods! I don't care about his wife! We're in love.' Her nickname for Tiger is Bear."

*Rachel traveled to Australia to have a secret tryst with Tiger/Bear while he was playing the Australian Masters. An Enquirer reporter watched Rachel check in to Tiger's hotel, and watched her elevator go up to the 35th floor, where Tiger had a VIP suite.

*When Rachel was contacted by the Enquirer about the tryst, she first lied about her reasons for being there, and about having another boyfriend, but later said she was in Australia "for business". However, she says that she and Tiger met on two other occasions.

*Rachel: "I don't want to be somebody's number two. I don't want to be with a married man."

*Tiger's lawyer told the Enquirer that Tiger may have met Rachel in a club at some point, but "vehemently denied an affair".

*Rachel's friends claim she bitched and whined about the Enquirer tracking her on her Australian tryst, and that she complained "I only got to spend one day with Tiger!"

*Rachel's friends also claim she's given up dating other men and is seeing Tiger exclusively. Rachel also claims to her friends that she's a "one-man woman with Tiger" and that Tiger tells her "I want to go to bed with you every night and wake up to you every morning." To which Rachel replies: "You can't – you have a wife and two kids." Tiger replies: "I'll fix that!"

*Tiger and Rachel fight because she thinks he's seeing other women. Not his wife. Rachel also thinks, according to her friends, that Tiger is about to leave his wife for her.
[From The National Enquirer, print edition, December 7 2009]
Now, at first, I was like "this Rachel woman is f-cking delusional, and probably a stalker and a narcissistic self-promoter." But now that I've read the whole thing, with the polygraph-approved comments from her friends, I'm kind of thinking that parts of the story might be true. I think Tiger might be having (or had) an affair with Rachel Uchitel, and that the affair might have been more than just a one night thing. But what I don't buy is all of the rosy sentiments of "I love you, babe. It's always going to be just you and me." Bullsh-t. If he did say that, it was just to get a piece. I doubt he glamorized it, that stuff sounds like it's all her. Ugh… and I liked Tiger so much. His wife is gorgeous too – and this Rachel woman is rather plain.
Here's Star Magazine's photo of Rachel Uchitel when she was allegedly bangin' David Boreanaz: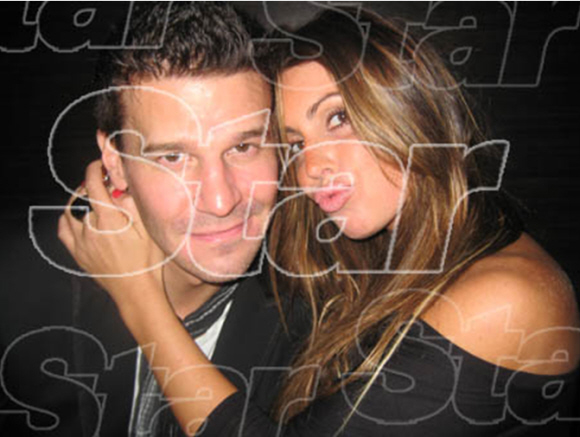 Tiger Woods, his wife Elin and his daughter Sam are shown on November 21, Credit: PicApp/Getty.