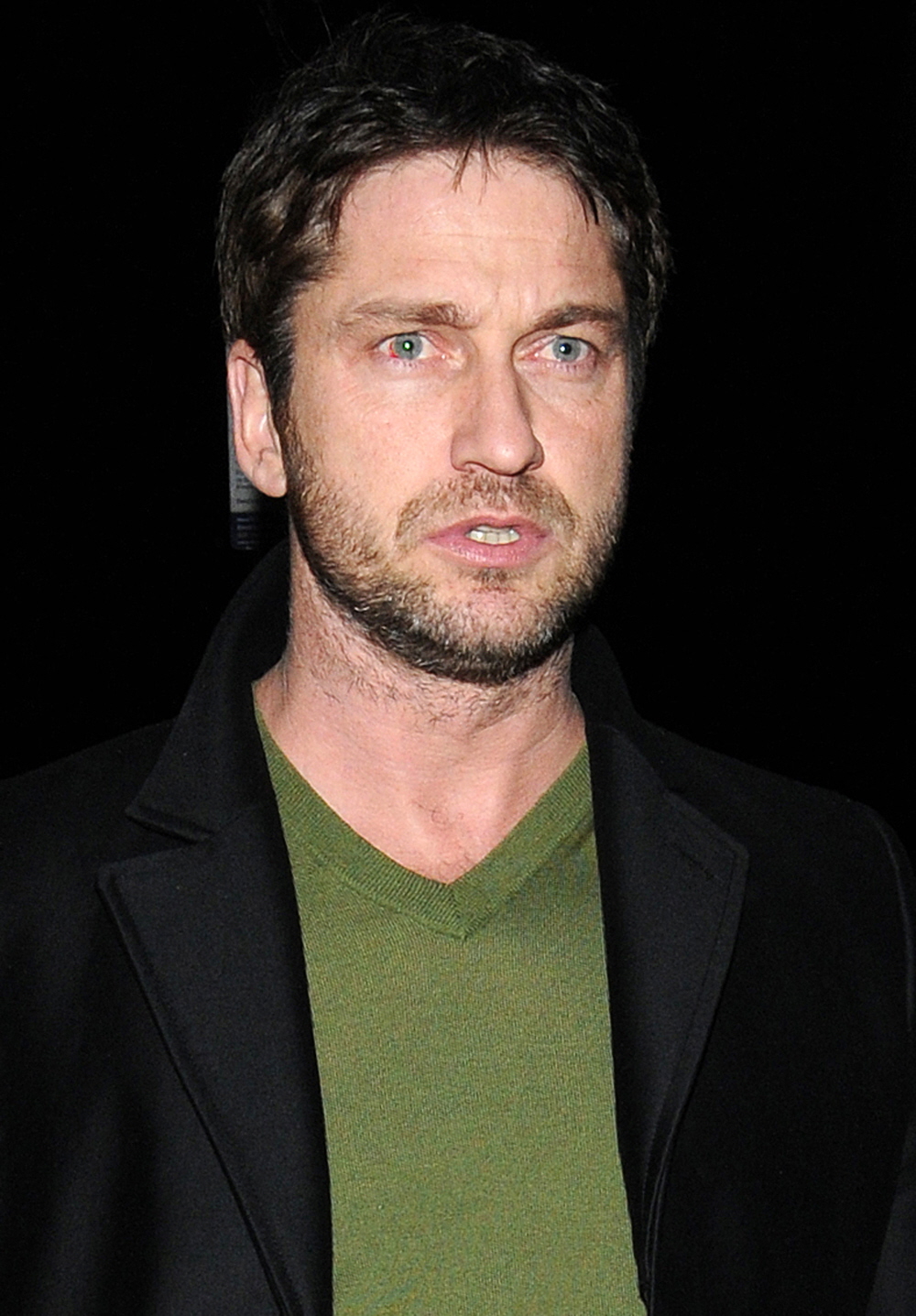 My guy Gerard Butler should have spent Thanksgiving eating my mashed potatoes (in more ways than one) on Thanksgiving, but instead he decided to hang out at The Groucho Club in London with a couple of sl-ts. No, they're not really sl-ts. Well, one is. That's Kimberly Stewart, Rod's daughter. The other I'm not sure about – Natalie Imbruglia. Is she a sl-t? She once dated David Schwimmer and was recently attached (in the press) to Prince Harry. That's all I really know about her. I will say this – Gerard looks like he would have had a better time eating my mashed potatoes.
Last night Gerard Butler turned his charm on two more famous starlets – singer Natalie Imbruglia and socialite Kimberly Stewart. The trio enjoyed a Thanksgiving dinner held at London's Groucho club, where they partied until the earlier hours of this morning.

Both Natalie, 34, and Kimberly, 30, are both single, as is the 40-year-old Scottish heartthrob.

He also attracted the attention of a few overzealous female fans, who chased him down the street as he left the club at 3am.

Gerard, who is on a promotional visit to promote his new film Law Abiding Citizen, says he's not entirely comfortable with his reputation as a womaniser.

He said yesterday: 'I think it does do your reputation harm if this is happening every week. It gets to the stage when you want to go, "Don't come near because then we'll be having a thing! Stay over there and we maybe can shout to each other".'

The star is still on the look out for The One, but seems in no real rush to lock down a serious girlfriend.

He said: 'It would be good to settle down eventually. It's not like I'm sitting there with laser vision going, "OK, are you the one?" because what I'm doing is great as well.'
[From The Daily Mail]
Of course he's still on the lookout for The One. He hasn't met me yet. And I'm starting to hear that by the time he finally gets around to proposing (any day now), he'll have all of the venereal diseases known to man. Ugh… Kimberly Stewart? Really? Natalie Imbruglia I could maybe get on board with, temporarily. But I get the feeling that Natalie, Kimberly and Gerard went back to his place for a threesome, otherwise known as "the forbidden mashed potato". Sob! He still has time to find me before Christmas.
Gerard Butler Natalie Imbruglia and Kimberly Stewart all seen leaving the Groucho Club (separately) in London, England on November 26th 2009. Credit: Fame.