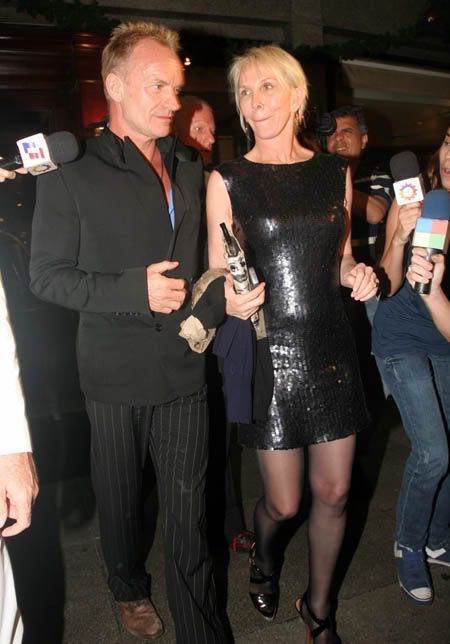 Oversexed singer Sting found a way to calm down the panicking passengers on a hotel elevator that broke down mid-ride, trapping eight people including him and three of his employees for 20 minutes. At first he was understandably freaked out when the elevator ground to a halt and kept saying he'd be late to his concert. He soon used his superhuman meditation skills to chill the f out and got everyone else to join him chanting cross-legged. I was hoping this story would end in a group orgasm, but maybe an intense calming experience and greater spiritual awareness is better and less skeevy than that:
Leaving Rio de Janeiro's Copacabana Palace Hotel for a concert, [Sting] and three of his entorouage entered the lift, joining four guests already aboard – but seconds after the doors slid shut, the elevator jerked violently and stopped dead! Everyone got panicky, one guy yelled for help on the elevator phone and Sting, extremely agitated at first, kept looking at his watch and complaining he'd be late for the concert – but then he abruptly composed himself, dropped to the floor in a cross-legged yoga posture and began deep-breathing and meditation chants. In moments, everyone chilled like Swami Sting until their rescue 20 minutes later.
[From The National Enquirer, print edition, Mike Walker's column, December 31, 2007]
I could see this happening, especially if there were three other people on the elevator that worked with Sting and would be quick to meditate with him. If half the people on the elevator including Sting were chanting I could see myself joining in. If it was just some random guy doing it alone I would probably remain standing with my arms crossed and try not to laugh. I need to be more mature about meditation, and I've done yoga but chanting in an elevator just seems odd to me.
Instead of meditating, Sting could have told the other trapped passengers riveting stories about his past exploits, or even broke out singing. A little entertainment would have made the time pass much quicker.
Sting and his wife Trudie Styler are shown out to dinner in Buenos Aires on 12/4/07, thanks to Splash News.