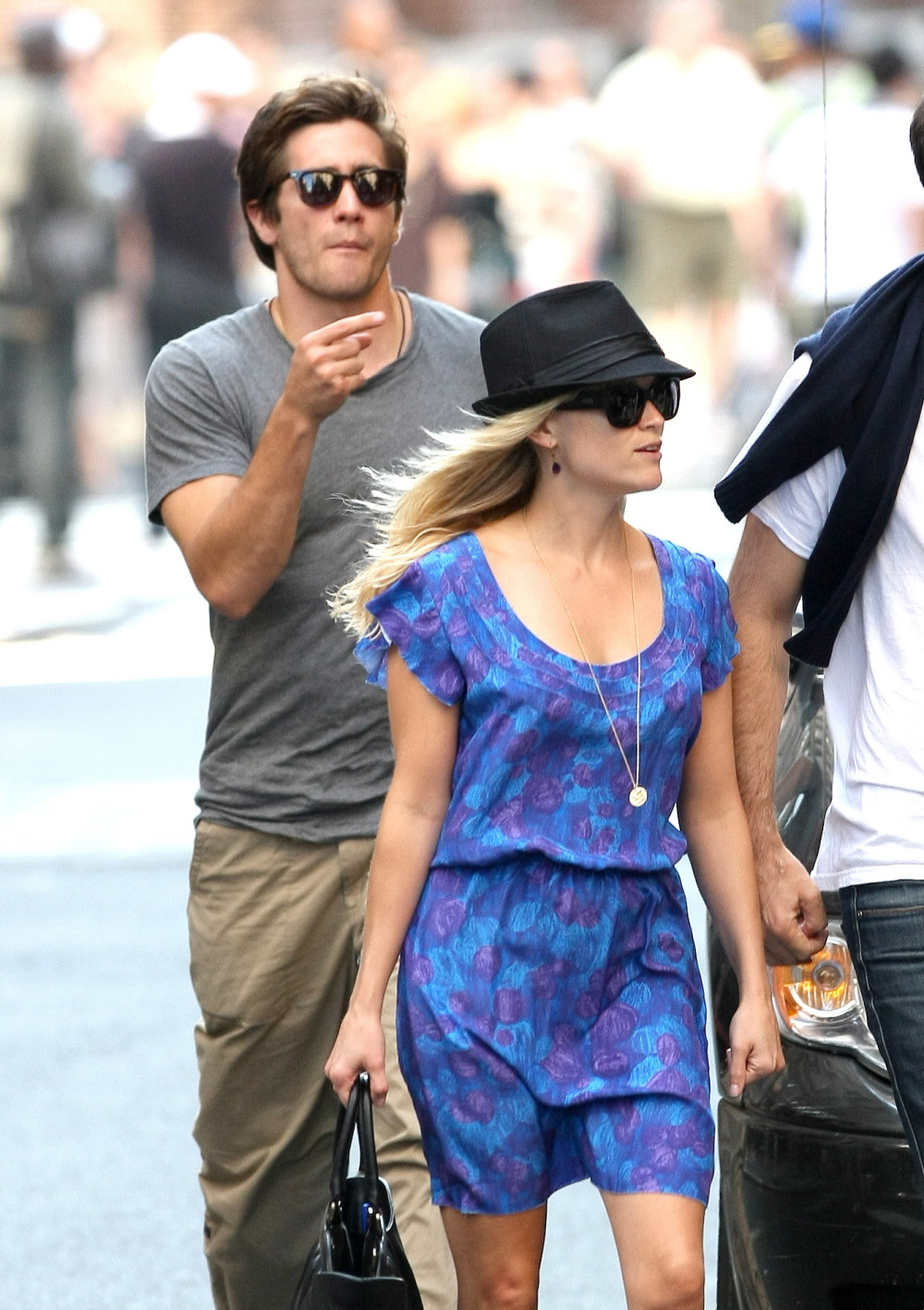 Methinks People Magazine is doing some damage control! People just released a new story on the Jake Gyllenhaal-Reese Witherspoon rumors that began yesterday, when People first reported Jake and Reese had split. According to People's new article, they had a source who claimed Reese "told close friends around Thanksgiving that she and Gyllenhall… had broken up." People Magazine also does a somewhat defensive timeline of how Reese has been solo the past few weeks, as if to say "Dude, they weren't photographed together for two weeks! What were we supposed to think?"
People goes on to make it sound like Reese and Jake have broken up several times, the working (and unspoken) theory being that Reese and Jake did actually break up a few weeks ago, but might get back together yet again. Another claim: Jake wants to marry Reese ("Jake would marry her tomorrow") but Reese is gun-shy about re-marriage and strictly adheres to a "if it ain't broke, don't fix it" philosophy ("Jake can be a little overbearing at times, and Reese is really happy with life right now. Why screw that up or change a good thing?").
While the precise status of the Reese Witherspoon and Jake Gyllenhaal relationship remains unclear – over the weekend a source close to the actress told PEOPLE the couple had split, a claim denied by their reps – the two have certainly had their share of highs and lows during their two-year relationship.

Witherspoon, 33, told close friends around Thanksgiving that she and Gyllenhall, also 33, had broken up, says the source. She was seen driving alone in Los Angeles over the weekend, then on Sunday she was spotted at the Whiskey Kitchen in Nashville – without Gyllenhaal.

As a couple, the last time they were seen together was two weeks ago, when they spent time in Philadelphia (where Reese is shooting a yet-to-be-titled movie with Oscar-winning director James L. Brooks) and in Pittsburgh (where Jake is shooting his new movie, Love and Other Drugs).

"As much as everyone thinks they're right there, they're really not near the whole marriage thing," a source close to the couple told PEOPLE last spring. "Jake would marry her tomorrow, but Reese doesn't want to go there yet, even though he would like to."

The source adds: "There's a huge attraction between them, and they've becomes a team, partners, but Jake can be a little overbearing at times, and Reese is really happy with life right now. Why screw that up or change a good thing?"

Then there are her children – daughter Ava, 10, and son Deacon, 6 – with former husband Ryan Phillippe to consider. "The kids are her first priority," says the source. "They're not ready for that, at least as far as Jake."

The pair first met on the Morocco set of the movie Rendition in 2006. "Jake went and introduced himself to Reese," a source close to both told PEOPLE. From there, "things slowly progressed, but it was never something she thought would happen from the start. She just kind of developed this little crush over time."

But with Witherspoon's divorce from Phillippe still pending at the time, the actress took a step back during the summer of 2007.

"They broke up. It's totally and completely over," a source in Witherspoon's circle told PEOPLE at the time. "Reese was the one who had to do it. She just got out of a divorce and was so concerned with her family, she just didn't have the time for him and he really demanded that."

The divorce was finalized in June 2008, but moving on proved difficult for Witherspoon. "When people get in your face and say, 'This will pass,' you think: Are they crazy?" Witherspoon said in the April 2009 issue of Elle magazine, adding that the divorce was, "very humiliating and very isolating."

Still, Witherspoon came to realize, "If it's not painful, maybe it wasn't the right decision to marry to begin with. Those are the appropriate emotions."

Reuniting with Gyllenhaal in 2007, Witherspoon later said her beau was "really a fantastic guy."

"He's very supportive," was she told Vogue last year. "Suffice it to say, I'm very happy in life, and I'm very lucky to have a lot of really supportive people around me who care very much for me, and, you know, that's all you can hope for in life. I am very blessed in that way."

Still, Witherspoon was hesitant to discuss the possibility of marrying again. Despite repeated rumors that the duo had gotten engaged, reps for the pair denied a proposal – and Witherspoon made it clear that she wasn't ready.

"Family is all we have in life, but I don't know how I feel about marriage," she told Parade last year. "Obviously, I'm not far enough out of being married to think about doing it again. You sort of reconstitute your family. You find a family with people who come into your life for a reason."
[From People]
Well, I think it's perfectly reasonable that Reese would be rather "meh" on marriage after the chaos of being married to Ryan Phillippe. Excuse me, I mean "alleged" chaos. He was allegedly cheating on her all over the place, and I could see Reese having some big trust issues. It's also interesting to hear that Jake is "a little overbearing" – I'm just happy to hear he's not Mr. Perfect, although I do think it's kind of sweet that he is the one who wants to get married and Reese is the commitment-phobic one. Good work, Reese!
Reese and Jake in New York on June 6, 2009. Also, Reese and Jake at the 'Rendition' premiere in Toronto on September 7, 2007. Credit: INF.