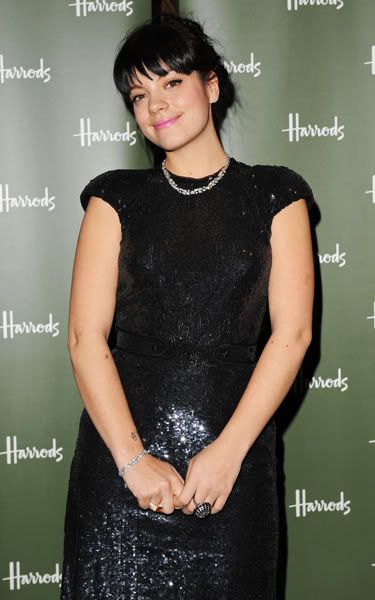 Cute British singer Lily Allen was on hand to open famed London department store Harrods for the start of their Winter sale this morning. She posed somewhat self-consciously with her hands across her stomach, but didn't hide her growing pregnancy bump. Allen, 22, is expecting a baby with Ed Simons from the Chemical Brothers, 27. They've only been together since September, but are planning on moving in together to help raise the baby. It is not know how far along Lily Allen is, with her rep merely saying that the pregnancy "was at such an early stage" when she confirmed the news.
Lily Allen is getting her own talkshow on BBC in which she will have celebrity guests and musicians. She also wants to help publicize little-known bands with talent. She sent out a message on myspace asking for help finding bands for the show, which will "be on in the new year on BBC3." The website for the show allows you to register for audience tickets, and hopes to get online participation from fans.
Allen is shown with Harrods owner Mohamed Al Fayed this morning, and she is holding a Shih Tzu named Dylan at Harrod's pet shop. Thanks to PRPhotos for these pictures.