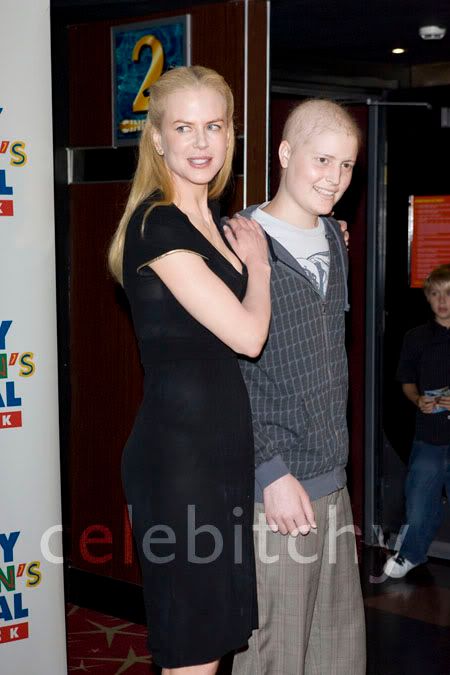 Nicole Kidman has made no secret of the fact that she wants to have more children, and US Weekly reminds us of all her recent quotes that show she's yearning for a baby. In an interview in September's Vanity Fair, she said, "I think I would be very sad if I wasn't able to have a baby. Keith knows I want one, and he has been getting there slowly," implying that her new husband wasn't as keen to have a baby as she is. She also told Vogue that "I always thought I'd eventually live on a Fijian island. I love the idea of being in a sarong, with hair down to my bum and kids following me around and hanging out."
This weekend's Daily Mail claims that Kidman's dreams have come true in time for the holidays, and that she's been telling friends and family that she's pregnant. The story sounds just like earlier false reports, which had her also telling friends and family of the news. Since the Daily Mail is reporting it, I wouldn't count on an official announcement anytime soon.
Nicole Kidman and her husband of 18 months are expecting their first baby, the Daily Mail can reveal.

The Oscar-winning actress and Keith Urban, the country and western singer she calls the "love of my life", broke the news to their families over the Christmas holiday.

The 40-year-old Australian star had already spoken of "winding down" her film-making activities as much as possible next year.

The baby, whose expected arrival date has not yet been revealed, will be the actress's first natural child.
[From The Daily Mail]
The Daily Mail article then relies on her recent statement that acting on stage "wouldn't fit in with the logistics and dynamics of my family," as evidence and goes on to cite her outfits at recent premieres, so it sounds like the supposed pregnancy announcement is just a hunch based on no insider information. And that report this spring that she was pregnant sounded just the same:
After months of fertility treatment, sources say the actress has told family and friends that she and husband Keith Urban are finally expecting their first child together.
[From WomansDay.Ninemsn.com.au, published in March, 2007]
Kidman often looks like she has a lower-belly bump that could be the early stages of pregnancy. Many of you have pointed out that it might be the result of fertility treatment and doesn't necessarily mean she's pregnant.
Kidman has hinted at trouble in her marriage. When asked if she was happy with her husband of a year and a half, Keith Urban, she told Interview magazine this October that "I don't ever say that. Partly because interviews are done in advance and you never know where something's going. People's lives together are complicated and beautiful and that's what they should stay. They're very quiet. Complicatedly quiet. They don't need to be broadcast." She went on to say that "My husband and I are committed to each other and deeply in love. That's how I would put it. We're working on staying in that place, and hopefully we will for the rest of our lives."
If she's so actively working on her relationship that she has to say she is, it might be harder if a child enters the picture.
The latest photographs I could find of Kidman are from 12/18 at a screening of The Golden Compass in Australia for sick children from Sydney Children's Hospital Randwick. She could possibly be pregnant, but it could also be her dress. She looked exactly the same with that very minor lower-belly bump in early October of this year. The verdict is still out on this one. I hope for her sake that it's true, though.
Thanks to Splash News for these pictures of Nicole. She is also shown on 12/16 at the Sydney premiere of Golden Compass.
Update: Kidman's rep denies this report, and gives a pretty funny response when asked for comments. It sounds like Kidman isn't pregnant at all:
"It is incorrect," the spokeswoman tells the paper. "She must have had about 30 babies by now."

As for Kidman, says the rep, "She's in Australia making a film" – director Baz Luhrman's epic Australia, costarring Hugh Jackman – "and her family are in Australia. She's happily ensconced away somewhere having a few days break. It's the silly season. As far as we're concerned, it's another rumor out of London."
[From People.com]