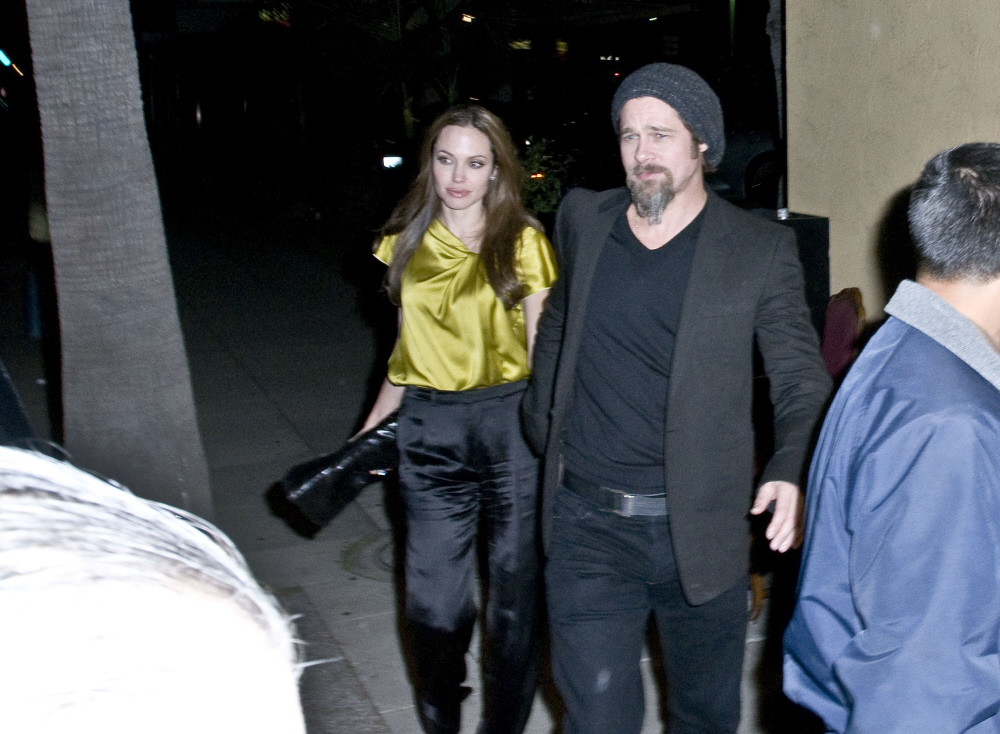 Wow… Angelina Jolie has given a rare interview where she's not promoting a film or a cause. Now, this is from OK! Magazine, and they're not as legitimate as say, People Magazine, but I do think this interview is for real. Meaning that someone on OK!'s staff spoke to Angelina herself (not one of the gerbils) either in person, on the phone, or via e-mail or something.
The interview is short, and it's basically just Angelina defending herself and her relationship with Brad. My guess is this is another piece of Brangelina's media strategy to combat the Ian Halperin crap, like posing for photos after having dinner with Elisabetta "Eminem Tattoo" Canalis and George Clooney.
Trouble in Jolie-Pitt land? No chance, according to Angelina Jolie in an interview featured in the new issue of OK!, Angie says in Brad Pitt — superdad to Maddox, Pax, Zahara, Shiloh, Vivienne and Knox — she's found "the right person."

What's the best thing about Brad?
He is a wonderful person and a really great actor. He's extremely down-to-earth, goofy and funny. People know very little about him, and when it comes to where his morals are, how he is with people, what he cares about and what he's learned about, he is very aware.

How do you carve out quality time?
We just do it and work on it.

Ever wish you could be alone?
I met the right person and I don't like being without him.

Is it easy to juggle being a mother and an A-list actor?
I am just a mom and that's how I am going to be the rest of my life. That sounds so funny — I mean [the phrase] "A-list actor."

What's up next?
I help where I can. I raise my kids with a lot of love and make sure they grow into the individuals they were born to be.
[From OK! Magazine]
CB says she "kind of feels bad for her. She is really over the top in her interviews about Brad and I think she genuinely is crazy about him. I bet they do fight, but all married people do." I think one of the biggest conspiracies about Brad and Angelina is that she's somehow in control of everything. I don't buy that. I think she adores Brad and looks at him as the protective partner/father she's always wanted, and he's the one making a lot of their family decisions. And that pisses me off – because if Brad really has as much control as I think he has in their relationship, then he should be out there defending Angelina and their relationship much more. Instead, Brad is always quiet Mr. Perfect while Angelina gets all the criticism.
UPDATE: The GERBILS attack! No, it could very well be that OK! Magazine cut-and-pasted from previous interviews. Specifically this interview Angelina did last year when she was promoting Changeling. It sounded new to me, but I've been wrong about it before. My bad!
Brad and Angelina doing their photo op late November 30/December 1 in LA. Credit: Bauer-Griffin.