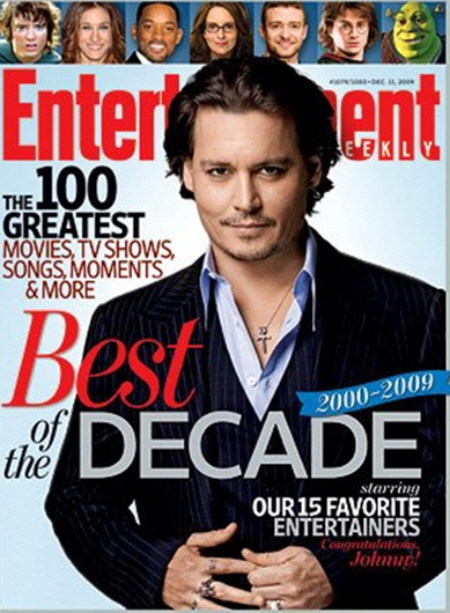 Damn! Johnny Depp has just been named Entertainment Weekly's Entertainer of the Decade. EW compiled a list of fifteen entertainers, and Depp came out on top! And on the cover. Depp adds this honor to his recent crowning as People Magazine's Sexiest Man Alive 2009. EW also names people such as Sarah Jessica Parker, Justin Timberlake, Tina Fey, and Will Smith. Kind of vanilla, yes? I mean, sure, I love Tina and everything, but one of the entertainers of the decade? Er… okay.
When the decade began, Johnny Depp wasn't the Johnny Depp of today—one of Entertainment Weekly's 15 Entertainers of the Decade.

Yes, he was a talented and critically acclaimed actor. But he wasn't yet a surefire box-office draw. Then, in 2003, Pirates of the Caribbean: The Curse of the Black Pearl happened. Capt. Jack Sparrow was one of those without-a-net performances, so singular and subversive that it's hard to believe Depp got away with it. An added bonus was that the actor, now 46, was able to sink his soul into a blockbuster character without selling it.

And no one was more baffled by his and the movie's success — the first of the three Pirates films eventually raked in $305 million — than Depp himself.

When he sat down with EW in 2003, Depp said, "All I can say is for a guy like me who's been dangling in this business for the last 20 years, to finally have something hit, it's unexpected and very touching."

Now, in EW's Best of the Decade issue, Depp shares something else unexpected and very touching: an extensive, uncharacteristically revealing list of his pop-culture essentials, including movies, books, and music. For instance, what are the man behind Capt. Jack's two favorite albums by, who else, the Rolling Stones?

"Almost impossible to pick one LP, even more difficult to name just two, as they are all glorious, " says Depp of Sticky Fingers and Tattoo You. "But these efforts have successfully soundtracked many a riotous late night out, slurping up the city, in another life."
[From Entertainment Weekly]
Well, congratulations to Johnny. With all of these magazines falling all over themselves for him, it's a wonder he doesn't have an Oscar already. You know that the second he wins one, the anti-Depp backlash will begin. And it will probably die quickly, because I think most people think Depp is pretty awesome. He's like James Bond – men want to be him, women want to be with him.
In other Depp news, he is most likely signing on to play Pancho Villa in a bio-pic called… wait for it… Seven Friends of Pancho Villa and the Woman With Six Fingers. That honestly has "Oscar" written all over it. Johnny's costar in the film would likely be Salma Hayek, probably playing this elusive six-fingered woman. Oh, and the dialogue would be Spanish-heavy. According to Variety, "The script is based on the biographical novel "The Friends of Pancho Villa," in which author James Carlos Blake recounts how Villa and his compadres had a great time fighting and robbing the rich, but also dancing, partying and making love." Is anyone else getting hot at the idea of Salma and Johnny going at it like rabbits?
Entertainment Weekly cover courtesy of Celebrifi.