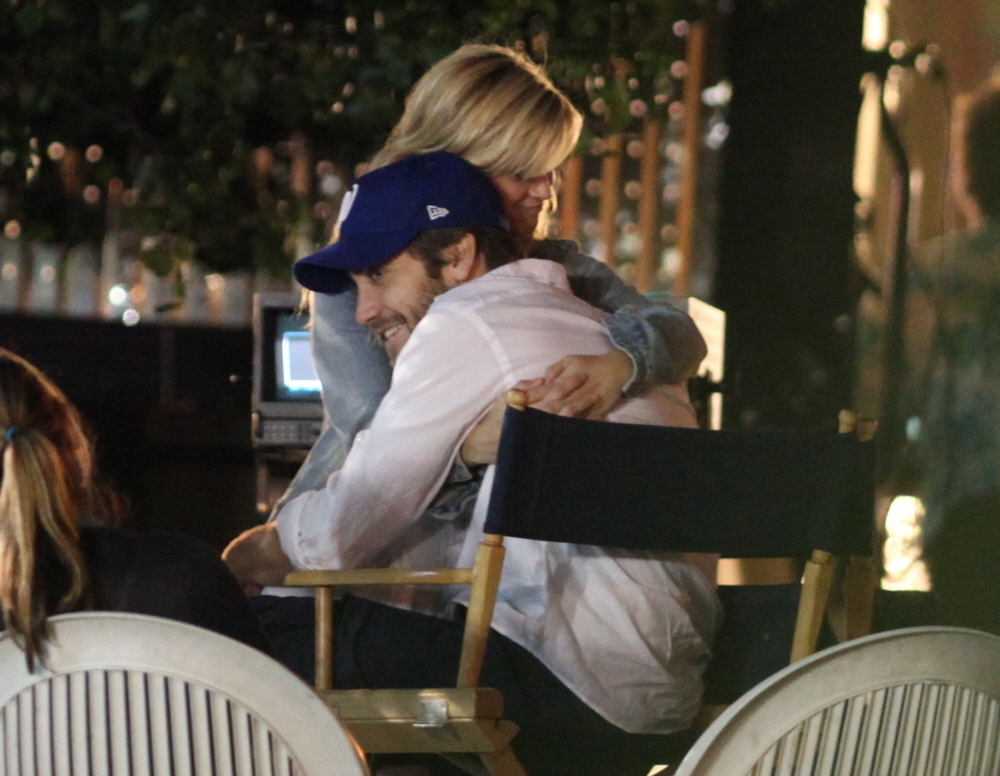 This week's tabloids are full of alleged drama between Reese Witherspoon and Jake Gyllenhaal. This all started last weekend, when People Magazine reported that Jake and Reese were totally dunzo, then hours later had to retract the story because Jake and Reese's reps were all "no, they're fine, bitches." People did something strange after that – they kind of double-downed on their initial report, saying that they had a source who claimed that Reese and Jake did break up, but got back together and were trying to work through their issues. They also said Jake wanted to get married to Reese immediately, and Reese was all "no, I'm fine, thanks."
After all of that drama, Reese headed off to England, solo, to do some work on behalf of Avon's ending domestic violence campaign. So… yeah. Stories about how she's all alone, and Jake isn't with her, and don't you know that a woman can't go anywhere alone without everyone knowing that she can't keep a man?!? Star Magazine has some drama about how Reese and Jake spent Thanksgiving apart:
More than 40 guests joined Reese Witherspoon for a Thanksgiving feast at her LA home. But Jake was a no-show, and multiple sources confirm that they've split.

"Everyone was told not to mention his name," a Thanksgiving guest tells Star. "She's not ready to talk about it yet. We were all sad for Reese. Thanksgiving is such a family holiday, and we all known Reese just wants to be part of a close family unit again."

Reese has been complaining that in recent weeks, Jake has "seemed distant."

Sources says Jake "isn't ready to be tied down. He wants to get married one day, but he feels like Reese was pushing him into it. He got freaked out and said he wasn't ready for such a commitment."

After Thanksgiving, Jake told Reese he needed a break. Says the source, "They had a huge fight. Reese was crying and devastated, but Jake was insistent that they take time apart."

On Nov. 29, he sent his assistant to remove two suitcases of belongings from her home.
[From Star Magazine, print edition, December 14, 2009]
Yeah, I'm kind of "meh" on this version. Mostly because I don't see Jake as the commitment-phobic guy, I really don't. I think Jake has some faults, I think he's vanilla and tightly-wound, and probably a little compulsive about getting his way, but I completely buy that he loves Reese and her kids and wants to be settled down. So… I guess I believe People Magazine's version.
In Touch Weekly agrees with People – they're claiming that Jake is "very serious about marriage and children… he wants a family and to make things official, but Reese never gives in." Apparently, Reese is sort of ambivalent about having more kids. Meanwhile, Jake's sister Maggie is getting all up in their business, and she's "been acting as the go-between and has been telling Jake that Reese is perfect for him." Damn, hell must be freezing over, because I can see how an In Touch Weekly story could be true. Damn it!
UPDATE: Jake Gyllenhaal called Reese his "girlfriend" at a press conference for Brothers. According to People Magazine, Jake said: "I've learned so much from the kids in my life, and somehow they just become the center of your life and the way you look at things. Obviously I exist in my girlfriend's world and my sister's world in a different way, but it's opened my heart and I feel much more grown up and want to be grown up as a result of it." When asked about the rumors they had broken up, Jake said: "As I get more famous, there is less that is just mine so I hope you understand I want to protect that as much as I can. I understand the news cycle, I really do, but as we all know news cycles come and go and I don't have to comment on them."
Jake and Reese on the set of her film "How Do You Know?" in Washington, DC on June 25, 2009. Credit: Fame.