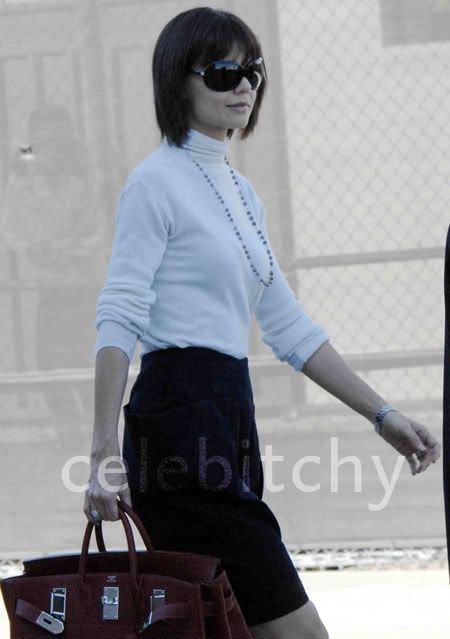 Let the conspiracy theories commence. Tom Cruise and Katie Holmes are reportedly trying to have another baby. The two have had no luck in the supposedly second attempt to impregnate Katie with the seed of Tom.
Tom Cruise and Katie Holmes are reportedly seeking medical advice following a series of failed attempts to conceive a second child.
After the miracle of Suri, Tom and Katie want a biological boy to add to the clan. They have been trying to conceive since this summer according to sources. Holmes feels that having a son for Tom is "what she wants more than anything." I guess she forgot about Connor. Nice way to show your love for someone who you claim calls you "mom."
The fact that she has been unable to produce another Cruise offspring in the last 5 months has worried her. The two sat down and decided to take Katie to Cedars-Sinai Medical Center in Los Angeles to get the problem identified and solved. (Yes, that is the same hospital where Dennis Quaid's infant twins nearly died of an overdose.)
Yes, I am sure Katie is the problem here. Being that Tom is 45 and creepy probably isn't a factor. I know being creepy doesn't have anything to do with potency, but I am sure Katie's eggs are hiding in fear. Let's not forget the fact that he and Nicole had the same problems getting knocked up. I smell a dirty plot afoot!
Picture note by Celebitchy: Katie Holmes is shown looking like she's going to a business meeting, but she's really just trying to look fierce while she's out spending Tom's money on designer luxuries she won't wear for more than a few hours out of her privileged life. There was speculation after the Bambi awards that Katie might be pregnant after she was seen with a tiny amount of bloat, but these photos from 12/22 show that she's probably not. Thanks to Splash News.