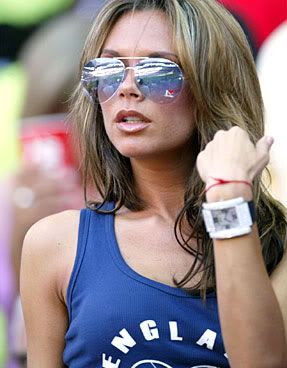 So Kabbalah is ahead in the battle of the celebrity-favorite cults this week. Cult News reports that illiterate Victoria Beckham has been wearing a red string on her left hand, the Kaballah talisman that supposed to ward off the evil eye. (A red string on the right hand is a symbol of anorexic pride, and given Posh's stick-thin figure and low level of intelligence, it is possible that she simply confused the two.) This means that she may have picked Madonna's cult Kaballah over Tom Cruise's cult Scientology, which she was supposed to be considering based on her friendship with Katie Holmes.
It appears that there has been an almost frantic competition between the two most popular purported "cults" in Hollywood, to get the Beckhams onboard, they are Britain's most popular celebrity couple, outside the royal family.
Each group's top recruiter has come knocking on the door, Tom Cruise from Scientology and Madonna for her beloved Kabbalah Centre.
Certainly, whoever gets "Beck" and his wife Victoria will draw the attention of soccer fans worldwide, not to mention celebrity watchers, waiting for the next trend.
[via]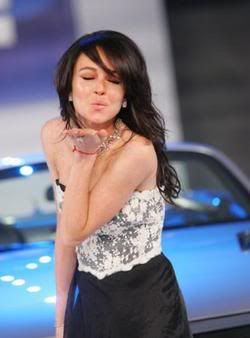 Cindy Adams reports in The NY Post that Lindsay Lohan is also wearing a red string. We pointed out that she had a Kaballah string on at the GM fashion show at the beginning of March. It is indeed not a one-time thing and she mentions to Adams that's she's clinging to anything in order to get some sanity:
"Yes, I am looking into kabbalah," she told me. "I guess why is because all of us need something. You just have to grab onto whatever can get you through. Maybe it's this business, but it seems everything around can be so tough, so hard. I think you have to have somewhere to turn for a little softness and understanding. I know I'm really trying."
There are much healthier, safer things to get you through the day Lindsay. Exercise, music, even an occasional drink for one. You're better off with a hangover and some embarassing pictures than getting involved with the Kabbalah cult.
In terms of Posh's choice, she may have picked the lesser of two very real evils.