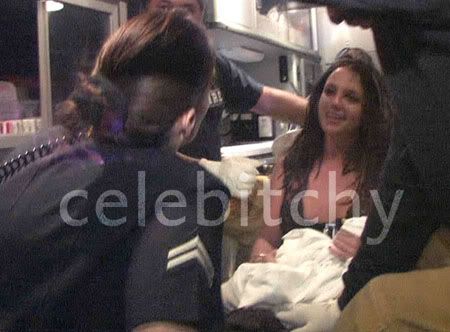 Details on the Britney Spears major meltdown have been clarified, and OK! Magazine has a much clearer breakdown of what happened last night. Many of you wonder why so many firetrucks, ambulances, and helicopters needed to be on the scene for a simple custody dispute and the answer is that it's because it was Britney. Whatever she does is publicly scrutinized and when she screws up royally like this all the response teams are clamoring to be there. Hopefully real emergencies and victims weren't neglected in LA during the massive circus that surrounded Britney's home.

Britney essentially took Jayden hostage
The reason one-year old Jayden had to be taken to the hospital is because Sean Preston was already released into his father's custody, but Britney kept Jayden and refused to hand him over during the four hour standoff with police. When Britney was taken to the hospital for evaluation, presumably because they considered herself a threat to herself or others, they also took Jayden in another ambulance.
Britney's assistant Carla and her "cousin" Alli left the house at 11:00 pm, leaving Britney alone inside with Jayden until 11:45 when she was escorted out on a gurney by paramedics and driven to Cedars-Sinai medical center. Britney was seen with what looked like a restraint on one of her legs and may have been taken forcibly.
Jayden's father, Kevin Federline, their other child, Sean Preston, and Federline's lawyer were at the hospital when Britney arrived. Britney's father Jamie, with whom she has had no contact for nearly eight months, and her friend Sam Lufti also came to the hospital.
Britney is being held for observation and will probably be booked when she is released
Britney will most likely face charges after she undergoes an observation period at Cedars-Sinai. OK! Magazine reports that they plan to keep her for 24 hours after which time she will be booked by police. Update: She is on 72 hour lockdown – see below.
She is either on drugs, having a major mental meltdown or both
While police say Britney was "under the influence of an unknown substance," she has passed all the recent drug tests she's shown up for, with one instance in which a prescription drug was said to have caused a false positive. Some sources claim she's simply mentally unstable.
Britney will lose visitation rights with children
Kevin Federline's lawyer is now on his way to court to request that Britney be denied visitation with the children at least temporarily while her mental state can be assessed. It is most likely that the request will be granted, and that's a good thing for the sake of her children.
Update: Britney is on 72 hour lockdown, was "hysterical" on gurney
Britney is on 72 hour lockdown at Cedars-Sinai as she was deemed a threat to herself and/or others. She will be under constant observation. Sources tell US Magazine that she alternated between laughing and acting hysterical when she was taken away. She was designated a "special needs" patient, which a source tells US Weekly means that the patient has "either overdosed or tried to commit suicide."
Thanks to Splash News for these pictures.