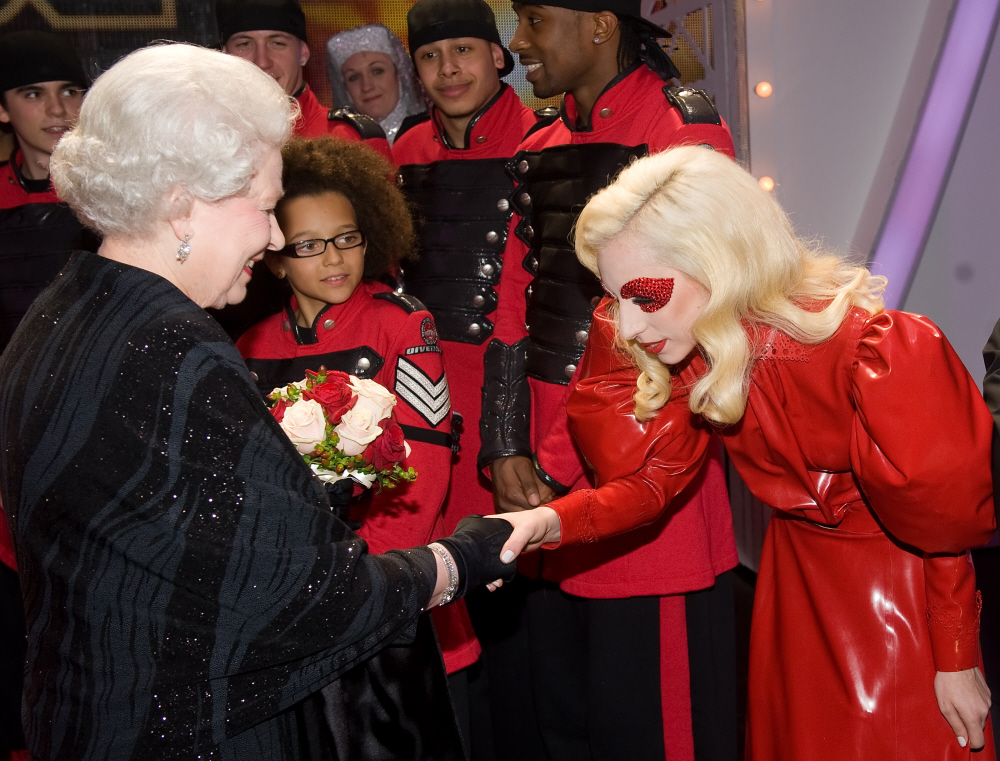 The prophets must be right. We're seeing the end of days. That's the only explanation I have for what appears to be the oddest, most amazingly ridiculous meeting of the minds last night. It was the Royal Variety show, for which Queen Elizabeth II and the Prince Phillip attended, and it headlined none other than Lady Gaga. Gaga outdid her herself with a red (leather? pleather?) gown, complete with a removable Elizabethan collar and train. Thank God, Gaga took off the collar when she met the Queen. And she gave a deep, respectful curtsy, which makes me happy. However, Her Majesty also had to sit through Miley Cyrus and her hot pants. I'm serious. Thankfully, Miley changed into a nice dress to formally meet the Queen, but there are no photos of Miley curtsying. Maybe she didn't know? Or didn't care?
Blackpool has certainly never seen anything like the performance Lady GaGa put on at the Royal Vareity Show last night – and for all her years and travels, it's unlikely the Queen has either.

The American singer famed for her crazy collection of outfits managed to outdo herself as she appeared on stage in a red latex outfit dressed as Elizabeth I.

GaGa wore a long dress, complete with intricate ruffle and plus outlandish sparkly eye make-up and lipstick for an astonishing performance featuring a huge Dali-style piano.

It was the highlight of an amazing night as the Royal Variety Show returned to Blackpool for the first time in 54 years.

On that occasion Morecambe & Wise and Arthur Askey had entertained Her Majesty and Prince Philip. This time, as well as GaGa, the bill included X Factor winner Alexandra Burke and teenage star Miley Cyrus.

GaGa arrived on stage to close the show with a 20ft train trailing behind the dress.

She was helped on to a chair attached to a chain and hoisted 30 feet in the air to play a piano which was supported by legs that look very similar to those supporting the giant elephants in the Salvador Dali painting, The Temptation Of St Anthony.

The singer performed Speechless – the song she wrote to try and persuade her sick father Joseph to have heart surgery. Last night he was sitting in the crowd to see his daughter perform. The singer has credited him with helping her beat a cocaine addiction before she became famous.

The show-stopping display capped a memorable time in England for GaGa, who performed in a giant bath on Sunday's X Factor show. She had then surprised locals in The Castle pub, in North Acton, by popping in for a drink while wearing white leotard, matching minidress and ripped fishnet tights. She sipped her drink through a straw before heading off with a takeaway fish and chips.

The American is clearly a fan of the dish as she's enjoyed the same thing in a pub in Blackpool on Friday during rehearsals for last night's show.

But it was 17-year-old Miley Cyrus who wore the most daring outfit of the night.

Her tiny hotpants revealed the young stars thighs as she performed raunchy dance moves onstage. It is not known what the Royal audience made of the show.

More than 1,000 people turned out to catch a glimpse of the monarch and the Duke of Edinburgh as they arrived for the gala evening.
[From The Daily Mail]
Can you even imagine what was going through Queen Elizabeth's mind? I mean, she's seen it all and colonized it, but I still think she was probably a little taken aback with Gaga and Miley. I have to say, I'm proud of Gaga, though. My American countrywoman did me proud by not only performing for the Queen, but by showing respect to the Queen. I doubt Miley even spit out her, like, you know, gum, y'all.
Miley Cyrus changed from her hot pants, while Lady Gaga respectfully meets the Her Majesty, Queen Elizabeth II on December 7, 2009. Credit: WENN.