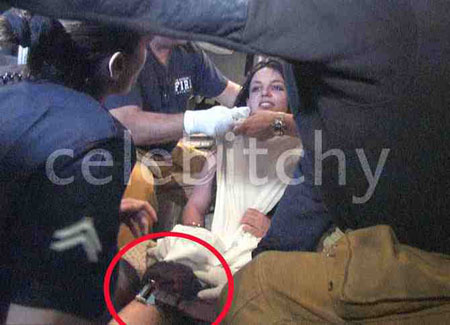 Britney not under the influence of illegal drugs
Life and Style reports that they have a source that claims that Britney's blood test from Cedars Sinai came back negative for drugs and that she was not under the influence of illegal substances. So she's just crazy and/or whacked out on prescription drugs. It occurred to me that she may have abruptly gone off a prescription medication or started a new one and that might explain her very erratic behavior. She could of course just be crazy, but if you start or suddenly stop using psychiatric medication it can dramatically affect your moods. You should wean off medication for depression and/or anxiety and start slowly to ensure that it's the right dosage and medication for you.
Britney locked herself in the bathroom with Sean Preston and Jayden James, let SP go
Page Six reports that Britney locked herself in the bathroom with the boys, eventually letting one go:
According to reports, when Kevin Federline's bodyguard showed up to collect Sean Preston and Jayden James, Britney locked herself in the bathroom with both boys and wouldn't come out. She also refused to let the boys leave, so cops were called to the house. A source told PageSix.com that Britney was "hysterical and just wanted to keep the kids overnight." The insider says that Britney wasn't making any sense and "kept saying she wanted to stay with the kids."
[From PageSix]
K-Fed's lawyer refused to make a statement
I was watching TMZ's "live feed" of the much-anticipated press conference with K-Fed's lawyer, Mark Kaplan, and all that happened was that a co-worker of Kaplan's came out and said that due to the sensitive nature of the situation he would not be making a statement. No questions about the welfare of the children or Britney were answered.
Jayden James is likely ok
Everyone is worried that something happened to Jayden James after he was taken to the hospital along with Britney, but PageSix reports that a source says he's "going to be fine." It seems like he was taken to the hospital for observation as they wanted to make sure he was ok after the "hostage" type situation he was in.
The rumor that Britney was screaming that she "Would rather die than let him have my babies"
This is based on an all caps unsubstantiated Oh No They Didn't post from a "source inside Cedars Sinai" and might not be true:
brenden JUST RECEIVED A CALL FROM AN ONTD MEMBER/SOURCE THAT IS INSIDE CEDARS-SINAI RIGHT NOW. THE SOURCE SAID THAT – WHILE BEING TRANSPORTED DOWN THE HALLWAY AFTER HER ARRIVAL – BRITNEY WAS SCREAMING THAT SHE WOULD RATHER DIE THAN "LET HIM HAVE MY BABIES." AFTER REPEATEDLY SCREAMING THAT SHE WANTED TO DIE, BRITNEY WAS APPARENTLY RESTRAINED BY HOSPITAL STAFF AND MAY HAVE BEEN SEDATED.
[From ONTD]
While that might not be exactly what she said and we have no way of verifying that, it is true that she was likely considered a suicide risk. She was deemed a "special case" by Cedars Sinai, which means that she was either suicidal or overdosed. No wonder they brought Jayden in for observation.
Videos of Britney and the media circus last night
Here's a video of Britney's cavalcade arriving at the hospital, thanks to Hollywood.TV via ONTD. It shows the circus that surrounded her that night. Britney is shown very briefly at 2 minutes into the video sitting up on the gurney looking around wide-eyed. She reminds me of a trapped animal. K-Fed is seen trying to hide in his car as he drives into the hospital near the end.
There's also a video of Kevin Federline speeding and driving erratically trying to lose the paparazzi. The children were not with him at the time.

Update Another video from Celeb.tv that shows Britney briefly in the ambulance at 30 seconds before the end. The paramedics try to put a sheet over her head and she keeps pulling it down and smiling!