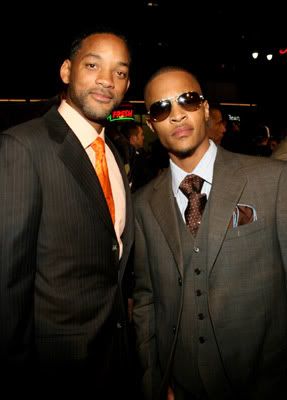 The movie ATL opened last night in Los Angeles. Will Smith was a guest at the premiere, but is not starring in the film, an urban coming of age drama about four friends trying to get out of the ghetto. ATL stars Tip "T.I." Harris, Antwan 'Big Boi' Patton, Albert Daniels, Jackie Long, and Evan Ross.
It is loosely based on the filmmakers' youth in Atlanta in the 80s:
Directed by acclaimed music video helmer Chris Robinson and starring platinum-winning rapper Tip Harris, ATL is loosely based on filmmakers Dallas Austin and Tionne "T-Boz" Watkins' experiences growing up on Atlanta's south side. In the midst of drug dealers, gangs and violence, their only escape was a local skating rink called Jellybeans, where every Sunday night from 8:00pm until 1:00am, the teens and their close circle of friends entered a world that allowed them to escape the pressures of everyday life for awhile in the music and excitement of the rink. Many of today's top hip-hop artists could be seen at Jellybeans every Sunday back then, including Atlanta-bred performers OutKast, Jermaine Dupri, Little Jon, Trillville and TLC.
Here's the trailer:
It has been getting mixed reviews, but looks like a strong drama and should be worth seeing.
And here are the pictures from the premiere, with guests and stars attending including Tyra Banks, Dallas Austin, Big Boi, Cedric the Entertainer, Tracie Ellis Ross, Evans Ross, Diana Ross, Gabrielle Union, Garcelle Beauvias-Nilon, Johnny Gill, Rickey Bell, Kelly Rowland, Nia Long, Paula Jai Parker, Serena Williams, Venus Williams, T.I., Brandy, Evans Ross, Jackie Long, Dania Ramirez, Bow Wow, Khadijah Haqq, Malika Hagg, and Lauren London.
20 pictures after the jump.