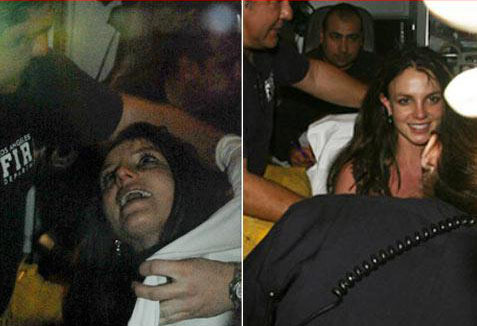 Britney Spears has once again managed to prove that the rules, no matter how rigid – apply to everyone but her. She's managed to get herself released from Cedars-Sinai Medical Center mental ward, where she was placed on a 72-hour hold. According to most sources, Brit was admitted to the hospital sometime around midnight Friday morning, which means she should have been held until about midnight tomorrow night. But she's managed to get herself released after only 31 hours – more or less. Brit was released this morning at 7am, after a visit from Dr. Phil. According to Page Six, Brit began acting out after Dr. Phil visited her, and then was released with him and her father Jamie Spears. That really doesn't make any sense – she started misbehaving, so they released her? Regardless of what went down, Brit was definitely released this morning, and is now at home.
After being rushed to the hospital Thursday night and spending two nights there, Britney Spears has left the building. OK! can confirm that she was escorted out by four police officers at 7 am, but Brit Brit did not head to her lavish Beverly Hills pad. Instead she headed to her Studio City home.

Both Entertainment Tonight and The Insider were first to report that the mother of two left Saturday morning via an underground tunnel. A source told the television shows that there was no reason to keep her hospitalized despite reports she would stay for 72 hours.

Before she was released, Britney had an unexpected visitor. Dr. Phil was seen visiting the out of control singer and her father Jamie. Dr. Phil then walked Britney to her car.
[From OK!]
It seems like there's a lot of confusing information out there – it's hard to tell if it's just because the stories are being written so fast. Britney left through an underground tunnel, but Dr. Phil also walked her to her car? She freaked out when Dr. Phil arrived at the hospital, but they also let her go because there was no reason to hold her? I have to say, the biggest reason to keep Britney Spears hospitalized is that her mood and behavior are super unstable and seem to change often, quickly, and unpredictably. Additional, a good reason to keep her for the full 72 hours is to teach her that there are consequences for bad behavior. Yeah I know that sounds like something you'd say to a child, but Britney has the intellect of a child, so that's what works. Showing her time and time again that she is an exception to the rule will only reinforce her behavior. She needs as much structure and rigid toughness as possible. I'm really disappointed in the mental health system right now.