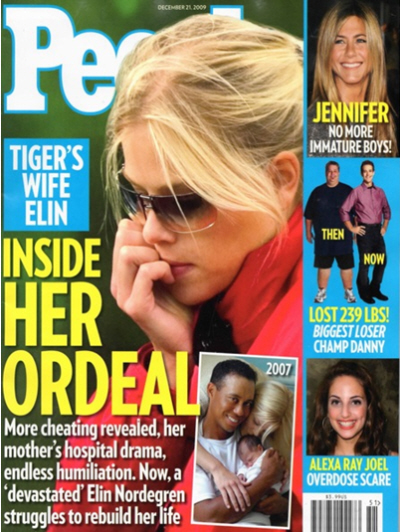 While most of the tabloids have decided to rake Tiger Woods over the proverbial coals for the past two weeks, People Magazine decided to do a softer-focus cover story on Elin Woods, going "inside her ordeal". People just released part of their cover story online, and it's pretty standard, yet interesting. According to People's sources, Elin was truly in the dark about Tiger's wandering penis, and she when she used to ask about his days and weeks spent away from her, he would lie, and she would believe him:
While more details surface about Tiger Woods's reported dalliances, the golf great's Swedish-born wife, Elin Nordegren, has yet to speak about the scandal or give any hint of her distress – beyond a frantic 911 call after her mother collapsed at Woods's Florida home Tuesday.

But several sources close to the couple tell PEOPLE Nordegren, 29, was genuinely shocked by her husband's reported infidelities, and is now in deep discussions with him to see if their marriage can be saved. "She loves him and she is totally devastated over learning of his philandering," one source close to Nordegren says. "She honestly did not know he was cheating on her."

The same source says Nordegren questioned Woods about rumors that he was having affairs, but believed his denials. "It is sort of sad that all of the golfers knew about Tiger's cheating throughout his marriage while poor Elin believed his lies when he told her he was not seeing any other women when on the road for days at a time," the source says. "Now that it has hit her over the head, she is going to make the best decision for her and the kids."

A smart, athletic student who passed up the chance to study child psychology in Sweden to become a nanny in the U.S., Nordegren tried hard not to lose herself in her husband's fame. But everything changed after Woods's Nov. 27 car crash. Since then, says a source inside Woods's camp, the couple have discussed the full breadth of Woods' infidelities. "She knows everything," says the source.
[From People Magazine]
Eh. Do I believe this? Partly. I believe that many aspects of Tiger's affairs (like the number of women and the crazy unprotected Ambien sex) were "genuinely shocking" to Elin, but I also think that somewhere along the line, she had some idea that Tiger wasn't being totally upfront, and that he was screwing around at some point. He's been having affairs for years. And it's such a constant thing that his management team is organizing and hustling his girls for him. At some point, wouldn't you have suspicions? That being said, even if Elin did have some idea, that doesn't mean she doesn't have every right to be majorly pissed. I've said it before – I would have walked a while ago. Every day brings a new, nastier revelation… and no one would blame Elin if she cut her losses.
In one other piece of "I didn't know nothing" news, Tiger's caddie Steve Williams made a public statement of support for Tiger today. His statement was simple: "I do not have any personal knowledge of anything in the reports related to the Tiger Woods' stories. Kirsty and I give our heartfelt wishes to Tiger, Elin, Sam and Charlie and hope this gets put to rest soon." Gee… Tiger's management team was arranging girls for Tiger, and his caddie didn't know? It could happen, I suppose. But it's more likely that Steve Williams just got paid. Or, you know, he just likes his boss and wants to continue working for him.