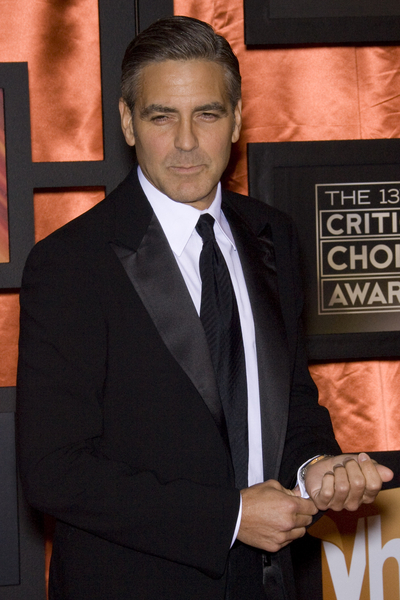 Nicole Kidman sometimes seems to act as though she doesn't already have two kids. Vanity Fair did a really great cover story on her a few months ago, and while the article was very good, when Nicole talked about her desire to have a baby, her phrasing made it sound like she'd forgotten that she's already had two. Coupled with the fact that she said her kids don't call her mom – they call her Nicole – and she doesn't seem to see a lot of them – it definitely seems like Conner and Isabella are more Tom's kids that Nicole's. Despite whatever issues she has going on with her two children, George Clooney seems to think she'll make a great mom. And while George isn't a parent, he's got that avuncular quality that makes me trust his judgment.
Just hours after Nicole Kidman announced her pregnancy, George Clooney offered up his congratulations. "I'm thrilled for her," he told PEOPLE at the picket-line-free Critics' Choice Awards in L.A. Monday night. "[She'll be] a perfect mother."

(The two have been friends for years, dating back to their work in 1997′s The Peacemaker. Kidman and Clooney famously bet $10,000 on whether he would be married when he turned 40 in 2001. She lost, of course.)

"She'll be great," Clooney said of the Aussie actress, already mother to Isabella, 15, and Connor, 12, her adopted children with ex-husband Tom Cruise. "She'll be a tall mother."
[From People]
I didn't realize height was an indicator of potential good parenting skills. That could explain some of the issues I have with my mother. That could also explain why it's probably a good thing that George Clooney doesn't have any kids of his own yet.
In other Clooney news, George lost out to Daniel Day Lewis for best actor at the Critic's Choice Awards last night, but didn't seem too stressed about it.
Clooney, who won a best supporting acting Oscar last year for Syriana, took it all in stride, noting, "[Being] a nominee, it's fine. But when you're a loser, you're a loser."

The actor was also on hand to present the first-annual Joel Siegel Award (named after the late ABC movie critic) to friend and former costar Don Cheadle for his humanitarian work. "The fact that [George] only charged me $1,500, I thought was really nice of him," Cheadle joked in the press room. "Matt [Damon] was around $2,500, and what Denzel wanted, I won't even mention."

The Darfur activist did get serious for a minute, adding that "George is . . . someone who I've not only worked with onscreen, but we've also done things for the cause – and it's great to have an ally."
[From People]
Clooney is involved in a lot of charitable causes. Despite my joking, he seems like someone who'd be a good dad when he's ready for it. Of course that means he'd probably have to stop dating a new girl every month… though if memory serves me, he's been with the current one for almost half a year now. That's got to be some kind of record. You never know, we may be making George Clooney-related pregnancy announcements sometime soon.
Picture note by Jaybird: Here's George last night at the Critic's Choice Awards. Images thanks to PR Photos.