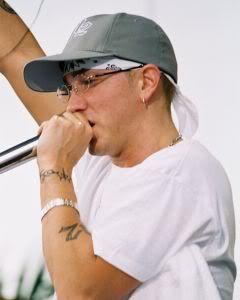 An older image of Eminem performing
Did Eminem, aka Marshall Mathers, spend too much time drinking egg nog in the snow over the holidays? It seems he's been hospitalized with pneumonia and a possible heart problem.
Hospital sources tell TMZ Em was taken to a Detroit-area hospital for a serious heart condition and severe pneumonia. Sources tell TMZ Em's weight has ballooned to 212 lbs.

Eminem 's publicist told TMZ: "Over the holidays, Marshall Mathers, aka Eminem, was under doctor's care at a Detroit-area hospital for complications due to pneumonia. He has since been released and is doing well recovering at home."
The publicist doesn't acknowledge the heart condition or weight issue at all.
Now, I'm no doctor, but is it possible that the pneumonia could cause heart problems? The heart and lungs are both in the chest. Checking it out on Wikipedia, the symptoms include sharp chest pains. When you have pneumonia caused by bacteria it can also spread to other parts of the body including the kidneys, brain and heart. So what probably happened is that Eminem was warned that he had bacterial pneumonia and be aware of possible heart problems. Hopefully he was just erring on the side of caution and went to the hospital to be sure he was ok.
As far as his 'ballooning' weight goes, 212 pounds is about 97 kilograms, which is not exactly huge. It might not be a reasonable weight gain for Eminem, but it hardly makes him obese. Who didn't put on a little weight over the festive season? I always do, which really sucks here in the southern hemisphere because it's the height of bikini season.
I predict that Mr Mathers will be back to his regular weight in time for his next album release, which he's been working on for some months at his Shady Studios in Detroit. The album is due for release in 2008. Get well soon, Eminem.
Note by Celebitchy: It's impossible to find recent pictures of Eminem, I looked on the photo sharing sites and through the fan sites and there's nothing. He did look a little heavy in December, 2006 at TRL with 50 Cent but those photos are old. Let me know if you can find anything of him from the past six months. Here are pictures of Eminem as a child, thanks to user Kendra on Flickr. He's shown in the header performing on an unknown date.
Eminem is from 5'8″ to 5'10" tall, it's hard to tell, so 212 pounds would be borderline obese for him if he's 5'10", according to BMI calculations.