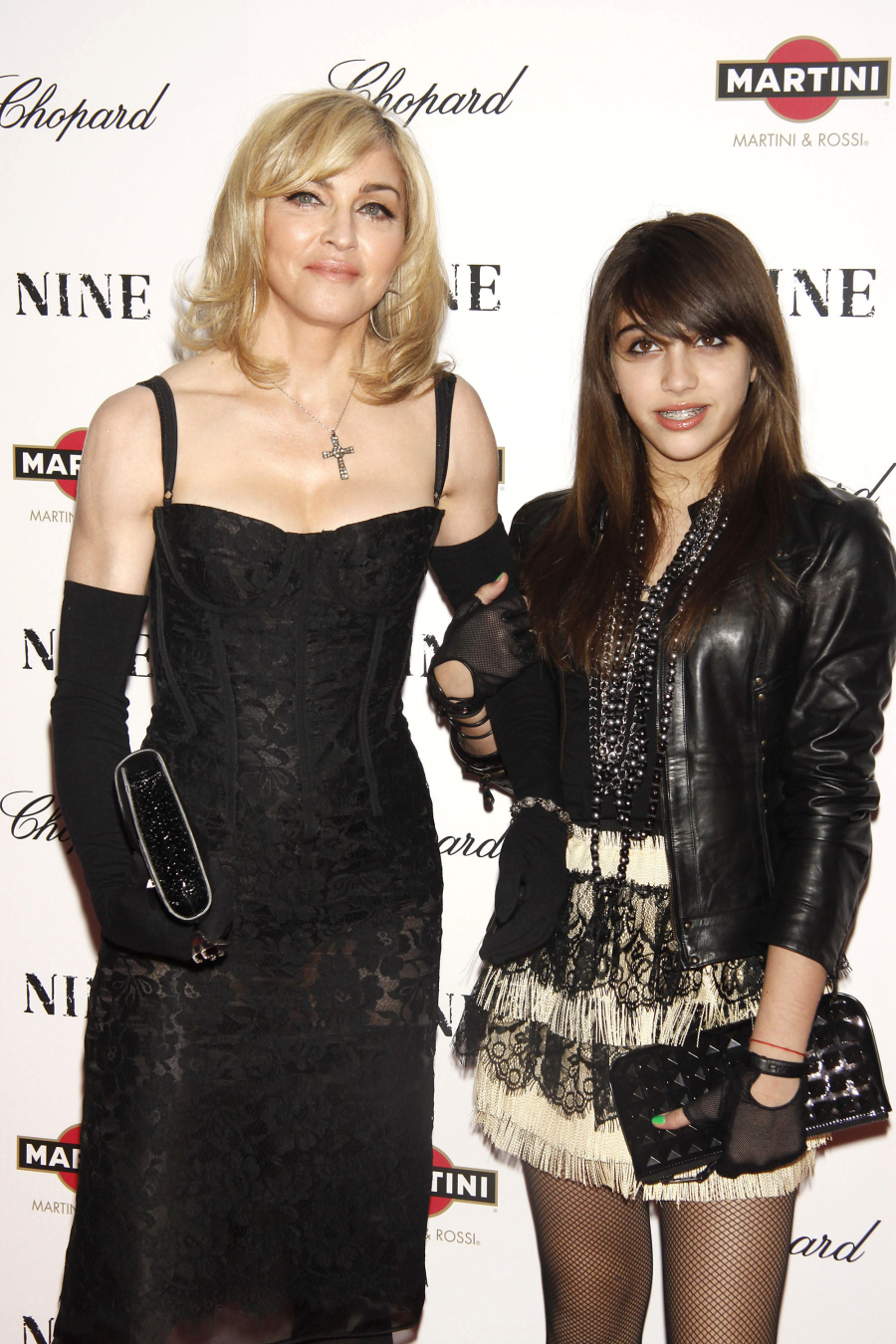 Madonna decided to give her oldest daughter a special treat last night – a red carpet, and the premiere of Nine. Some days, I think Madonna just might be a cool mom. What a great mother-daughter activity! I'm totally serious, and I'm shocked that Madge was so cool about it. Anyway, these are the photos of Lola and Madge on the red carpet – they posed together the whole time, which was probably a precondition for Madge letting Lola go.
First of all, Lola really is a beautiful young woman. She seems very self-possessed too. The camera loves her, and she loves the camera right back. Oh, yes. She'll be in the spotlight soon. Her skirt is a little too short for my taste (Lola is only 13 years old!), but she still manages to look like a kid with her boots and her braces. I used to think Lola looked just like her mom, but I'm seeing more of Carlos Leon in her face now. It works for her. As for Madge… well… it looks like she's done something new to her face. And it looks painful.
Madonna turned the New York premiere of Nine into a family affair last night as she arrived with daughter Lourdes.

The film may have been set in the Sixties, but Madonna was clearly going for an Eighties look as she turned up in a figure-hugging outfit strongly reminiscent of her Like A Prayer look.

The 51-year-old singer looked nearly as young as she did during the 1989 video as she stepped out in a lace D&G bustier dress, long gloves and silver crucifix.

Her 13-year-old daughter was also going for the Eighties look in a Dolce & Gabbana fringed skirt, biker gloves, leather jacket, Doc Marten boots and several beaded necklaces.

With her boyfriend Jesus Luz DJing in his native Brazil, the Material Girl treated her eldest child to a night on the red carpet.
[From The Daily Mail]
Yeah, I swear I've seen Madge wear this dress before. Maybe Dolce & Gabbana keeps churning out the same little black bustier dresses? Probably. Also, I don't get Madge's hair these days. Her hair says "50-something bottle-blonde cougar" while her body says "clinging-to-youth gristle". If Madge wants to look younger, she needs to do something different with her hair. Maybe she could even mimic her daughter's lovely brunette shade!
Madonna and Lourdes Leon at the New York premiere for 'Nine' on December 15, 2009. Credit: WENN