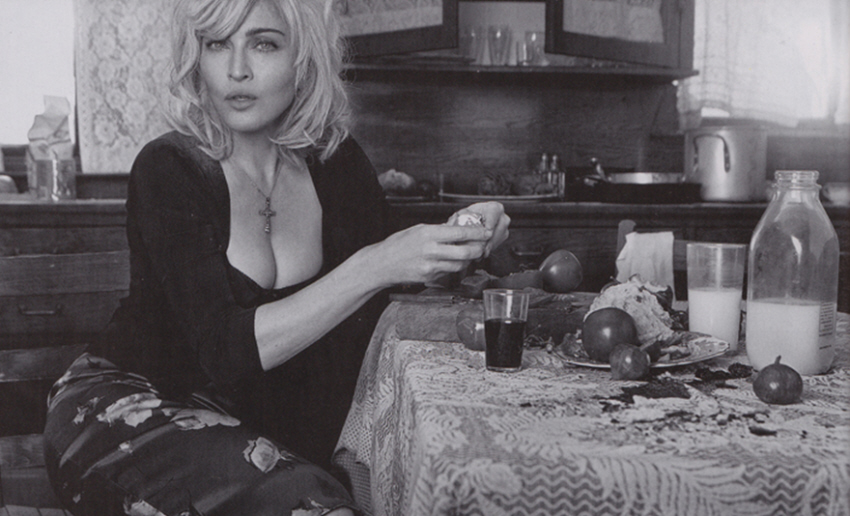 Last week, it was announced that Madonna was being replaced as the face (or "the gristle") of Louis Vuitton. The new face is Lara Stone, 25 years old. Hard knocks, or it could be that Madge was only signed up for one campaign, and Vuitton just got someone new with no prejudice toward Madge and the massive amount of Photoshop it took to get her looking less gristly.
Anyway, Madge isn't in mourning. She's the new face of Dolce & Gabbana's Spring 2010 line, and the ads were released just in time to coincide with Madge and Lola's D&G-clad appearance last night on the Nine rep carpet. Personally, I think the ad campaign is much smarter than the Luis Vuitton ads, just because Madge looks human, rather than some Photoshopped doll. That being said, they're not wonderful, mainly because she doesn't even look like Madonna.
Exclusive in this week's Italian edition of Vanity Fair is the worldwide preview of Dolce & Gabbana's new spring/summer 2010 campaign featuring pop icon Madonna.

Madonna's private life is seldom out of the papers but this new Dolce & Gabbana campaign is unlike anything you have seen before. Exit the paparazzo, these shots by Steven Klein reveal much more than a grainy stolen picture, they showcase an intimate, real aspect to the ultimate icon's life.

In keeping with Dolce & Gabbana's Spring/Summer 2010 collection's emphasis on Mediterranean heritage and classic Italian sensuality, the mood isn't unlike a film from the days of Italian Neorealism. Madonna herself recalls the strong, raw sensuality of the iconic actress Anna Magnani – showcasing when soft sensuality meets bold authenticity.

In the Vanity Fair Italy feature, Stefano Gabbana discusses the campaign and why Madonna was the perfect match: "She loved the collection," he says, "…she is passionate and impressively knowledgeable about Italian cinema," (Monica Vitti is her favourite actress and we see the resemblance)."

When asked as to whether Madonna knows how to wash dishes, Stefano Gabbana replies "Certainly…she's a very practical woman…" And does she actually eat spaghetti despite her most enviable figure? "Of course, says Stefano, and she can allow herself to with all the exercise she does!"
[From Swide]
Yes, the one of Madge "eating" is probably one of the funniest. Her face is contorted, and the look in her eyes says "I'm not going to really eat this, you know." Because she's a bad actress, we can tell. But I like the black and white! Fancy! Also, note this – Steven Klein did the photos, and I think he must be Madge's favorite now. He also did her infamous W Magazine spread where she met Jesus Luz. Don't worry, she'll get a new favorite photographer when she and Jesus split!
Dolce & Gabbana ad images courtesy of Swide.