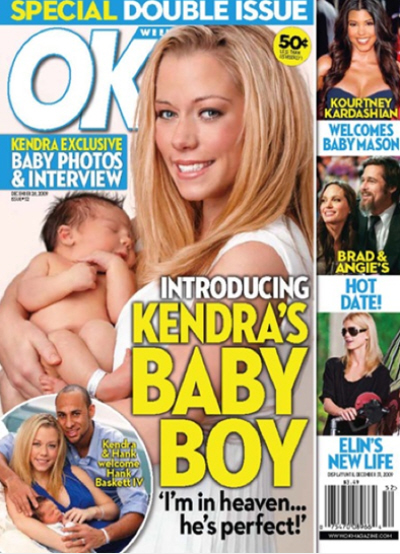 Oh, God. Here is Kendra Wilkinson-Baskett's big OK! Magazine cover shot, with her newborn son. These are the first photos of her baby Hank Baskett IV, and they were taken very, very soon after the birth. Like, two days later. OK! Magazine even did the interview with Kendra in the damn hospital! Can a sister get a painkiller? Poor Kendra. She looks tired on the cover. I'm sending her a mental Vicodin.
World, meet Hank Randall Baskett IV — newborn son of Kendra Wilkinson Baskett, 24, and her husband, Hank, 27, a wide receiver for the Indianapolis Colts.

After initially planning a natural childbirth, the former Playboy model delivered the couple's first child by C-section at 12:37 a.m. on Dec. 11, 2009, in Carmel, Ind.

"I was just in heaven," the star of E!'s Kendra tells OK!. Echoes Hank, "It was awesome."

From their room at Clarian North Medical Center, the proud parents, who wed on June 27 at the Playboy Mansion in L.A., opened up to OK! about their big (9 pounds, 5 ounces, and 22 inches!) bundle of joy — only in the new issue of OK!, on sale everywhere Thursday!

Congratulations! How are you feeling?

Kendra: Thanks. I have labor brain. I forgot everything that happened!
Hank: I am in straight awe, trust me.

How did you prepare for coming to the hospital?

Kendra: The good thing about being induced is that it's like planning a trip, just very calm. We ate a huge dinner before we came to the hospital. I ate a whole batch of brownies because I was nervous. No wonder he's 9 pounds!

What happened at the hospital?

Kendra: I was induced early in the morning; then it was wait, wait, wait. I was experiencing contractions throughout the day, and I was anxious. I kept checking the monitor every second, like "Is it happening yet?"
[From OK! Magazine]
I can't believe OK! Magazine asked "What happened at the hospital?" Like, "What do you think happened, jackass?" No, Kendra is probably being nice because OK! gave her a fat payday.
It will be interesting to see the styling on this photo shoot, whenever I get around to it. Generally speaking, I like the baby issues of any magazine. I like seeing photos of some new parent cradling their child, accompanied by some cheesy, glowing interview. One of my favorite things about those issues is the styling – I prefer when the styling for the photo shoot seems low-key and blah, almost as if photographing the baby wasn't the highest priority – and those are the photos where you can usually tell how difficult the birth was on the mother's face. If she looks rough, I will always feel a wave of sympathy. Even though that's what I prefer, I do find the highly styled, perfectly-lit, everything's-white-and-antique photo shoots hilarious. Jennifer Lopez's was a classic that way – she and Marc Anthony were actually shot prancing down their driveway with their twins in some expensive stroller. I doubt we'll see Kendra like that.
OK! Magazine cover courtesy of CoverAwards.