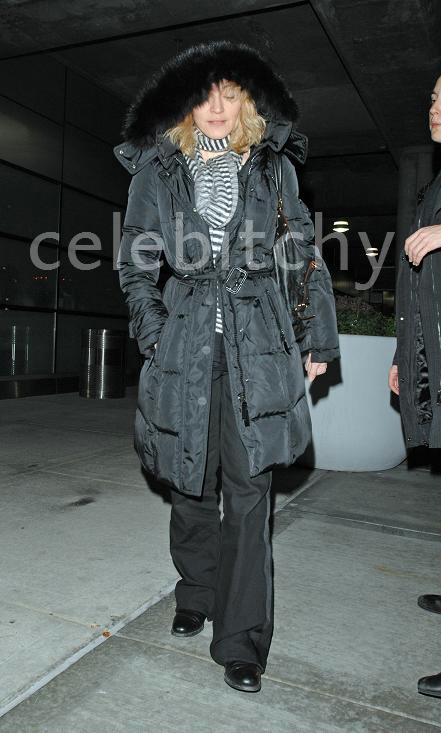 Madonna is one of my top five celebrities to hate. And yes I do sit around ranking them. She's so smug and holier-than-thou, and I can't for the life of me figure out why. She has veiny man arms. I realize that's not a reason to hate someone, but I can add it to my list of reasons I already dislike her. It's not that she has the veiny man arms, so much as that she seems really proud of the veiny man arms. Actually she just seems overly proud in general. I'm putting together some kind of Madonna kicking task force, if anyone's interested. Another reason I hate her? Her so-called charity, Raising Malawi, is actually just a front for funneling more money into Philip Berg's Los Angeles-based Kabbalah Center.
If you thought Madonna pulled a fast one getting Live Nation to give her a $120 million contract, here's one better. The Material Mom has conned both UNICEF USA and Gucci into helping her raise money for the Kabbalah Center and Madonna's patron gurus, the Berg Family.

Gucci is throwing an all-star fundraiser on Feb. 6 for Madonna's charity, Raising Malawi. GUCCI's "A Night to Benefit Raising Malawi and UNICEF" will take place in heated tents on the north lawn of the United Nations, with special co-hosts Sarah Jessica Parker and Salma Hayek scheduled to attend along with Madonna.

However, neither Gucci nor UNICEF is aware — even though it's been noted here many times — that Raising Malawi is merely a front for Philip Berg's Kabbalah Center of Los Angeles. In fact, before anyone writes a check: Raising Malawi is also still not a registered charity. All of its forms, filings and press releases direct back to the Kabbalah Center.
[From Fox News]
The article goes on to point out that Phillip Berg's son Michael founded Raising Malawi supposedly to help Malawian orphans. Instead, Berg and the Raising Malawi staff have been "indoctrinate unsuspecting Malawi orphans into their brand of mysticism" according to the article. I don't generally give a lot of credit to Fox News, but internet research indicates that what they're saying definitely checks out. It's important to note that Kabbalah is different from most other forms of Judaism.
Though she's never officially converted, Madonna has often proclaimed herself "an ambassador for Judaism." Again, it's important to note that studying Kabbalah doesn't make one an expert in Judaism. In fact many people could argue that she's been very disrespectful towards their religion. Kabbalah is only supposed to be taught to Jews who are strictly adherent. They also need to attain a certain high level of Talmudic education. A lapsed Catholic doesn't fall into that category. If you need more reason to disrespect Madonna, definitely read the article in its entirety.
In more trivial "Madonna is a douche bag" news, it's been reported that she spend over $10,000 a month on water. Yes the woman who made sure each of her kids got only three Christmas presents so they stayed grounded must herself drink specially blessed Kabbalah water which costs $5 for a small bottle. Heaven forbid heathen Dasani – or tap water – touch her lips.
Picture note by Jaybird: Here's Madonna after arriving at JFK on December 2nd. Thanks to Splash News. She is seen below outside the gym, thanks to PRPhotos.