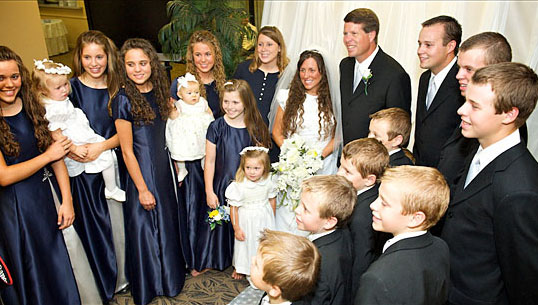 The youngest child in the huge Duggar family, Josie Brooklyn Duggar, was born by emergency C-section last week after mom Michelle, 43, suffered an attack of gallstonescoupled with pre-eclampsia, or high blood pressure during pregnancy. Little Josie was just 1 lb., 6 oz. at birth and faced an uphill battle. There's news from the family that their youngest is stable in the hospital and that she's able to take breastmilk, which should improve her chances.
The Duggar family's 19th child, Josie Brooklyn, who was born nearly three months premature weighing less than 2 pounds, is giving her famous family something to smile about these days: She's taking breast milk.

Reality TV mom Michelle Duggar has given birth to a premature girl.

Freda Ruark, sister of mom Michelle Duggar, said that after three breast milk feedings, Josie Brooklyn was able to keep down two.

"The baby is doing great," said Ruark, who has spoken to her sister and her sister's husband, Jim Bob, every day since her niece was born.

"Josie is holding her own. As long as she can get some of that breast milk, that will help build up her immune system."

Jim Bob Duggar sent an e-mail to ABCNews.com earlier today about his wife's and daughter's condition. "Hello from the Duggar Family," he wrote. "We are so grateful for all of the prayers and emails of support for our family since Josie Brooklyn Duggar was born 12-10-09. Michelle is [recovering] from the emergency c-section and is doing [a lot] better. Josie is beautiful and in stable condition."

Ruark said she expects Michelle to stay in the hospital "for a while."

Back home, her other 18 children are "doing quite well" with the help of their grandmother, Jim Bob's mother, Mary, who lives with them. "They have lots of help," Ruark said, "and a big circle of friends. I'm sure they want mom home but the family just takes care of things."

Ruark said some of the older children were on a mission in El Salvador — a trip family members have taken for about four years in a row — when Josie Brooklyn was born. Their family insisted they finish the mission but they kept in touch by calling every day.

Now they all await the day their new sister can come home. Until then, however, they can keep a watch on Josie Brooklyn through the hospital's high-tech monitoring system.

Each bassinet in the neonatal intensive care unit of the University of Arkansas for Medical Sciences hospital is equipped with "angel-eye cameras," according to the hospital spokeswoman, which allows family, via a password, to view the baby from their home computers.
The little baby's middle name is Brooklyn. That's a strange choice. All their other children have common and/or biblical middle names like "Samuel," "Levi," "Andrew" and "Robert." Let's keep our fingers crossed that Josie Brooklyn continues to thrive and grow and will be able to go home to her family soon.
ABC News has some blunt advice for the Duggars from several obstetricians, who warn about the risks associated with multiple pregnancies and advanced maternal age. They mention conditions that can develop both before and after pregnancy like uterine atony, or failure of the uterine to contract after labor causing extensive bleeding, placenta previa, or attachment of the placenta over the cervix, also causing bleeding and affecting the baby, uterine prolapse and incontinence. It all sounds kind of scary but given have many kids the Duggars have, along with their stance against opting for genetic testing, they probably won't pay it much mind. Maybe Michelle's fertility will finally taper off as she hits her mid 40s. It seems kind of amazing that this is the first medical issue she's had in all of her pregnancies.