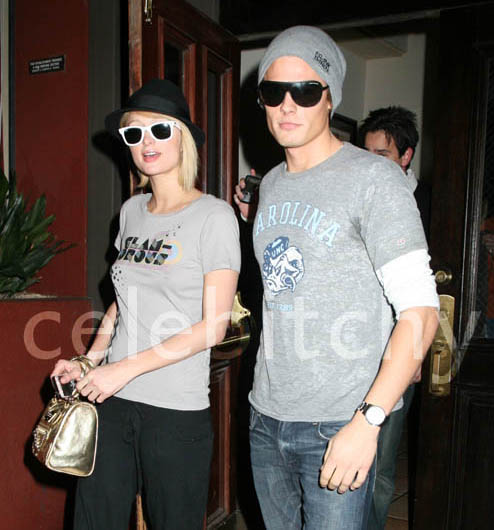 Paris Hilton and her Swedish pizza delivery boy, Alex Vaggo, were trying in vain to be scenesters in matching track suits, but failed to get the attention of the paparazzi they are likely to have tipped off. They wandered around a restaurant for 20 minutes without ordering and waited for someone to pay attention to them. When no one showed to take their pictures Paris decided to have herdriver tape them instead:
What does Paris Hilton do when the paparazzi aren't around? She creates her own photo frenzy! She and pizza boy/model Alex Vaggo showed up at trendy diner Ketchup on the Sunset Strip on January 4 wearing "his" and "her" sweatsuits. They didn't eat or drink and left after 20 minutes. Things got really strange when Paris realized there were no cameras watching her – so she had her driver grab a video camera! He filmed her and asked personal questions as she walked to the car.
[From The National Enquirer, print edition, January 21, 2008]
Paris gets all dressed up with her boyfriend-for-show and they can't even get their picture taken! What a dilemma.
Like America's favorite trainwreck, Britney Spears, Paris also might soon be barred from the Four Seasons hotel for bad behavior. In Paris' case she was ordering around the staff too much and even bullied a little girl!
Paris Hilton… carelessly tromped on the long dress of a little girl on a hotel staircase – making the kid fall down and start bawling! Moments later, Paris actually told management to shut the annoying brat up! Then she started ordered hotel staff around like they were slaves. First she demanded the pool boys have a cluster of chairs waiting for her and her part – parents Kathy and Rick, sis Nicky and even loathsome Brandon Davis – but like shrieked like a demented diva when she claimed the chairs weren't facing the right way and were too crammed. "Move the chairs to the beach and set up all my umbrellas immediately," she ranted. By this time, fed-up management – furious at being treated so disrespectfully – revolted. The Four Seasons manager confronted Paris and formally warned she'll be unwelcome on the premises henceforth if she doesn't lose the attitude.
[From The National Enquirer, Mike Walker's column, print edition, January 21, 2008]
The Four Seasons doesn't take crap from anyone, and they must realize that their money comes from the rich people who spend a lot of time there, and not from the celebrities who flit in and out and cause a ruckus for everyone. I love how they keep Paris in check and told Britney she's never allowed in again. At least they don't have to worry about Paris bringing a lot of paparazzi with her when she comes since she's not really attracting that much attention lately. Watch for a big stunt from Paris soon. She knows it's passé to vag flash after she revealed her secret to Britney and she abused it, but she realizes that she needs to pull something in order to get more press.
Paris Hilton and Swedish pizza boy Alex Vaggo are shown out to dinner and shopping on 12/22/07, thanks to Splash News.