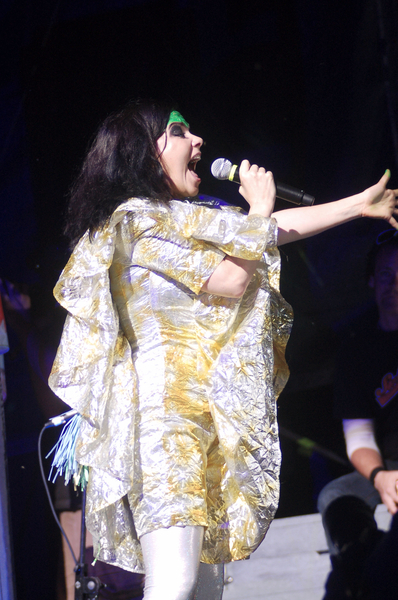 I live in New Zealand, where it is pretty quiet generally, so it caused quite a stir when Bjork the Icelandic singer attacked a news photographer.
Bjork, who is in Auckland to perform at the Big Day Out on Friday, tore photographer Glenn Jeffrey's shirt in half, after he photographed her arriving at 7.50am yesterday.

Jeffrey, a news photographer of 25 years, said Bjork was accompanied by a man who asked him not take photographs.

"I took a couple of pictures and I got about three or four frames of her … and as I turned and walked away she came up behind me, grabbed the back of my black skivvy and tore it down the back.

"As she did this she fell over, she fell to the ground. At no stage did I touch her or speak with her."

Bjork said nothing throughout the incident but the man with her was saying: "B, don't do this, B, don't do this,"' Jeffrey said.

Jeffrey spoke to Auckland police yesterday. He said: "I don't see being assaulted as I'm working as a press photographer as an acceptable thing.

"If anybody assaults anybody you have the right to a legal recourse, whoever they are."
I can understand a celebrity getting angry at paparazzi who follow them everywhere, but the photographer was covering her arrival in order to create buzz around her upcoming tour. No matter how bad tempered you are after a long flight, you shouldn't take that out on the people around you.
This is not Bjork's first incident of assaulting a reporter, in 1996 she assaulted a woman who asked questions of her then ten year old son. her record company defended her actions saying that the reporter had been following her for several days. View the video of the 1996 attack here.
Since the death of Princess Diana the paparazzi have been seen as the 'bad guys' and stars regularly hit out at them, most famously Hugh Grant with his can of baked beans, Britney Spears with an umbrella, and Avril Lavigne with her saliva. Are the paparazzi actually that aggressive, or are celebrities getting too sensitive? After all, while we don't need all that coverage, it is the public's interest in you that makes your living. As soon as the public lose interest in you they'll stop buying your product.
Also, I doubt that Bjork actually has that many paparazzi following her about, particularly not in New Zealand where we only have three news agencies and two major newspapers. I do feel for her a bit though – she has no choice but to travel through the airport to get into the country, and there is only one exit, where photographers can stand waiting for her. I'm not sure that there is another exit, as like everyone entering the country she must go through customs.
Also, the attack was very aggressive, tearing a grown man's shirt. A simple "f off" would probably have done the trick.
Picture note by Celebitchy: Bjork is shown performing in Toronto on 9/8/07, thanks to PRPhotos.