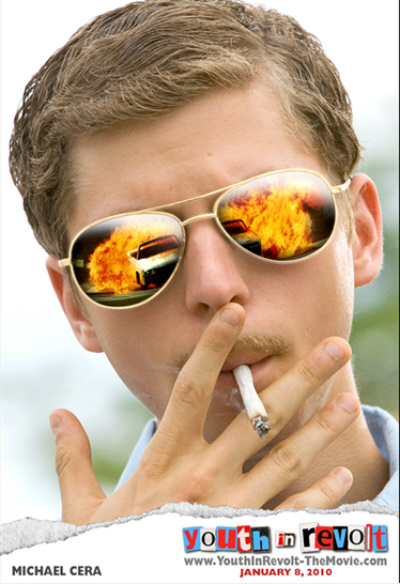 I know some people consider Michael Cera a poseur, or perhaps a kind of boring, hipster, too-cool-for-school douchebag. But I love this kid. I find him adorable and hilarious, and I think he's one of the best "straight man" comic actors working today. I fell for him on Arrested Development, and now whenever I see his face, I just start chuckling.
Anyway, Michael has a new film about to come out called Youth in Revolt. It's basically a "coming-of-age comedy" where Michael plays Nick Twisp. Twisp falls for a girl while on a family vacation, but they are kept apart by circumstances, of course. To win the girl's heart, Twisp creates an alter ego: the suave, ascot-wearing, cigarette-smoking, moustache-having Francois. Hilarity ensues. I just saw the trailer for the film (below), and I found myself laughing at several parts. Anyway, Michael was interviewed in Maxim recently, and I'm not sure if they sent him the questions or if he came up with this sh-t on the spot, but I can't stop laughing:
Maxim:What's your last meal?
Cera: I don't know. Something with salsa on top.

-While you were alive, what did you spend the most money on?
Cera: Drugs and coffins.

-What book do you most regret not finishing?
Cera: Normally, I regret not starting books. But I do regret not finishing Elvis' biography — I liked where it was going.

-What's the wildest thing you ever did?
Cera: I can't remember. That was a long time ago.

-If you could come back and spy on someone who's still alive, who would it be and why?
Cera: Probably Elvis. He's still around, right?

-Name one thing you're glad you'll never have to do again on Earth.
Cera: Brush my teeth. If somebody had told me they were just going to rot away eventually anyway, I could have saved so much time.

-What is your proudest accomplishment?
Cera: Finishing Charles Grodin's autobiography.

-What is your biggest regret?
Cera: Remarrying my wife.

-When were you happiest?
Cera: During the eight months when our divorce was active.

-What are people saying over your coffin?
Cera: "It's too bad we never got a chance to ask him what Jack Black was like to work with."

-Are there any last words you'd like to share with the world?
Cera: "It's too hard to live on a planet where you're a monster for not being moved by Susan Boyle's performance".
[From Maxim via Jake's Weird Blog]
Hilarious, right? Maybe it's just my sense of humor. I love dry, sardonic one-liners. Anyway, I was trying to find the trailer version I saw on television the other night, but I'm having trouble. There's this one, which has language that is NSFW. But this is a good one:
'Youth in Revolt' poster courtesy of Collider.