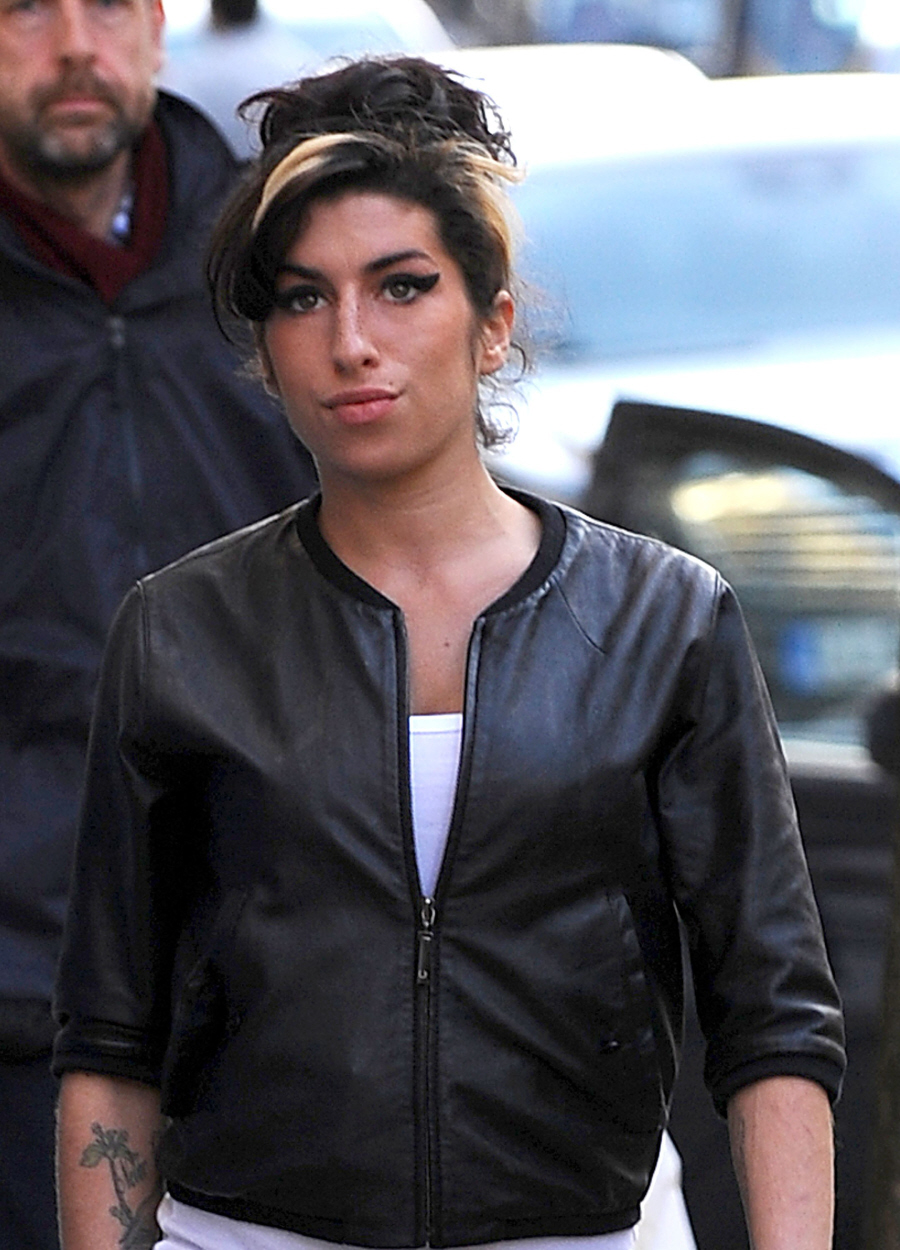 If you need any further proof that Amy Winehouse is still a hot mess and a mentalcase, here it is: the singer was arrested for an assault on a theater manager after she disrupted a children's play at the Milton Keynes Theatre. Families with young children were in the audience of a production of "Cinderella," but that didn't stop Amy from yelling out profanities and physically assaulting the theater manager. And get this: when Amy was booked, she identified herself as "Amy Civil," lending more credibility to recent reports that she is back together with fellow crackhead Blake Fielder-Civil.
Singer Amy Winehouse has today been charged with an assault on a theatre manager.

The singer was arrested after she attended Milton Keynes police station in Buckinghamshire voluntarily with her legal adviser at 1.15pm.

The 26-year-old, from Hertfordshire, was charged under the name Amy Civil with a public order offence and common assault following the incident which took place on Saturday, December 19.

The troubled star is said to have launched a physical attack on a member of staff during a performance of Cinderella at the Milton Keynes Theatre theatre.

At the performance the singer was said to have shocked children and parents by shouting 'He's f ****** behind you' and yelling out 'F*** Cinders, Prince Charming, marry me".

Refusing to sit down, she also branded the Ugly Sisters 'b******".

Her outburst was said to have exasperated stars of the show, including Fairy Godmother Anthea Turner, comedian Bobby Davro, playing Buttons, and actor Mickey Rooney, as Baron Hardup.

And later she allegedly launched herself at the front-of-house manager pulling his hair, punching him and kicking him between the legs.

Amy is set to appear at Milton Keynes Magistrates' Court on Wednesday 20 January 2010.

In July of this year, Amy was acquitted of punching a fan in the face at a charity concert.

Thames Valley Police spokesman said: "A woman from Hertfordshire has today been charged in connection with an assault at Milton Keynes Theatre on Saturday night.

"Amy Civil attended Milton Keynes police station voluntarily with her legal advisor at 1.15pm this afternoon.

"She was formally arrested by officers from Thames Valley Police on suspicion of assault and public order."
I really need someone to explain to me the British legal system. How many times is this crazy bitch going to punch people and get away with it? And what in the world was she doing at this theater in the first place – didn't she have some crack to smoke? I stopped feeling sorry for Amy a long time ago. I don't get how she is able to keep walking, talking and functioning when she so obviously keeps on abusing herself. Any other person who put that much crap into their bodies would be long gone. But not Amy – she's like the Energizer Bunny of Crack.
Amy Winehouse in London (wearing acid-washed jeans?) on November 25, 2009. Credit: WENN.