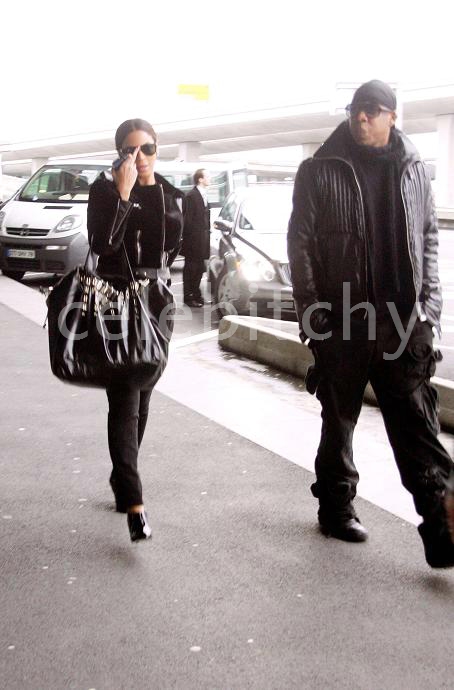 Beyonce Knowles and Jay-Z have been pretty quiet about their five-year relationship from the start. It's also been rumored for at least the last four years that the two were about to get married. Now several media outlets are reporting that they already exchanged vows at Giorgio Armani's Paris home over the Christmas holiday. It seems that the best evidence is a lot of information from "insiders," and the fact that they both returned home with matching tattoos on their ring fingers of the Roman numeral IV. Considering how long they've been together and Beyonce's frequent statements about wanting a big family, this could very well end up being true.
She may have some of the most diva-ish demands on the circuit but friends claim Beyoncé Knowles has wed long time love, Jay Z, in a low key Paris wedding. Insiders say the couple finally tied the knot during a romantic break in the French capital, claiming they are now 'blissfully happy'. One source says the pair both tattooed personal inscriptions on their wedding fingers to mark the ceremony.

They 'Didn't want all the attention that usually follows them around, they just wanted it to be intimate and romantic. It was lovely and they are both blissfully happy. They thought the tattoos would be a lovely personal touch', the insider reveals.
[From Metro.co.uk]
I would love – just for once – if an "insider" would reveal their true identity. It really would be cause for a celebration. The "insider" was right about the tattoos, so there might be a chance they really did get married. Considering how low-key they've been about their relationship, it would make sense for that same mentality to apply to their wedding. On the other hand, it's hard to imagine someone with Beyonce's diva reputation not doing it up really big and splashy.
The Sunday Mirror is reporting that Beyonce might already be pregnant. I can't really spot a visible bump, but I don't claim to be an expert in that department.
Since her secret wedding last month, Beyonce Knowles has been glowing even more than usual. And friends are suggesting the marriage isn't the only thing she has kept under wraps. Sources close to the Crazy In Love singer have hinted there could be double celebrations – as she and husband Jay-Z get set to have their first baby.

A friend said: "Beyonce is giving nothing away. She's always been close to her parents and open about wanting a large family of her own one day." Beyonce, who starred in the 2006 hit movie Dreamgirls, once said in an interview that she wouldn't pressure her children to become singers. She said: "We'll let our children make their own decisions. What if they are tone deaf? You never know."

The friend added: "Beyonce and Solange have been brought up with strong Christian beliefs. Part of that belief is to be married before having children."
[From the Sunday Mirror]
Of course Beyonce's rep gave the old, "We don't comment on private stuff" line. Which always makes me wonder exactly what it is they're paid to do. Probably just to tell the rest of us they have nothing to say. Beyonce and Jay-Z have been together for so long – and the marriage/baby rumors have been swirling for almost as long – that it's hard to guess if/when they got married. They seem pretty happy and stable in their relationship. Jay Z recently stepped down as the president of Def Jam records. He said that he was going to focus more on his other endeavors – maybe starting a family is one of those.