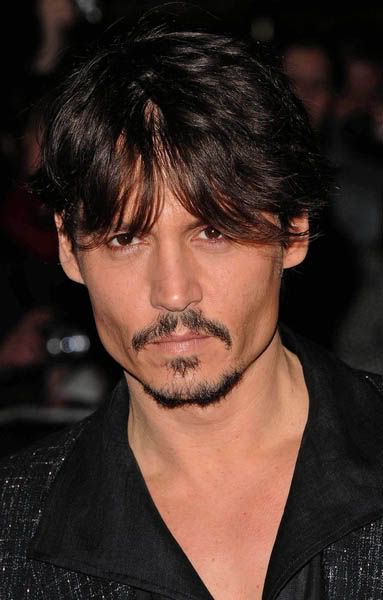 In March of '07 Johnny Depp's seven-year-old daughter Lily-Rose was rushed to hospital with E.coli blood poisoning, and stayed for nine days before she made a full recovery. Johnny Depp has spoken of her illness, telling Entertainment Weekly "To say it was the darkest moment, that's nothing." He also said every milli-second of having his daughter well was like a celebration. Now he's truly celebrated with the staff who took care of her at Great Ormond Street Hospital.
He arrived unexpectedly (yesterday) at the London children's hospital where eight-year-old Lily-Rose was treated last year when her kidneys failed.

Last week he invited five Great Ormond Street doctors and nurses to the party for the London premiere of his film Sweeney Todd.

And on November 29, unknown to the public, Depp spent four hours at the hospital telling bedtime stories to patients dressed as Captain Jack Sparrow after having his Pirates Of The Caribbean costume flown over from Los Angeles.
The newspaper also adds that he Johnny Depp and partner Vanessa Paradis donated £1 million pounds to the hospital, which needs to raise £170 million over five years to redevelop the hospital site. Disney, makers of Pirates of the Carribbean, also donated £10 million.
Now, the Daily Mail isn't always the most reliable source, but I think that making a generous thanks to the people who saved your child's life is something that any parent would do, just not all of them could afford to be so generous. But I think if you could afford £1 million then you would give it, because what price is your child's health?
The donation, coupled with Johnny Depp's Captain Jack appearance, just makes him all the more appealing. Swoon. So appealing that when he recently purchased a penthouse apartment in a building that wasn't selling well, just news of his investment sent demand for other apartments in the same complex through the roof. And who wouldn't want to live under the same roof as Johnny Depp?
Johnny last night at the Golden Globes (the less-than-glamorous night that it was) won a Globe for Best Actor in a Musical or Comedy. He will be receiving his award in the mail.
Picture note by Celebitchy: Johnny Depp is shown at the UK premiere of Sweeney Todd on 1/10/08, thanks to PRPhotos and WENN.