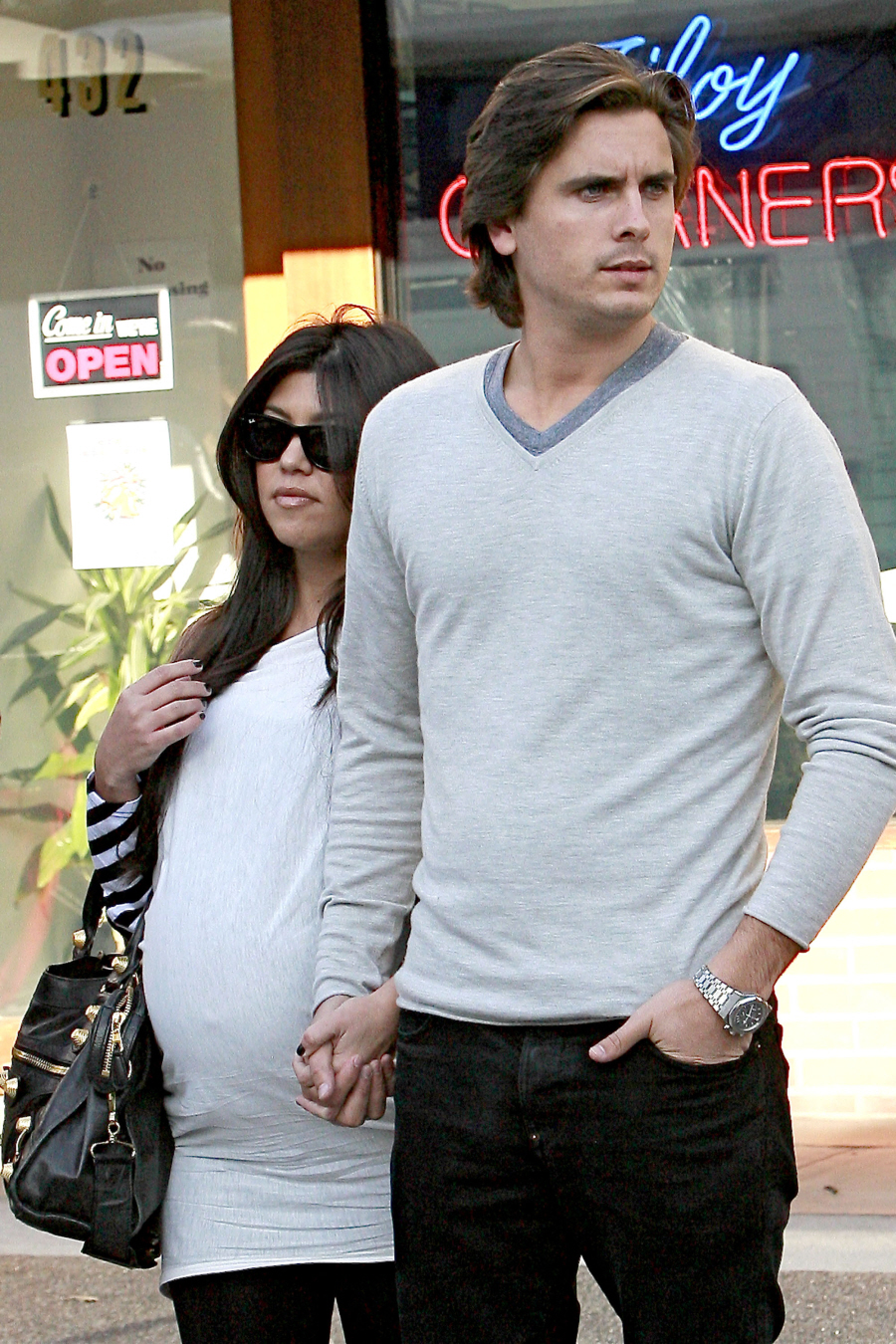 At first, I was just skimming this report from Fox News 411, all about how Kourtney Kardashian's baby-daddy Scott Disick is a douche. No surprises there, considering most people could take one look at him and think "Skeezy McHerp". But, in case you aren't into snap judgments, remember that Kourtney first dumped Scott because he was cheating on her, and once she got pregnant, he never really seemed all that engaged anyway, despite bribery attempts. Anyhoodle, most of this Fox News stuff is just more of the same – blah, blah, Scott was too lazy to help Kourtney when she was 9 months pregnant, blah, blah, her family hates him, et cetera. But one quote of Scott's jumped out at me for it's sheer douchey brillance… evidently, Scott was "overheard" telling someone "I could puke on myself and still be good looking." F-cking A! Oh, Pukey McDouche, marry me!
Kourtney Kardashian's relationship with Scott Disick has always been a wayward one – but is she better off being a single mom?

According to a Kourtney pal, when the reality starlet was just a few weeks shy of popping out her first child (Mason Dash Disick, born Dec. 14) she was shifting boxes and doing chores – all while Disick said on his rear and looked on.

"It was shocking," said our source. "Here was Kourtney almost nine months pregnant doing all this and he didn't offer to help her."

And even Kourt's own sister Khloe is done with Disick.

"He's brainwashing you!" Khloe warned her older sis on a recent episode of "Keeping Up With the Kardashians," before telling Disick that he "is disgusting."

Stepfather Bruce Jenner also recently went on Ryan Seacrest's radio show and said that the family was "working on Scott" and that he was "a work in progress."

Kourtney called off her engagement to Disick in February after she reportedly suspected him of being unfaithful, but in August announced that she was pregnant with her first child and Disick was indeed the baby daddy.

At a Malibu party a few weeks earlier, Pop Tarts overheard the Long Island native talking about their romantic reunion and needless to say, he was well – pretty obnoxious.

"I could puke on myself and still be good looking," Disick said, adding that Kourtney ordered him to stay on his "best behavior" if things were to work out between them.
[From Fox News]
God, do you kind of love it? The only thing that would make the sitting-on-his-story any better is if he was drinking a beer and telling her where stuff needed to go. Even though I think Kourtney is crazy and/or dumb as a rock, I have to admit that this gave me a pang of sympathy. I hate to admit this, but I've known quite a few Scott Disick-types in my life – what can I say? My friends have sh-tty taste in men. And now I feel protective of Kourtney for no good reason! Damn it!
Scott and Kourtney in Beverly Hills on December 10, 2009. Credit: WENN.