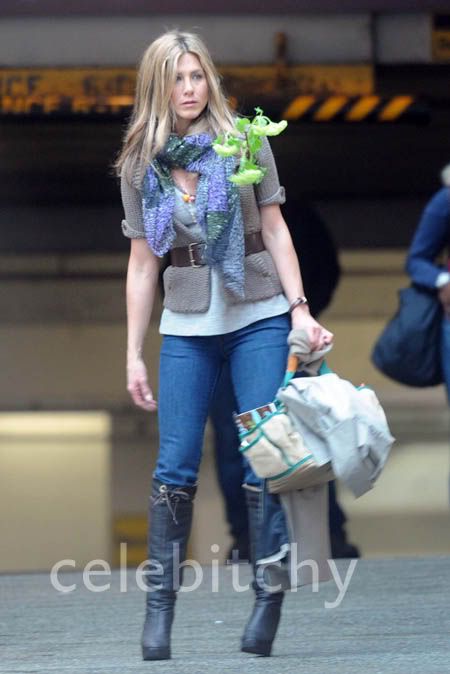 I don't know what to believe about Aniston's love life at this point. Two weeks ago she was supposedly pregnant and said to be living with Sex and The City hottie Jason Lewis, who had flown his mother into New York to meet her. We were on the pregnancy bandwagon and even thought there was a bump visible in those far-away photos of her in Mexico, where she had a post-holiday vacation with her BFF Courteney Cox and her family and a "mystery guy" who was rumored to be Lewis.
Star Magazine, not the most reliable source I know, is reporting that Aniston met up with Kevin Connolly in Los Cabos and that he was seen rubbing suntan lotion on her back. These two were said to be set up by Tobey Maguire, and although they got along ok they weren't a love match. What happened to Jason Lewis then?
An insider reveals that Jen, 38, and Kevin, 33, were set up by mutual friends Tobey Maguire and his wife, Jennifer Meyer, while on their New Year's vacation. However, although Jen seemed to enjoy Kevin's company, things never went beyond a little flirting. "Tobey and his wife knew it was a long shot," said the insider, "but think they could have made a love connection…"

The pair were part of a group that included Courteney Cox and David Arquette and their daughter, Coco. "Courteney and David know and love Kevin," says Jen's pal. "They think he could be perfect for Jen."
[From Star Magazine, print edition, January 21, 2008]
So was Kevin Connolly the unknown guy seen in Mexico with Aniston and/or did he just meet up with her unexpectedly? Was Jason Lewis there too? Star conveniently forgets that she was even linked with Lewis, despite the fact that they reported that Aniston and Lewis were living together just three weeks ago.
Kevin Connolly was last linked with Dancing With The Stars winner Julianne Hough and even gave her a ring last November.
This article sounds suspicious to me and maybe Connolly just happened to be at the same resort as these two. Other reports have her dating David Spade so it sounds like the tabloids are desperate to pair her with anyone.
Here is Aniston on the set of "Travellers" in Vancouver, Canada yesterday thanks to Splash News.