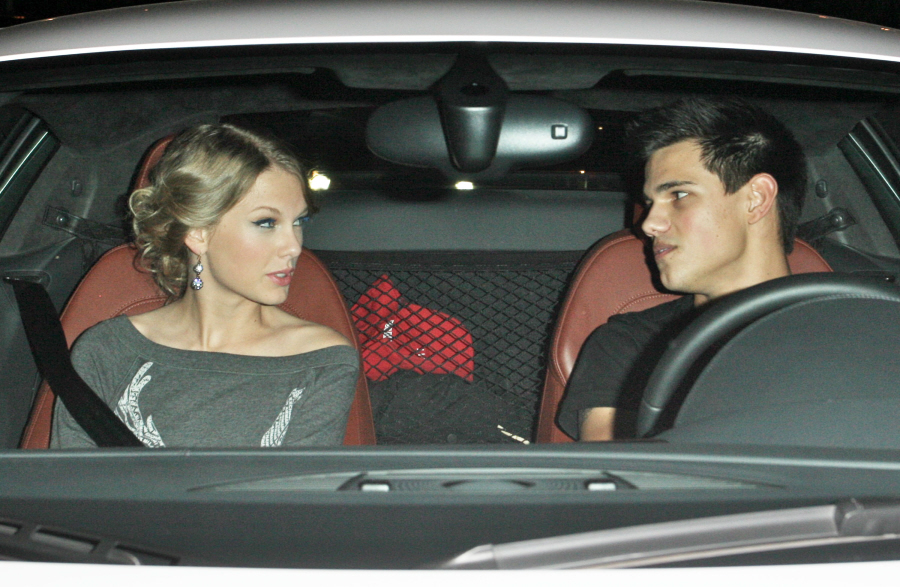 Oh no! Young love, so heartbreaking. Us Weekly is reporting that Taylor Swift and Taylor Lautner are totally over. Apparently, Lautner was all over Swift, and Swift was like "I'm on tour so can you just chill out?" Which is kind of cool, because I thought their dynamic was different – I thought she was the one who was more into him, but I'll buy this new dynamic, that Swift did the dumping because Lautner cared too much and she couldn't handle it. Oh, the Twihards will be upset!
So much for the two Taylors finding love.

After three months of dating, country singer Taylor Swift and New Moon star Taylor Lautner have split, UsMagazine.com has learned.

"It wasn't really developing into anything, and wasn't going to, so they decided they were better as friends," a source close to Swift, 20, tells Us. "There was no chemistry, and it felt contrived."

The pair — who met on the set of the romantic comedy Valentine's Day — first sparked rumors of a romance when she hugged him at her October 9 concert in Rosemont, Illinois. They have since been spotted on several wholesome dates — like their frozen yogurt date at Menchie's alongside Swift's mom earlier this month — and have each coyly alluded to their relationship on separate Saturday Night Live hosting gigs.

However, the relationship officially fizzled when Lautner, 17, flew to Nashville for Swift's birthday party on Dec. 13, a friend of the singer reveals.

"He liked her more than she liked him," the source tells Us. "He went everywhere he could to see her, but she didn't travel much to see him."

Lucky for Lautner, the split won't inspire angry songs like those written about ex Joe Jonas — who dumped Swift during a 27-second phone call in 2008.

"They plan to stay friends," the source says.

In fact, Swift — whose friend says she is a "hopeless romantic" who "wants everything she writes about" in her songs — will likely reunite with the Twilight hunk when they begin promoting Valentine's Day, out Feb. 12.

Swift's rep had no comment. Lautner's rep could not be reached.
[From Us Weekly]
See, now Kristen Stewart can start dating Lautner, and then Sparkles will get jealous and then it will be like the books came true, right? Right?!? No, I get it. They're young and they don't need to have everything figured out and settled and everything right at this moment. Plus, it might have been the kiss of death to do all of that couple-talk stuff on Saturday Night Live. When the kids start talking about their stuff publicly, that means someone's going to get upset. Do I have to pick sides on this one? It sounds like the breakup was amicable. Whatever. Team Swifty. I love that girl.
Lautner & Swift in LA on October 28, 2009. Credit: WENN.