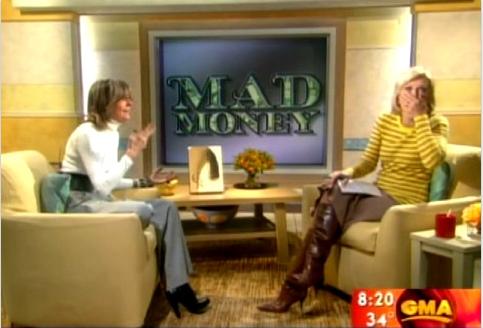 Diane Keaton was on Good Morning America this morning, and randomly started going off on how hot Diane Sawyer is. I've never given it much thought, but when forced to by Keaton; I will admit that Diane Sawyer is one hot nugget. That's my new phrase, tell your friends. Keaton goes off, verbally devouring Sawyer from head to toe, while she looks remarkably uncomfortable for a few seconds. I'm guessing that when Diane Sawyer got up that morning, she probably didn't roll over, look at Mike Nichols and say, "You know what, I have a feeling someone's going to tell me what a blazing hottie I am today."
Diane Keaton starts out by talking about how she's worked so hard on her personality, and then notes:
"Of course I wanted to be beautiful, which brings me to my real point. Let's talk about you. No, I'm serious. I was looking at you on television, and I honestly do not understand why more hasn't been made of how beautiful you are. Because you, are a beautiful woman."
Sawyer kind of half shakes her head here, but it seems more like "I can't believe we're discussing this" rather than a refutation of her incredible beauty. Keaton resumes, "I am not kidding you for one minute, and how more hasn't been made of this…" At which point Sawyer interrupts her and makes a joke about Keaton trying to butter her up, as she's clearly uncomfortable and losing control of the interview a little bit. But Keaton just won't quit, and pushes forward. "You don't want to talk about this, but you know it's true." To which Sawyer responds that Keaton is "very kind." As Keaton continues, Sawyer tries to move on, but Keaton rushes back, and starts in on her lips.
Those lips, I mean I love 'em. I'd like to have lips like that. Then I wouldn't have worked on my f'ng personality!
Keaton went on to note that if she had nice full lips like Diane Sawyer's, she'd be married by now. Assuming she could find a man with a penchant for potty mouths. I can't decide if the interaction is awesome, hilarious, or creepy. I'll let you all decide.